2020 News Archive
The International Journal of Transitional Justice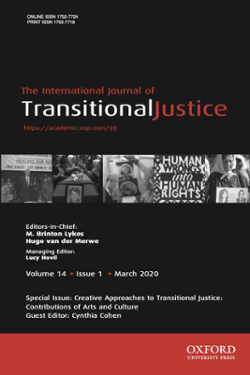 A special edition of The International Journal of Transitional Justice called "Creative Approaches to Transitional Justice: the Contributions of Art and Culture" was guest edited by Dr. Cynthia Cohen, director of the Program in Peacebuilding and the Arts. The edition features the following contributions:
"Reimagining Transitional Justice" — Cindy Cohen
"Embodying the Pain and Cruelty of Others" — Toni Shapiro-Phim
"Repairing Symbolic Reparations: Assessing the Effectiveness of Memorialization in the Inter-American System of Human Rights" — co-written by CAST-affiliated faculty member Fernando Rosenberg (Hispanic Studies, Comparative Lit)
Support for color images came from Elaine Reuben '63, Board Member of the International Center for Ethics, Justice, and Public Life.
CAST minor Sarah Terrazano '19 assisted Cohen in the screening of initial submission to the special issue.
Several articles will be assigned to students in the new course LGLS 129a — Global Justice and Societies in Transition, being offered in fall 2020 by Melissa Stimell in collaboration with Cindy Cohen, and Leigh Swigart of the International Center for Ethics, Justice and Public Life.