Designing Species Conference
The philosophy department's spring 2020 conference, "Designing Species," will be held on Saturday, Feb. 29, from 9:30 a.m. to 6:30 p.m. in Mandel Center for the Humanities, Room G12. A banquet will follow in the Faculty Club.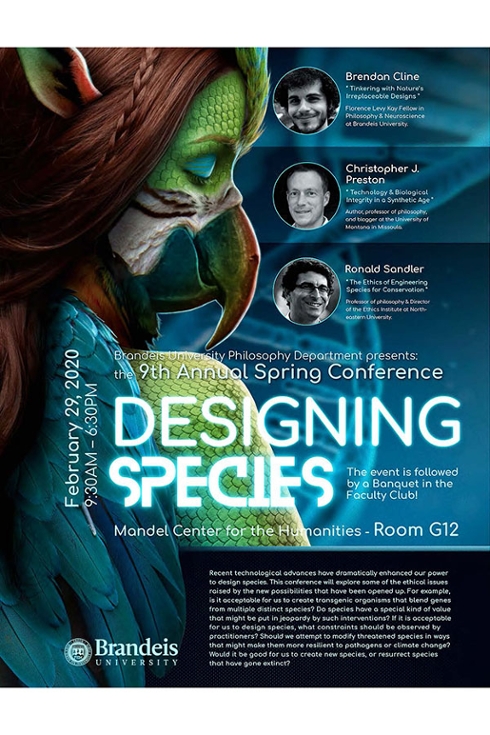 Humans have been modifying the characteristics of other species for thousands of years using techniques such as selective breeding. But recent technological advances have dramatically enhanced our power to design species. This conference will explore some of the ethical issues raised by the new possibilities that have been opened up to us.
For example, is it acceptable for us to create transgenic organisms that blend genes from multiple distinct species? What sorts of considerations are even relevant to answering this question? Do species have a special kind of value that might be put in jeopardy by such interventions?
If it is acceptable for us to design species, what constraints should be observed by practitioners? Should we attempt to modify threatened species in ways that might make them more resilient to pathogens or climate change? Would it be good for us to create new species, or resurrect species that have gone extinct?
"Designing Species" will explore these and related questions that we must confront as we enter a new age of bioengineering.
Three papers will be presented:
"Tinkering With Nature's Irreplaceable Designs," Brendan Cline, Kay Fellow in Philosophy and Neuroscience, who is serving as the event's organizer.
"Technology and Biological Integrity in a Synthetic Age," Christopher J. Preston, Professor of Philosophy, University of Montana, Missoula.
"The Ethics of Engineering Species for Conservation," Ronald Sandler, Professor of Philosophy, Northeastern University          
For more information or to RSVP, email philosophia@brandeis.edu.