News
Brandeis-Tufts MAP Chapters present a Social and Political Graduate Conference
February 22, 2021
The Minorities and Philosophy (MAP) chapters at Brandeis University and Tufts University invite paper submissions from current graduate students (MA and Ph.D.).  Any paper on social and political philosophy is welcome. We especially encourage members of underrepresented groups in philosophy to submit. The following must be received by Tuftsbrandeismap@gmail.com before April 1st at 11:59 pm (EST):
A paper (approximately 15 pages in word or pdf) prepared for anonymous review.

Abstract (less than 400 words)

In the body of the email: please include your name, institution, program, and title of the paper. 

The papers should be suitable for a 20 minutes presentation followed by 20 minutes of Q&A.
Conference Date: May 8th, 2021
Location: Online, via Zoom
Deadline for Submissions: April 1st, 2021
Notification of Acceptance: by May 1st, 2021
The Keynote Speakers: 
Kate Moran (Brandeis University)
Lionel McPherson (Tufts University) 
Dr. Eyal Tal to join the Philosophy Dept.
July 6, 2020
The Philosophy Dept is happy to announce that Dr. Eyal Tal will be joining the faculty as a Visiting Assistant Professor. His interests include epistemology, metaethics, metaphysics, philosophy of psychiatry, and philosophy of science. He writes, "my research focuses on the normative import of evidence that our beliefs are irrational, and on how uncertain we may be that we believe and act as we should." 
Dr. Tal earned earned his Ph.D. in philosophy from the University of Arizona and has most recently been a  postdoctoral fellow at the University of Cologne's Center for Contemporary Epistemology and the Kantian Tradition.
July 8, 2020
Last year, Brandeis Philosophy Professor, Palle Yourgrau was invited to present the opening talk at a conference on Gödel hosted by the University of Vienna. The title of the conference was: Gödel's Legacy: Does Future Lie in the Past?  The title of  Professor Yourgrau's talk was: "The Gödel Program and Two Concepts of Time".  During the conference, Professor Yourgrau was interviewed by Austrian Public Radio. This is the recording of that interview.
Philosophy Faculty Prize
June 1, 2020
This year the Philosophy Prize was  awarded to two outstanding students:
 Emma Farrell and Sonia Pavel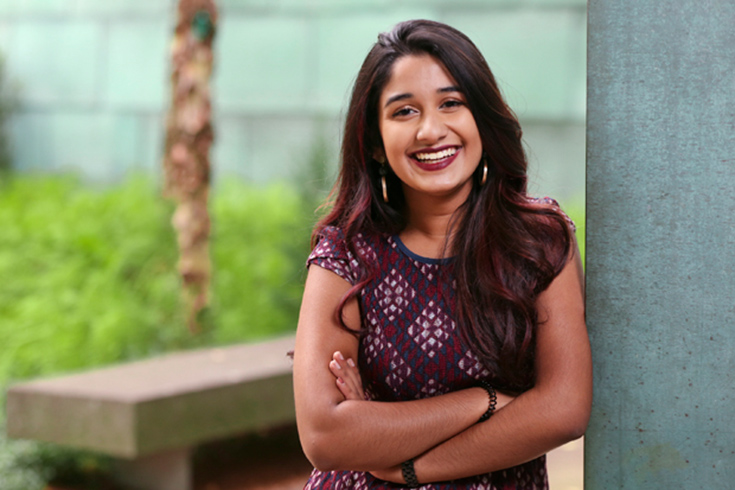 September 9, 2019
"I'm passionate about policies and people, and I really enjoy looking at management styles and leadership," said Simran Tatuskar '21, who is double-majoring in philosophy and business. "It's fascinating to me to understand how people tick and why people want to be where they are."
Two New Faculty to Join Philosophy Department
March 13, 2019
Two new hires will join the faculty ranks over the next two years, bringing new energy and fresh ideas to the growing department.
Umrao Sethi, assistant professor of philosophy at Lehman College, will join the Brandeis community this fall, and Peter Epstein, a junior research fellow in philosophy at Pembroke College at the University of Cambridge, will come aboard in fall 2020.
Sethi is a summa cum laude graduate of Columbia University and earned her master's degree and PhD from the University of California, Berkeley. Her fields of interest are philosophy of mind, metaphysics and early modern philosophy.
Epstein is a summa cum laude graduate of Harvard University and, like Sethi, earned his PhD in philosophy at UC Berkeley. His main research interests are in philosophy of mind, epistemology and philosophy of science.
October 19, 2018
Andreas Teuber, associate professor of philosophy, led an educational walk-through of the "Passage" exhibition Oct. 13 at the Rose Art Museum. The exhibition — curated by Luis Croquer, the museum's Henry and Lois Foster Director — spans seven decades of the museum's permanent collection.
October 18, 2018
In spirited discussion, West and Robert George hold firm on the value of open debate and liberal arts education.
October 11, 2018
Jeremy Mele, MA'18, is challenging Republican incumbent Matthew A. Harrington in District 19 race.
March 23, 2018
Philosophy minor finds a lasting home at Brandeis.
February 20, 2018
Double-major in politics and philosophy seeks purpose in "everything I do."
January 24, 2018
Savannah Pearlman '12, currently a PhD student in philosophy at Indiana University, is one of four graduate students nationwide to be elected to a two-year term on the American Philosophical Association council.