Alumni Spotlight: Alexandra Gustafson MA '18
University of Toronto
Alex Gustafson is officially ABD and has begun her dissertation on the phenomenology of romantic love.
Here
is a recent news story about her work.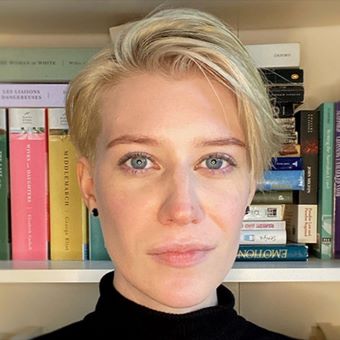 Alex writes,
"I'm doing this research with the support of a federal scholarship: a Social Sciences and Humanities Research Council (SSHRC) award called the Joseph-Armand Bombardier Canada Graduate Scholarship. As a Canada Graduate Scholar, I have full funding for three more years of research plus a full teaching release. More information about the scholarship can be found

here.

This semester I also helped found and am Co-Chair of the department's Mental Health & Disability Caucus, aimed at providing community and support to philosophy graduate students experiencing mental or physical health difficulties. We also host (well-attended!) outreach events for the philosophy undergraduate population.

Besides this, I've also been an Ontario Graduate Scholar and a Balzan "Styles of Reasoning" Graduate Fellow under

Ian Hacking

during my short time here."
This update was published in October 2020.