Past Events
Last updated: September 2, 2021 at 12:23 PM
All events were sponsored by the Department of Sociology (co-sponsors are noted).
2021
The 2021 Academic Fair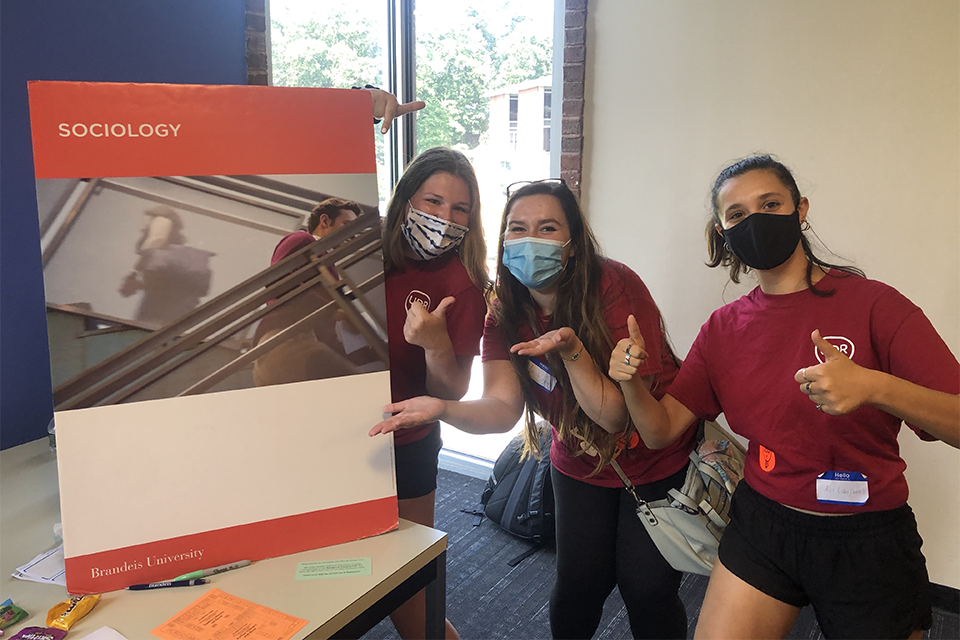 Representatives from academic departments are available to answer your questions regarding course selection, departmental offerings, student services, and more. This year, Sociology UDRs Rachel Judson, Mariah Lewis, and Ali Hagani attended the fair.
Sociologists watch movies, too!
What do you know about the Black Panther Party? What lessons can the BPP offer us today? Join us for our first "Sociologists watch movies, too!" event to discuss The Black Panthers: Vanguard of the Revolution (2015). This is a two-part event.
Part 1 (asynchronous viewing): students will watch the (excellent!) documentary on their own time, when it's convenient for them. Want to host a Zoom watch party with your friends? Go for it! The film we're watching, The Black Panthers: Vanguard of the Revolution documentary, is available for FREE via Brandeis Kanopy.
Part 2 (synchronous conversation): Join Professor Vijayakumar, Professor Mayorga, & your peers to discuss the film! We'll build community and learn together, connecting this important chapter in US history to what's happening in 2021. The discussion will be Wednesday, 3/31 from 2-3:30pm via Zoom during Professor Vijayakumar's "Protest, Politics, and Change: Social Movements" class session.
Let's talk about...white supremacy
What is white supremacy? What is its relationship to white nationalism? What does all this have to do with the events of January 6th at the Capitol? Join Professor Mayorga from the Sociology Department and your peers to discuss these important questions and more on Friday, February 19 from 12:30-1:30pm. This is the first in the Sociology Department's new "Let's talk about..." series, where students and faculty come together to discuss current events through a sociological lens.
If you have time, you may want to check out this podcast episode on the symbols of white nationalism that were present during the Capitol insurrection. Have questions or specific topics you want to discuss? Share them with Professor Mayorga in advance here.
2020
Ellen Berrey
April 23, 2020
"Rights on Trial: How Workplace Discrimination Law Perpetuates Inequality (or Why #MeToo Can't Win in Court"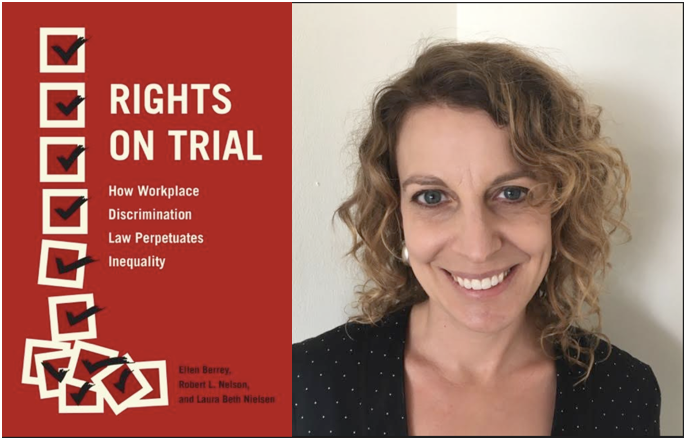 Dr. Ellen Berrey's research engages multiple sociological subfields, particularly law, inequality, race and diversity, culture, and organizations, with an emerging interest in environmental sociology. Her work is centrally focused on the politics and paradoxes of solving social problems. She asks: how do organizations interpret and implement policies aimed at addressing social problems, such as racial discrimination and environmental devastation? How do they navigate legal constraints and political opposition? She has a particular interest in how cultural ideals—such as diversity, fairness, and sustainability—get mobilized, institutionalized, and contested by decision-makers, organizational actors, and activists. 
Thursday, April 23rd
2:00pm-5:00pm
Pearlman 113
Overcoming Whiteness in Higher Education
Manya Whitaker, 
 Associate Professor and Chair of Education at Colorado College
2019
Strangers in Their Own Land: The Sequel for Some White Blue-Collar Men
Arlie Hochschild, Professor Emerita of Sociology at the University of California, Berkley
Governance and the Reversal of Women's Rights: The Case of Abortion in El Salvador
Jocelyn Viterna
,
P
rofessor of Sociology at Harvard University.
The Class Ceiling: Why It Pays To Be Privileged
Daniel Laurison, 
Assistant Professor of Sociology at Swarthmore College
2018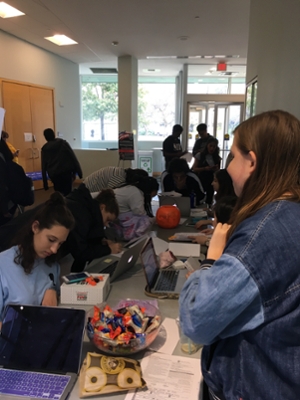 Voter Registration Drive
The SOC, SJSP, and PAX UDRs organized a voter registration and absentee ballot drive in the SCC Atrium. With the incredible turnout, they hosted two more drives throughout the month.  With the help of some great volunteers, they were able to register over 100 people to vote or get absentee ballots. Read an 
article
 by the Justice to learn more about the event.
The Zero Trimester: Risk and Reproduction at the Turn of the Twenty-First Century
Miranda Waggoner, Assistant Professor at Florida State University
Race, Rape, and Respectability: Understanding Campus Sexual Assault Through the Racialized Veil of Hegemonic Masculinity
Saida Grundy, Assistant Professor of Sociology & African American Studies at Boston University 
Social Position and the Complexity of Schemas for Cultural Objects
Omar Lizardo
, Professor of Sociology at the University of Notre Dame
Beneath the China Boom: Citizenship, Welfare, and the Making of a Rural Land Market
Julia Chuang
, Assistant Professor of Sociology at Boston College
2017
Genetic Options: The Impact of Genetic Ancestry Testing on Ethnic and Racial Identities
Wendy Roth, Associate Professor of Sociology at the University of British Columbia
Beyond Expectations: Second Generation Nigerians in the United States and Britain
Onoso Imoagene, Assistant Professor of Sociology at the University of Pennsylvania
2016
When Protection becomes Punishment: Policing the Public (Schools) in an Unequal City
Carla Shedd, Assistant Professor of Sociology and African American Studies at Columbia University
The Tumbleweed Society
Allison Pugh, Associate Professor of Sociology at University of Virginia
Natasha Warikoo, Associate Professor of Education at Harvard Graduate School of Education
The Contentious Public Sphere in China: Law, Media and the Dilemma of Authoritarian Rule
Ya-Wen Lei, Assistant Professor of Sociology at Harvard University
Strangers in Their Own Land: Anger and Mourning on the American Right
Arlie Hochschild, Emerita Professor of Sociology at UC Berekely
Summoned: Identification and Religious Life in a Jewish Neighborhood
Iddo Tavory, Assistant Professor of Sociology at New York University
Two Pluralisms: Toward a New Paradigm for Modernity and Religion
Peter Berger, University Professor of Sociology, Emeritus, at Boston University and the founder and Senior Research Fellow of the Institute on Culture, Religion, and World Affairs
Cooking Your 'Self': Emotions, Identities, and Collective Boundaries in Contemporary Israeli Culinary Culture
Rafi Grosglik, Post Doc Visiting Scholar in the Sociology Department
Cultural Rights: The New Human Rights Frontier?
Helle Porsdam, Professor of American Studies at the University of Copenhagen
2015
Tianamen Exiles: Voices of the Struggle for Democracy in China
Rowena He, Lecturer, Department of Government, Harvard University
Dealing in Desire: Asian Ascendancy, Western Decline, and the Hidden Currencies of Global Sex Work
Kimberly Hoang, Assistant Professor of Sociology and International Studies at Boston College
2014
Racial Formation Theory Today
Howard Winant, Professor of Sociology at the University of California and founding director of the University of California Center for New Racial Studies (UCCNRS)
1914-1918: The War Within the War
Adam Hochschild, Acclaimed Author, Journalist, and Lecturer, UC Berkeley, Graduate School of Journalism
2013 and earlier
Governing Immigration in Advanced Welfare States: The Scandinavian Case
Grete Brochmann, Professor of Sociology, University of Oslo
Unemployment Experiences: Why Americans Blame Themselves and Israelis Blame the System
Ofer Sharone, Sociologist and Assistant Professor, Institute of Work & Employment Relations, MIT Sloan
Day Labor Agencies and The Neoliberal-Parasitic Economy
Gretchen Purser, Assistant Professor of Sociology, Syracuse University
The Cultural Foundations of Mental Illness
Liah Greenfeld, Professor of Sociology, Political Science, and Anthropology, Boston University
How the Right Usurped the Queer Agenda: Frame Co-optation in Political Discourse
Mary Bernstein, Professor of Sociology, University of Connecticut at Storrs, Leading Scholar in Queer Politics
So SoHo So What? Branding, Identity, and the Spatial Structure of Boston's Visual Arts Worlds
Matthew Kaliner, Doctoral Candidate in Sociology, Harvard University (Brandeis University '00)
Seeing Society: The Long and Winding Road
Doug Harper PhD '76, Professor of Sociology, Duquesne University
Pride of Place: Queer Female Identities and Communities in Four Small U.S. Cities
Japonica Brown-Saracino, Assistant Professor of Sociology, Boston University
Sexual Health as Buzzword: Competing Stakes and Proliferating Agendas
Steve Epstein, John C. Shaffer Professor in the Humanities, Northwestern University
Co-author of Three shots at Prevention: The HPV vaccine and the Politics of Medicine's Simple Solutions
Not Under My Roof: Parents, Teens and the Culture of Sex

Amy Schalet, University of Massachusetts-Amherst
So You Think You Can Dance? Lessons on Distorted Public Valuation from the US Private Equity Bubble
Catherine Turco, MIT
Medicalization and the Epidemic of Side Effects from Prescription Drugs: The Risk Proliferation Syndrome
Professor Donald W. Light Rutgers, UDMNJ-SOM
Covered: Activists, Journalists, and News in a Shifting Media Landscape
Professor Sarah Sobieraj, Tufts University
The Bog and the Beast: Museums, the Nation, and the World
Professor Peggy Levitt, Wellesley College, Senior Research Fellow
No Family History: Environmental Links to Breast Cancer
Professor Sabrina McCormick, Science and Technology Fellow, AAAS
Big Dreams in Lean Times: How Families Navigate Mobility and Reproduce Inequality
Professor Tom Shapiro
Sex Cells: Medical Market for Eggs and Sperm
Professor Rene Almeling
Responses to Discrimination and Social Resilience under Neo-Liberalism: The Case of Brazil, Israel and the United States
Professor Michele Lamont
Privilege: The Making of an Adolescent Elite
Professor Shamus Khan
Biomedical Markets: An Economic Sociologist's Perspective
Professor Ayla Guseva
Understanding the Increased Prevalence of Autism
Professor Peter Bearman, Jonathan Cole Professor of Social Sciences Director of Lazarsfeld Center for the Social Sciences at Columbia University
Tell My Story: Racial Appraisals and Black Women's Experience of Rape
Professor C. Shawn McGuffey
Visualizing Health: A Sociological Analysis of Magnetic Resonance Imaging (MRI)
Professor Kelly Joyce, The College of William and Mary
How Do Different Types of Democracy Cope with Ethnonational Conflicts?
Professor Sammy Smooha, University of Haifa
Disposable Ties and the Urban Poor
Professor Matt Desmond, Harvard University
When and How did Spirituality Become Autonomous
Professor Courtney Bender, Columbia University
Weighing the Motherload: Security Expectations and the Mother-Child Relationship
Dr. Ana Villalobos, PhD, University of California at Berkeley
Visiting Research Associate at the Department of Sociology, Brandeis
Connecting the Personal and the Sociological: Reflections on the '7-UP' Documentary Film Series
Professor Barrie Thorne, PhD'71
The Department of Sociology presents Professor Barrie Thorne, Brandeis Sociology PhD '71, Professor of Sociology and Women's Studies, UC Berkeley. Professor Thorne is an eminent alum and a first rate ethnographer of children who recently finished fieldwork on "California Childhoods," funded by the MacArthur Foundation.
Futures of the Left in an Age of Globalization
Zinner Forum, Heller school
"Left" political parties have been the major pole of opposition in capitalist market societies and the bearers of progressive change since the industrial revolution. They have insisted that governments assume responsibilities for correcting inequality, insecurity, market failures and externalities, and skewed opportunity structures. They have been fundamental in making democracy a mass phenomenon. They have promoted the expansion of rights from civil into political and social realms. They have provided people with visions of alternative social orders.
The collapse of actually existing socialism in the end of the Cold War made market societies the only game on the planet and discredited historical Left transformational utopias once and for all. Globalization has already made permeable many of the borders behind which Lefts felt able to pursue their programs. One consequence of all these changes is that socialist dreams, along with the word socialism itself, have disappeared.
It is deeply significant that in the media and professional political analysis what up until recently was called "the Left" is now widely labeled the "Center-Left." The political space and options of the political parties of the Left and Center Left that seek to govern have been narrowed and they have large new problems of connection with voters and constituents.