Gowri Vijayakumar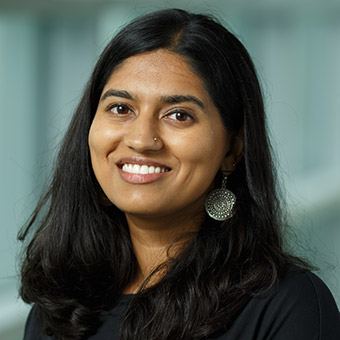 Director of Graduate Studies 
Assistant Professor of Sociology and Women's, Gender and Sexuality Studies
Gowri Vijayakumar is an Assistant Professor of Sociology and Women's, Gender, and Sexuality Studies. Her research and teaching use feminist and transnational perspectives to illuminate the trajectories of social movements, the everyday life of the state, and the political economy of globalization.
Her first book, "At Risk: Indian Sexual Politics and the Global AIDS Crisis" uses over 150 in-depth interviews and ethnographic research across India and Kenya to show how activist groups of sex workers and LGBTQ people engaged, and often challenged, corporate donors, state agencies, and biomedical experts; became central to India's AIDS response; and transformed themselves in the process. Moving across the spaces of everyday life, grassroots HIV prevention, NGOs, and state agencies, the book argues that the AIDS response generated a new terrain for articulating Indian sexual identity, both within and beyond India's borders. It ultimately reveals how gender, sexuality, and nation shape crisis response, and traces the realignments crisis occasions for political and sexual life.
Professor Vijayakumar's essays and articles appear in Signs; Social Problems; Qualitative Sociology; World Development; Political Power and Social Theory, and Gender & Society, and her research has been funded by the National Science Foundation, the Social Science Research Council, and the Mandel Center for the Humanities. She  is co-editor of the forthcoming volume "Sociology of South Asia: Postcolonial Legacies, Global Imaginaries," forthcoming in 2022 with Palgrave MacMillan, and supported the writing of "A Small Step in a Long Journey: A Memoir by Akkai Padmashali," forthcoming in 2022 with Zubaan Books. She is on the editorial board of Signs.
Professor Vijayakumar teaches courses on social movements; gender & sexuality; HIV and AIDS, and the sociology of love. She is currently working on collaborative projects on sex work and aging and the effects of COVID-19 on people living with HIV in India, and beginning a project on the politics of love, romance  and sexuality in South Asia and the diaspora.
Education
PhD, University of California, Berkeley
Recent Publications