Kat Lawrence '22
Alumni Stories
Majors: Theater arts and music with a concentration in musical theater
Minor:Film, television and integrated media
Activities:Undergraduate department representative for theater arts; vice president, Undergraduate Theater Collective; assistant music director, Proscenium a cappella
Hometown:Framingham, Massachusetts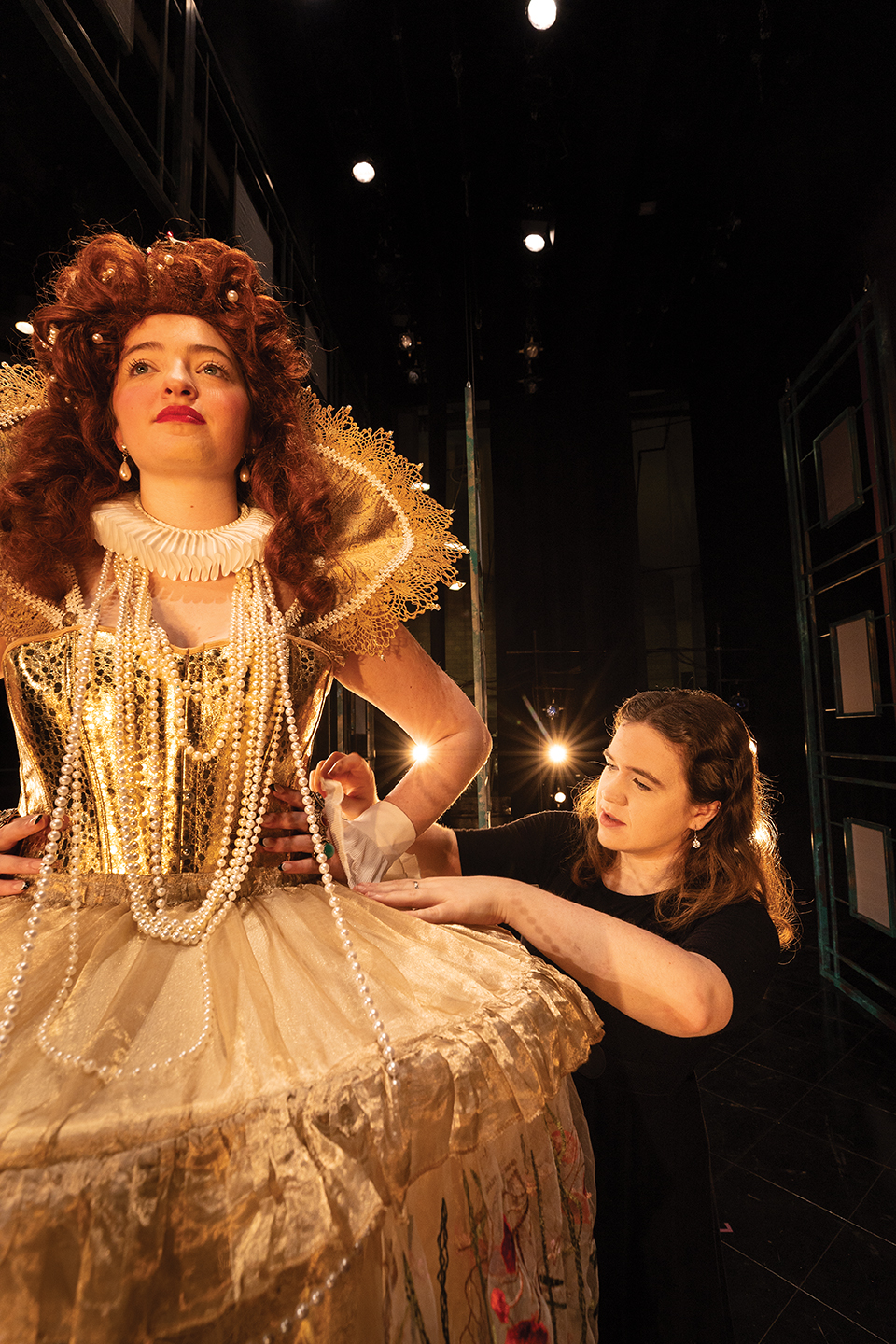 Kat Lawrence puts the final touches on the queen's costume in "Orlando."Photo Credit: Tom Kates
My first costume design course awakened something in me. I was floored by how impactful and personal clothing choices could be in storytelling. After that class, I costumed several shows produced by the Undergraduate Theater Collective, our student-run theater group, and got a job in the theater department's costume shop.
When it came time to propose a senior thesis, I was struggling to define exactly what I wanted to do. The thesis committee graciously invited me to costume the department's production of "Orlando" so I could get professional experience with ample support and guidance. I was so excited and honored, and decided this would be a great culmination of my personal growth at Brandeis.
The play is a costume designer's dream, but also an extreme challenge. It is based on the novel "Orlando" by Virgina Woolf, which is a fictional and fantastical biography of the titular Orlando, who experiences the world as both a male and a female. The story spans five centuries, from the Elizabethan Age to the 20th century.
My thesis explores the current binary system of gender: where it came from, how it crosses over and how it can be challenged. I do this by pulling from modern influencers who are pushing the boundaries of gender and fashion — for example, Janelle Monáe, Harry Styles and Lil Nas X — and juxtaposing them with historical fashion. Hopefully, the result will get the audience to re-evaluate their own perceptions of gender.
My thesis mentor, Associate Professor of Theater Arts Cameron Anderson, has pushed me to go further in my thinking and creativity. Professional costume designer Chelsea Kerl has guided me through the process and even gone with me to fabric stores. Mary Hurd, who was, until recently, the department's costume director, and Brooke Stanton, interim costume shop manager, went out of their way to keep me from getting stressed or overwhelmed. I am beyond blessed to have the support I do, and I know there are many more in the department rooting for and supporting me.
"Orlando," directed by Steven Bogart, with costume design by Kat Lawrence, was presented March 11-13, 2022, on the Spingold Mainstage.