Academic Spaces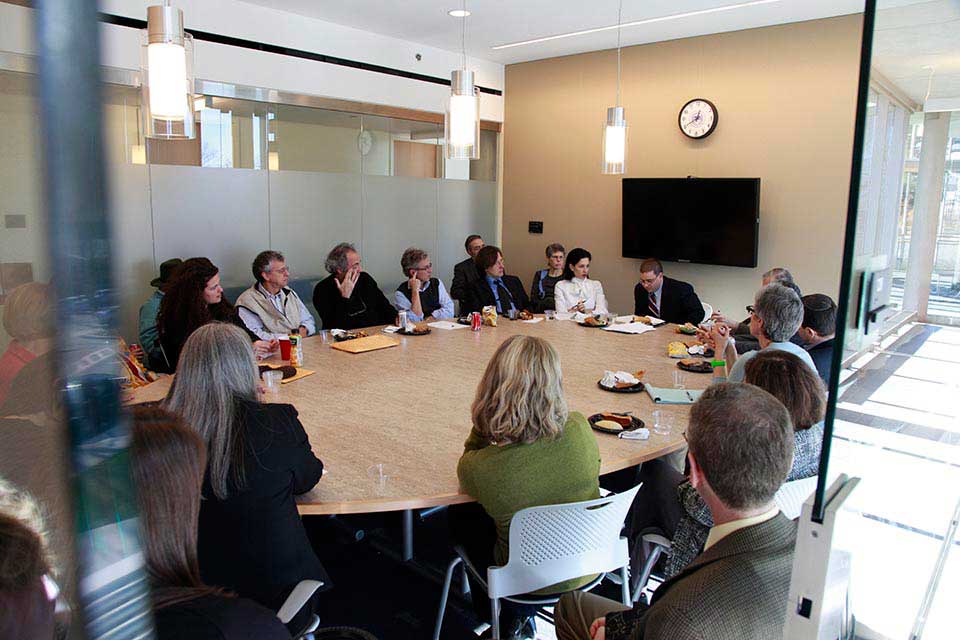 Mandel Center for the Humanities
Opened in October 2010, the Mandel Center for the Humanities is comprised of mostly office space with a few rooms available for community use.
Ground Floor
The ground floor consists of four academic spaces: G03, G10, G11 and G12. These rooms cannot be booked before 6:45 p.m. on weekdays.
Forum and Outdoor Terrace, and First Floor
Directly above the ground floor sits the Forum and Outdoor Terrace, which can accommodate small banquets, presentations and departmental functions.
Please note: During the academic year, the Forum is not available for events until after 4 p.m.
Two conference rooms also exist in the building, Room 128 and Room 228, which can be booked for small department meetings. Each room can accommodate 16 people.
The Mandel Forum and Terrace is managed by University Events
Other spaces in Mandel are booked directly by contacting Esha Senchauduri.
Third Floor
The third floor contains a Reading Room (Room 303) and a Roof Garden. The Reading Room can accommodate small meetings, using existing furniture in the room. The Roof Garden is a nice spot for intimate gatherings in the outdoors.
Policies
To check availability of an academic space, like a classroom, please contact the University Events, Operations team and your event specialist will contact the Registrar on your behalf. Because of class schedules, classroom spaces cannot be reserved before 6:45 p.m. Monday-Friday unless Registrar approval is given. If a client chooses to host an event in an academic space, the Registrar reserves the right to remove the event from the space for class scheduling. Classroom set-ups cannot be altered, and food is not permitted.