Student Life
Orientation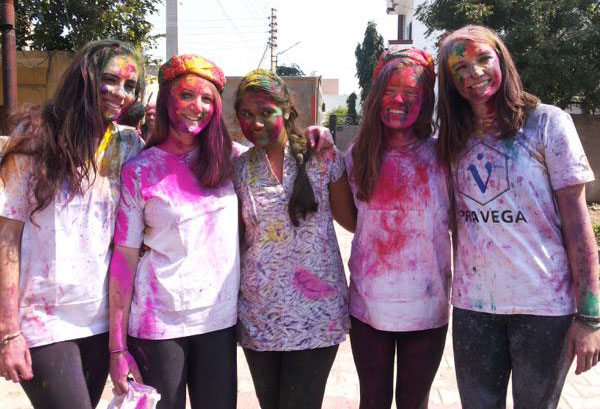 Students enjoy the Hindu spring festival, Holi
Prior to the start of the program, the Office of Study Abroad will run a pre-departure meeting to help prepare you for your time abroad. You will also receive a number of different pre-departure materials addressing the following topics:
Academic overview
Cost of attendance
Money matters in India
Credit transfer
Packing preparations
Passport and Indian visas
Arrival information
Health, safety, and risk management
On-site, an orientation program will help you adjust to your new environment and familiarize yourself with the various student support services available.
Housing & Meals
As a residential campus, students, and many faculty and staff, live on campus. The IISc has several student hostel and mess facilities.  You will live in a single room in the hostel with other Indian and international students.  Meals will be provided in the mess facilities. 
Campus Life
As a student at IISc, you will have access to all of the campus facilities including the gym, swimming pool, tennis courts, and medical facilities.
Independent Travel
It is understandable that you will want to explore other parts of India. You are required to attend classes throughout the week and are expected to schedule your independent travel for the weekends and holidays. In addition, Brandeis requires that you leave a basic copy of your itinerary with a staff member so that you can be quickly contacted in case of an emergency.