Alumni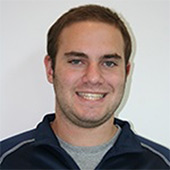 Andrew Baker '18
I majored in Russian Studies and International Global Studies and minored in Health Science, Society, and Policy. I began taking Russian in high school as a way to connect with my family roots, and fell in love with the language. I continued the study of Russian at Brandies. My favorite "Russian memory" is  MC'ing the Russian Talent Show this year.
After Brandeis, I will be attending law school at Suffolk University in Boston starting in the fall 2018.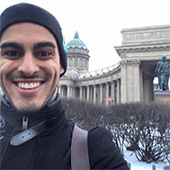 Gabriel Carasquillo '18
Gabriel Carasquillo majored in Russian Studies and IGS with minors in Politics and History. Through the Russian Studies Program, Gabriel took advantage of the Study Abroad opportunities by studying in St. Petersburg, Russia in the Spring of 2017 where he experienced the lifestyle of a student in the "Venice of the North." Coming from Puerto Rico, the allure of a completely different culture enabled him to find his passions for historical and political studies. Gabriel hopes to be able to apply his studies further in the near future.
He is currently applying to graduate programs in history to further apply the knowledge and perspectives he gained from studying Russian, history, and politics at Brandeis. Gabriel will miss the amicability of Russian Studies faculty with whom he worked closely for his entire undergraduate career, and is grateful and appreciative of the wonderful relationships and friendships created along the way.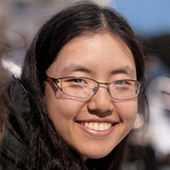 Linda Liu '18
I came to Brandeis with the idea that I would major in the sciences, go to graduate school, and then work in research. But I've always had a love of literature and a curiosity about the Russian language, so I switched from high school Spanish to college Russian and took some Russian literature classes. Now I'm graduating with a double major in Russian and biology, and while I still love biology, I've decided to refocus my energy towards becoming a writer. But biology will be paying the bills in the meantime. Right now I'm looking into a job in the forensic sciences, to tide me over until my first novel sells.
My favorite "Russian" memory: I can't choose. They're all my favorites.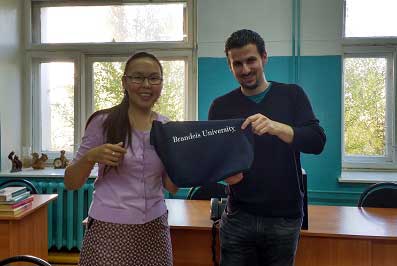 Rossina Soyan and Matt Kupfer
Rossina Soyan, Fulbright Foreign Language Teaching Assistant for the Russian Studies Program in 2015-2016, now teaches English at Tuva State University.
Matt Kupfer, an alumnus of the Russian Language Program, currently works for the Moscow News in a prestigious internship program through Alfa Bank. Matt visited Rossina in Tuva in September 2016.