Alumni
Addison Antonoff '22
While at Brandeis, I double majored in Russian studies and History with a minor in Journalism. I was a Russian studies UDR from 2021 to 2022. Outside of Brandeis, I participated in the Critical Language Scholarship with the State Department in the summer of 2021. I knew early on that I wanted to study the language, but I found a home in the department and decided to major. The Russian studies department not only taught me about the Russophone world but gave me an analytical framework I can use in any field going forward. It was an honor to start the department podcast Да нет, наверное and as much as I'll miss the friends I've made here, I'm excited to see what comes next.
Alyssa Rider '22
Highest Departmental Honors 
While at Brandeis, I majored in Russian Studies and IGS and minored in History. I participated in an intensive Russian program at Bryn Mawr in Summer 2019 and studied Russian abroad in Ireland in Fall 2021. I was also a Russian Studies UDR from 2020-2022 and a member of the Russian Club e-board. I knew coming in to Brandeis that I wanted to study Russian, and I really enjoyed my experience with the Russian program. My favorite memory from my time is probably filming a video for the Language Oscars freshman year.
Anna Cowett '21
While at Brandeis, I majored in Russian Studies and IGS and minored in History and East Asian Studies. I was on the sailing team and the women's rugby team, and I also worked in Financial Services. Following graduation I will be starting work at BraddockMatthews LLC in Wellesley as a Recruiting Coordinator.
Favorite Russian artistic/literary work?
Laughter in the Dark by Nabokov!
Nate Rtishchev '21
While at Brandeis, I majored in Russian Studies and Theater Arts. I showed up to Russian Club events as much as I could, and my main extracurriculars were student theater clubs. One of my highlights from those experiences was adapting Chekhov's The Cherry Orchard into a podcast. I was fortunate enough to study abroad at the Moscow Art Theater School. Living in Moscow and getting the training that I got there was an unbelievable experience. I wrote a thesis in the Theater Department called 10, 9, Too Late, Blast Off! Although it was a theater thesis, I based it on works that I learned about in Russian Studies classes. I am going into an intensive summer program at the University of Pittsburgh this summer. After that, I am going into the MA program in the Russian and Slavic Studies Department at NYU. I hope to focus my research on contemporary Russian Theater.
Favorite Russian artistic/literary work? Fun Russian Studies memory?
This question is really hard…. If I had to pick a favorite, I would have to say The Master and Margarita- in my opinion, it is a perfect novel. It's full of hilarious satire and the theme of the importance of storytelling comes across really poignantly. In terms of memories, again, it's hard to pick just one, but I'm not sure if anything can top the energy of the annual Cheburashka choir.


Fun Russian Studies memory?
As far as funny moments which concern Russian, there are too many to name. Long story short, studying Russian has and will continue to have an indelible impact on my life.

Micah is presently taking 6th level Russian through Arizona State University's Critical Language Institute, based at the university's Melikian Center. Both CLS and the ASU program were supposed to take place abroad (CLS in Nizhny Novgorod, ASU in St. Petersburg), but elected to go online due to the pandemic. Micah also received a Boren Scholarship to study Russian in Kazakhstan, but that also didn't pan out due to the pandemic. However, in exchange for retaining eligibility for the Scholarship, he delayed his official graduation date until Spring 2021, despite being done with coursework for over a year.

Over the course of the last year, Micah took a contemporary Russian/Eurasian politics class at UNC Chapel Hill in the fall and began teaching English online to Russian speakers. In the spring, he started interning at the Washington Institute for Near East Policy assisting Dr. Anna Borshchevskaya, whose research and writings focus on Russian grand strategy in the Middle East. At the moment, the Russian language is extremely pivotal to his professional career, which is why he is continuing to study the language in hopes of advancing his fluency.

Micah came to Brandeis to study Russian with Irina Evgenievna, and nearly 5-6 years later, he confidently says that this decision was one of the best he's ever made.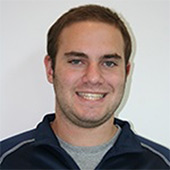 Andrew Baker '18
I majored in Russian Studies and International Global Studies and minored in Health Science, Society, and Policy. I began taking Russian in high school as a way to connect with my family roots, and fell in love with the language. I continued the study of Russian at Brandies. My favorite "Russian memory" is  MC'ing the Russian Talent Show this year.
After Brandeis, I will be attending law school at Suffolk University in Boston starting in the fall 2018.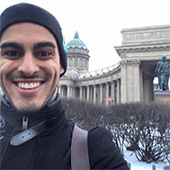 Gabriel Carasquillo '18
Gabriel Carasquillo majored in Russian Studies and IGS with minors in Politics and History. Through the Russian Studies Program, Gabriel took advantage of the Study Abroad opportunities by studying in St. Petersburg, Russia in the Spring of 2017 where he experienced the lifestyle of a student in the "Venice of the North." Coming from Puerto Rico, the allure of a completely different culture enabled him to find his passions for historical and political studies. Gabriel hopes to be able to apply his studies further in the near future.
He is currently applying to graduate programs in history to further apply the knowledge and perspectives he gained from studying Russian, history, and politics at Brandeis. Gabriel will miss the amicability of Russian Studies faculty with whom he worked closely for his entire undergraduate career, and is grateful and appreciative of the wonderful relationships and friendships created along the way.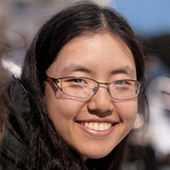 Linda Liu '18
I came to Brandeis with the idea that I would major in the sciences, go to graduate school, and then work in research. But I've always had a love of literature and a curiosity about the Russian language, so I switched from high school Spanish to college Russian and took some Russian literature classes. Now I'm graduating with a double major in Russian and biology, and while I still love biology, I've decided to refocus my energy towards becoming a writer. But biology will be paying the bills in the meantime. Right now I'm looking into a job in the forensic sciences, to tide me over until my first novel sells.
My favorite "Russian" memory: I can't choose. They're all my favorites.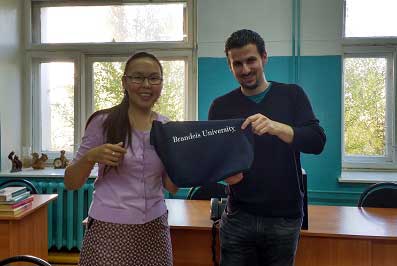 Rossina Soyan and Matt Kupfer
Rossina Soyan, Fulbright Foreign Language Teaching Assistant for the Russian Studies Program in 2015-2016, now teaches English at Tuva State University.
Matt Kupfer, an alumnus of the Russian Language Program, currently works as a senior reporter for The San Francisco Standard. Matt visited Rossina in Tuva in September 2016.