Experiential Learning Practicum
Individual Lives, Common Story
This supplemental practicum course is designed to provide students with hands-on experience conducting oral histories fieldwork at the Hebrew Rehabilitation Center while engaging in a much needed community service benefiting Russian-speaking elders. The practicum is based on the principles of experiential learning (EL), which emphasize connecting the knowledge received in the classroom to the real-life issues that exist in society, and allowing students to reflect on the knowledge gained from real life.
The goal of the course is the exploration of experiences lived by the generation of Russian speakers who survived WWII, experienced various forms of anti-Semitism in the post-war Soviet Union, and eventually immigrated to the U.S. The project is designed to bridge the intergenerational gap between Russian-speaking seniors and youths in order to generate the exchange of valuable wisdom and strengthen the community.
Eligibility
The practicum is open to both heritage learners as well as traditional students at the advanced level of language proficiency (at least five semesters of Russian language). For more information about course design, academic credit and registration details, please contact Professor Irina Dubinina, director of the Russian Language Program.
We also encourage you to read student reflections about the EL Practicum.
Student Experiences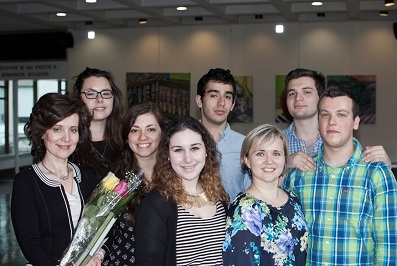 Historians, story tellers, family — that's what a team of Brandeis students has become to a group of immigrants from the former Soviet Union living at the Hebrew Rehabilitation Center in Brookline, Massachusetts. Students in the "Individual Lives, Common Story" experiential learning practicum have been meeting with the residents to listen to and record their emotional stories about living in the Soviet Union during and after World War II.