Faculty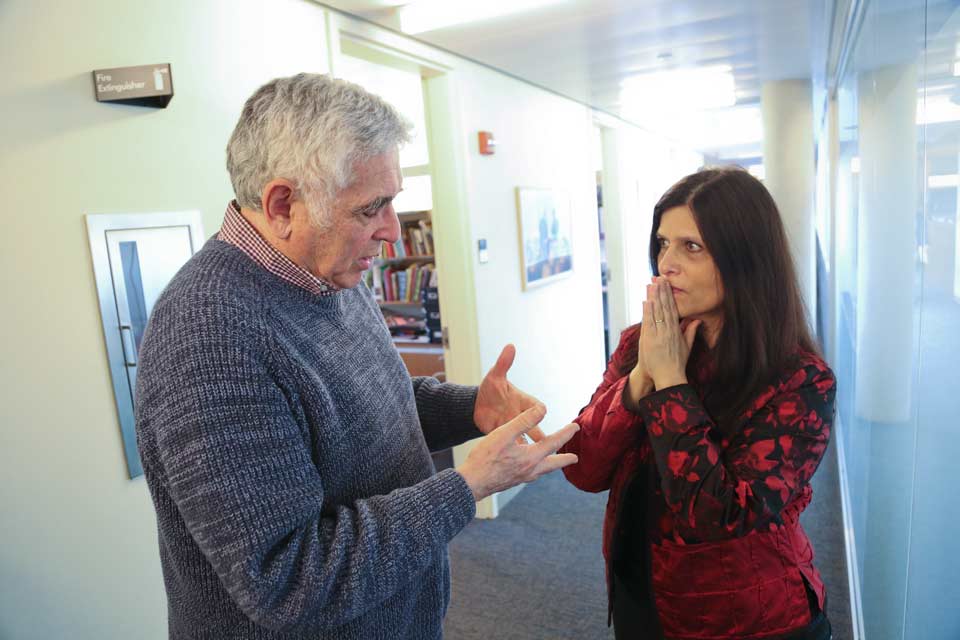 The Summer Institute seminars are taught by distinguished Israel Studies scholars. These seminars focus on Israel's society, history, politics, economics, culture, foreign affairs, and diplomacy.
Below is a sampling of scholars who have taught Summer Institute sessions in the past, and the presenters and people we have met with in Israel during the study tour.
Expand All
Ghaith Al-Omari, Washington Institute for Near East Policy
Ghaith Al-Omari is a senior fellow at the Washington Institute for Near East Policy. He served in various positions within the Palestinian Authority, including director of the International Relations Department in the Office of the Palestinian President, and advisor to the Palestinian negotiating team from 1999- 2006. In these capacities, he provided advice on foreign policy — especially vis-à-vis the United States and Israel — and security. He has extensive experience in the Palestinian-Israeli peace process, where he participated in various negotiating rounds, most notably the Camp David summit and the Taba talks. After the breakdown of the Palestinian-Israeli negotiations, he was the lead Palestinian drafter of the Geneva Initiative, an unofficial model peace agreement negotiated between leading Palestinian and Israeli public figures. Mr. Al-Omari is a lawyer by training and a graduate of Georgetown and Oxford universities. Prior to his involvement in the Middle East peace process, he taught international law in Jordan and was active in human rights advocacy.

Gannit Ankori, Brandeis University
Dr. Gannit Ankori, a critically acclaimed author, curator and educator, is the Henry and Lois Foster Director and Chief Curator of the Rose Art Museum at Brandeis University. In addition to leading the Rose, she maintains an active role as a teacher and an international scholar and curator, serving as professor of Fine Arts and Women's, Gender and Sexuality studies at Brandeis University. Dr. Ankori has published numerous books, catalogues and articles about modern and contemporary art viewed from a global perspective. Her books and essays have been published in a dozen languages, including Chinese, Japanese, French, German, Dutch, Italian, Hebrew, Arabic, Turkish, and Spanish. She has published extensively in the field of Israeli and Palestinian art, with special emphasis on issues pertaining to gender, nationalism, religion, trauma, exile, hybridity and their manifestations in art and film. Her book Palestinian Art (Reaktion Books, London 2006) was awarded a Polonsky Prize for Originality and Creativity in the Humanistic Disciplines. She has curated several exhibitions of Israeli and Palestinian artists, among them "Home" (1997) with Jack Persekian at Gallery Anadiel, Jerusalem; and "Dor Guez: 100 Steps to the Mediterranean" (2012); "Nira Pereg: The Right to Clean" (2015); and "Ben Hagari: Potter's Will" (2016) and "Displaced: Raida Adon't Strangeness" (2022). Dr. Ankori is internationally renowned for her groundbreaking scholarship on Frida Kahlo. She is part of the curatorial team that has organized major Kahlo exhibitions in London, New York, San Francisco, Holland and Paris. Closer to home, "Frida Kahlo: Pose," a focused research-based exhibition on the iconic Mexican artist, which Gannit has co-curated with Mexican fashion scholar and curator, Circe Henestrosa, was on view at the Rose Art Museum June-December 2021. Dr. Ankori earned her doctorate from the Hebrew University of Jerusalem. In addition to Brandeis, she has taught at Harvard University, Tufts University/School of the Museum of Fine Arts, Hebrew University, and MIT where she served on the Board of Directors of the Graduate Consortium of Women Studies.

Yuval Evri, Brandeis University
Yuval Evri is Assistant Professor of Near Eastern and Judaic Studies on the Marash and Ocuin Chair in Ottoman, Mizrahi and Sephardic Jewish Studies at Brandeis University. He is a cultural historian specializing in Sephardi/Mizrahi modern history and culture, with a particular interest in Palestine/Eretz Israel during the first half of the 20th century. His current book project traces the invention of the Mizrahim/Sephardim as go-betweens and mediators on the borderline that emerged between the Jew and the Arab and between Hebrew and Arabic, and explores how the fluidity inherent in this position became a source of resistance to the dominant national and monolingual forces. His last book, The Return to Al-Andalus: Disputes Over Sephardic Culture and Identity Between Arabic and Hebrew, was published by Magnes press in 2020.

Olga Gershenson, University of Massachusetts Amherst
Olga Gershenson is professor of Judaic and Near Eastern studies and of film studies at the University of Massachusetts Amherst. She is a multi-disciplinary scholar with interests at the intersection of culture, history, and film. She is the author of Gesher: Russian Theater in Israel; A Study of Cultural Colonization (2005), The Phantom Holocaust: Soviet Cinema and Jewish Catastrophe (2013), and New Israeli Horror: Local Cinema, Global Genre (forthcoming later this year). Along with her research, she curates film series, consults for festivals, and edits the "Teaching with Film and Media" column at AJS Perspectives, a magazine published by the Association for Jewish Studies. She has taught courses on Jewish and Israeli film across the world, including in Israel, China, India, Russia, and the United Arab Emirates. Liora Halperin, University of Washington Liora Halperin is professor of international studies and history and Distinguished Endowed Chair in Jewish Studies at the University of Washington. She is the author of two books, The Oldest Guard: Forging the Zionist Settler Past, published by Stanford University Press in 2021, and Babel in Zion: Jews, Nationalism and Language in Palestine, 1920-1948, published by Yale University Press in 2015. She is currently working on a book about the diverse Jewish communities who lived in Palestine before Zionism, and the way their descendants negotiated their relationships to their family histories and to the Zionist movement, in the 20th century. lhalper@uw.edu Laura Jockusch, Brandeis University Laura Jockusch is the Albert Abramson Associate Professor of Holocaust Studies at Brandeis University, where her research and teaching focus on the social, political, cultural, and legal histories of European Jews before, during, and after the Holocaust. Jockusch holds a doctorate from New York University and was a research fellow at the United States Holocaust Memorial Museum, Yad Vashem, The Hebrew University of Jerusalem, and the Radcliffe Institute of Advanced Study at Harvard University. She is the author of Collect and Record! Jewish Holocaust Documentation in Postwar Europe (Oxford University Press, 2012), which won the National Jewish Book Award and the Sybil Halpern Milton Book Prize. She coedited (with Gabriel Finder) Jewish Honor Courts: Revenge, Retribution, and Reconciliation in Europe and Israel after the Holocaust (Wayne State University Press, 2015) and (with Andreas Kraft and Kim Wünschmann) Revenge, Retribution, Reconciliation: Justice and Emotions between Conflict and Mediation (The Hebrew University Magnes Press, 2016). She is the editor of Khurbn-Forshung: Documemts on Early Holocaust Research in Postwar Poland (Vandenhoeck und Ruprecht, 2022). Her ongoing research project investigates how Jews conceptualized revenge and justice after the Holocaust. She is currently working on a book entitled The Trials of Stella Goldschlag: Nazi Victim, Holocaust Survivor, and War Criminal?

Alexander Kaye, Brandeis University
Alexander Kaye is the director of the Schusterman Center for Israel Studies, the Karl, Harry, and Helen Stoll Chair of Israel Studies, and associate professor in the department of Near Eastern and Judaic Studies at Brandeis University. He received a doctorate in Jewish history from Columbia University, and a bachelor's degree and a master of philosophy from the University of Cambridge. Dr. Kaye's research is on Jewish intellectual history and the history of political and legal thought. With David N. Myers, he co- edited The Faith of Fallen Jews, a collection of works by the late Prof. Yosef H. Yerushalmi. His latest book, The Invention of Jewish Theocracy: The Struggle for Legal Authority in Modern Israel (Oxford University Press, 2020), is a history of the idea that the State of Israel should be governed by halakha (Jewish law and jurisprudence). It received the Baron Prize from the American Academy for Jewish Research and the Leon Charney Book Award from Yeshiva University, and was a finalist for the Jordan Schnitzer Book Award in the category of philosophy and Jewish thought, as well as a finalist for the Concordia University Library - Azrieli Institute Award for Best Book in Israel Studies. In 2021, Dr. Kaye was a co-recipient of the Young Scholar Award of the Association for Israel Studies.

Mark Kligman, University of California, Los Angeles
Mark Kligman is professor of ethnomusicology and musicology at the UCLA Herb Alpert School of Music. He specializes in the liturgical traditions of Middle Eastern Jewish communities and various areas of popular Jewish music. He has published on the liturgical music of Syrian Jews in Brooklyn in journals as well as in his book, Maqāmand Liturgy: Ritual, Music and Aesthetics of Syrian Jews in Brooklyn (Wayne State University Press, 2009), which shows the interconnection between the music of Syrian Jews and their cultural way of life. The book was chosen as the notable selection by the Association for Jewish Studies' Schnitzer Book Award. His other publications focus on the intersection of contemporary Jewish life and various liturgical and paraliturgical musical contexts. Prof. Kligman is the academic chair of the Jewish Music Forum and co-editor of the journal Musica Judaica. He is the inaugural holder of the Mickey Katz Endowed Chair in Jewish Music at UCLA and director of the Lowell Milken Center for Music of American Jewish Experience. From 2018-2021 he was chair for the department of ethnomusicology.

Anwar Mhajne, Stonehill College
Anwar Mhajne is an assistant professor of political science and the head faculty fellow for the Center for the Study of Race, Ethnicity, and Social Justice at Stonehill College. She also serves on the Academic Council of American Friends of Combatants for Peace. Her research strengths lie in feminist international relations and security studies; civil society and activism; political Islam; the Middle East; gender politics; and social movements. Her work has been featured in the Journal of Women, Politics & Policy, The International Feminist Journal of Politics, Political Research Quarterly, Religion and Politics, Culturico, The Carnegie Council for Ethics in International Affairs, Foreign Policy, The Conversation, Times of Israel, Haaretz, Middle East Eye, +972 Magazine, Quartz, The Defense Post, The Jerusalem Post, Carnegie Endowment for International Peace, Albawaba, the New Arab, and the National, among others. At Stonehill College, Dr. Mhajne teaches about global security studies, political science research methods, U.S. foreign policy, political Islam, and politics of the Middle East, including the course "Terror, State and Society, Cyber Security, Politics of 'Fake News'," and international politics. She is a co-chair of the Faculty of Color Association at Stonehill College and currently serves as a member-at-large on the executive committee of the Feminist Theory and Gender Studies Section (FTGS).

Yehudah Mirsky, Brandeis University
Yehudah Mirsky is professor of Near Eastern and Judaic studies at Brandeis University and is on the faculty of the Schusterman Center for Israel Studies. He teaches courses in Jewish thought (both medieval and modern), history of Zionism and the State of Israel, and the history of political thought. He is also, for the spring semesters of 2022 and 2023, a visiting professor at Harvard University. He served in the U.S. State Department's human rights bureau, and has written on religion, politics and culture for The New York Times, The Washington Post, New Republic, The Economist and many other publications. He also was an aide to then-Senators Bob Kerrey and Al Gore. An ordained rabbi, he was chaplain with the Red Cross after 9-11. In Israel he was a fellow at the Van Leer Institute and Jewish People Policy Institute and among the founders of the grass-roots Yerushalmit Movement for a pluralist, livable Jerusalem. His Rav Kook: Mystic in a Time of Revolution (Yale, 2014) was awarded the Jewish Book Council's Choice Prize. It appeared in 2021 in a revised Hebrew edition as Rav Kook: Mabat Hadash (Kinneret) and was named by Haaretz as one of the 50 best books of 2021. The same year also saw the publication of his Towards the Mystical Experience of Modernity: The Making of Rav Kook, 1865-1904 (Academic Studies Press). His current project involves the relationships between liberal politics, theology and nationalism in the mid-20th century. Prof. Mirsky has a bachelor's degree from Yeshiva College, a jurisprudence degree from Yale Law School, and a doctorate from Harvard University, Committee on the Study of Religion. He lives in Jerusalem with his family.

Shula Mola, Brandeis University
Shula Mola is a postdoctoral fellow at the Schusterman Center for Israel Studies at Brandeis University. Dr. Mola was named one of Israel's 50 most influential women in 2022 by Israel's leading economic newspaper, Globes. She received her doctorate from Ben-Gurion University of the Negev, with a dissertation focusing on the impact of technology on activist immigrants. Dr. Mola uses the power of academics to advance social justice. Her research interests include social stratification, oppression, and structural racism. Her current focus is on the preservation of the Ethiopian-Israeli community's history and heritage in a quest to gain recognition of its contribution to Israeli society. Dr. Mola's frequent presence in social, printed, and digital media, in movies and on television, gives voice to challenges facing the Ethiopian-Israeli community and their experience of injustice in Israeli society. She has been a leader of the Association for Ethiopian Jews (AEJ) for over 20 years, rising to the positions of executive director and eventually chair. She continues to teach and develop the curriculum at the Center for Educational Technology, an Israeli non-profit organization dedicated to the advancement of the education system in Israel, in the Jewish world and around the globe. Dr Mola is a founding member and key activist of Mothers on Guard, a group of mothers who protest police brutality against youth of Ethiopian origin. She also serves on the boards and councils of the Ministry of Justice's National Anti-Racism Coordinator's Office, the New Israel Fund, Gesher Multicultural Film Fund, and Jerusalem Culture Unlimited.

Derek Penslar, Harvard University
Derek Penslar is the William Lee Frost Professor of Jewish History at Harvard University. He previously taught at Indiana University, the University of Toronto, and Oxford University, where he was the inaugural holder of the Stanley Lewis Chair in Modern Israel Studies. Prof. Penslar's most recent books are Theodor Herzl: The Charismatic Leader (2020, German ed. 2022), Zionism: An Emotional State (2023), and (with Stephan Vogt and Arieh Saposnik) Unacknowledged Kinships: Postcolonial Theory and the Historiography of Zionism (2023). He is currently working on a global history of the 1948 Middle East War. Penslar is a fellow of the Royal Society of Canada and of the American Academy for Jewish Research, and an Honorary Fellow of St. Anne's College, Oxford.

Shay Rabineau, Binghamton University
Shay Rabineau is associate professor of Israel studies and associate director of the Center for Israel Studies at Binghamton University. He is the author of Walking the Land: A History of Israeli Hiking Trails (Bloomington: Indiana University Press, 2023). His research and teaching deal with history, politics, and environment in Israel and the Middle East. In 2022, he became the first person since 1934 to circle the Dead Sea on foot. He is currently working on a book manuscript that uses the 2022 Dead Sea Trek as a lens for viewing the Dead Sea's history and current environmental crisis.

Marty Samuels, Brandeis University
Dr. Marty Samuels holds a doctorate in biochemistry from Harvard University where he also taught extensively, mentored hundreds of students, and served as the assistant director for undergraduate studies for the molecular and cellular biology and chemical and physical biology concentrations. His teaching excellence has been recognized with multiple awards at the university level before becoming the Associate Director for Science at Harvard's Bok Center for Teaching and Learning, where he worked with faculty across disciplines to incorporate active learning and inclusive teaching, (re)design courses and assignments, train Tas, foster communities of practice and support student success. Most recently, he was the Head of Content for LabXchange, Harvard's free, interactive science education platform.

Jonathan D. Sarna BA '75, MA '75
Jonathan D. Sarna is University Professor and Joseph H. & Belle R. Braun Professor of American Jewish History at Brandeis University. He also chairs the Academic Advisory and Editorial Board of the Jacob Rader Marcus Center of the American Jewish Archives in Cincinnati, and serves as Chief Historian of The Weitzman National Museum of American Jewish History in Philadelphia. Author or editor of more than thirty books on American Jewish history and life, his American Judaism: A History (Yale 2004), recently published in a second edition, won six awards including the 2004 Everett Jewish Book of the Year Award from the Jewish Book Council. His most recent books are Coming to Terms with America (JPS, 2021); (with Benjamin Shapell) Lincoln and the Jews: A History (St. Martin's, 2015), and When General Grant Expelled the Jews (Schocken/Nextbook, 2012). His annotated edition of Cora Wilburn's previously unknown 1860 novel, Cosella Wayne (University of Alabama Press), was published in 2019. Dr. Sarna is married to Professor Ruth Langer and they have two married children and three adorable grandchildren.

Dahlia Scheindlin, The Century Foundation
Dr. Dahlia Scheindlin is a public opinion expert and strategic consultant with over twenty years of experience, specializing in liberal and progressive social causes. She has advised nine national campaigns in Israel and has worked in 15 other countries. Dahlia conducts research and policy analysis on the Israeli-Palestinian conflict, regional foreign policy, democracy, human rights and civil rights, minority issues, religion and state, domestic political analysis, comparative conflict and comparative politics. Her clients include local and international civil society groups, think tanks and political actors. She has regional expertise in the Balkans and Eastern Europe, particularly post-conflict societies and transitional democracies. Dahlia holds a doctorate in political science from Tel Aviv University and she has taught at Ben Gurion University of the Negev, Tel Aviv University, the Jezreel Valley College, and Eastern Mediterranean University in Cyprus. She co-founded +972 Magazine and is a member of the advisory board of Jewish Currents magazine. Dahlia is currently a fellow at The Century Foundation; she co-hosts The Tel Aviv Review podcast and in 2021 co-hosted the Election Overdose podcast at Haaretz newspaper where she now has a regular column; she is also a regular commentator on global affairs for the BBC television program Context. Her work has appeared in the New York Times, the Washington Post, Foreign Affairs, Foreign Policy, Newsweek, Time, The Guardian/Observer, Dissent, Democracy: A Journal of Ideas, and The Washington Quarterly, among other venues.

Joshua Shanes, College of Charleston
Joshua Shanes is professor of Jewish studies, and director of the Arnold Center for Israel Studies, at the College of Charleston. He has published dozens of articles in both academic and popular journals on modern Jewish politics, religion, culture, and antisemitism. His first book, "Diaspora Nationalism and Jewish Identity in Habsburg Galicia" (Cambridge, 2012) explained the rise of Zionism as a form of Diaspora Jewish identity and politics. He is currently completing a history of Jewish Orthodoxy from its German origins through the 21st century for Rutgers University Press.

Asher Susser, Tel-Aviv University
Asher Susser is the Stanley and Ilene Gold Senior Fellow at the Moshe Dayan Center for Middle Eastern Studies at Tel-Aviv University. He is a former visiting professor in Israel studies at the University of Arizona and former visiting senior fellow on the Myra and Robert Kraft Chair in Arab Politics at Brandeis University. He has been teaching at Tel Aviv University's department for Middle Eastern history for over 30 years and was director of their Moshe Dayan Center for Middle Eastern and African Studies from 1989-1995 and from 2001-2007. One of Israel's leading experts on Jordan and the Palestinians, Susser was the only Israeli academic invited by Prime Minister Yitzhak Rabin to join him and King Hussein at their historic appearance before the U.S. Congress. His publications include Israel, Jordan and Palestine - The Two State Imperative (a Crown Center for Middle East Studies book, Brandeis University Press, 2011), The Rise of Hamas in Palestine and the Crisis of Secularism in the Arab World (2010), Jordan: Case Study of a Pivotal State (2000), and the co-edited volume, Challenges to the Cohesion of the Arab State (2008).

Ilana Szobel, Brandeis University
Ilana Szobel is Professor of Modern Hebrew Literature on the Joseph H. and Belle R. Braun Chair in the Near Eastern and Judaic Studies department, and Core Faculty at the Department of Women's, Gender, and Sexuality Studies at Brandeis University. Her first book, A Poetics of Trauma: The Work of Dahlia Ravikovitch, was published in 2013 by Brandeis University Press. This book is the first comprehensive examination of the entire oeuvre of Israel Prize laureate Dahlia Ravikovitch. Her second book, Flesh of My Flesh: Sexual Violence in Modern Hebrew Literature was published in 2021 by SUNY Press in their Contemporary Jewish Literature and Culture book series. This book explores the literary history of sexual assault in Hebrew literature, and situates the rhetorics of sexual aggression within the context of gender, race, disability, and the Zionist project. The book was a finalist for the Concordia University Library - Azrieli Institute Award for Best Book in Israel Studies. In addition to her academic books, Professor Szobel edited Tsvia Litevsky's poetry book, Core of Stillness [עין הדומיה] (Carmel Publishing House 2021), and Szobel's own poetry book, Once Upon a Days [בשכבר הימים הבאים] is forthcoming from Iton 77 Publishing House. During her sabbatical next year, Szobel will be a Hadassah-Brandeis Institute (HBI) Scholar-in-Residence, as well as a Visiting Scholar at the Center for Jewish Studies at Harvard University. Both positions will enable her to work on her book project, The Un-Chosen Body: Disability Culture in Israel. The book examines the ways in which disability as a lived reality informs Israeli film, performance, and literature. It focuses specifically on the creative work of Israeli women with disabilities who participate in a cultural space that excludes them due to both their gender and their disability, and shows how they reframe and reimagine cultural, artistic, and political accessibility through their creative work.

Dov Waxman, University of California in Los Angeles
Dov Waxman is the Rosalinde and Arthur Gilbert Foundation Professor of Israel Studies and the director of the Y&S Nazarian Center for Israel Studies at the University of California, Los Angeles (UCLA). Before joining UCLA, he was the Stotsky Professor of Jewish Historical and Cultural Studies at Northeastern University, and he has also been a professor at the City University of New York and Bowdoin College. He has had visiting fellowships at Oxford University, Tel Aviv University, Bar-Ilan University, and the Hebrew University. He received his doctorate and master's degree from Johns Hopkins University, and his bachelor's degree from Oxford University. He is the author of four books: The Pursuit of Peace and The Crisis of Israeli Identity: Defending / Defining the Nation (2006), Israel's Palestinians: The Conflict Within (2011), Trouble in the Tribe: The American Jewish Conflict over Israel (2016), and most recently, The Israeli-Palestinian Conflict: What Everyone Needs to Know (2019). His writing has also been published in The New York Times, The Washington Post, The Los Angeles Times and The Atlantic, among other publications. He is currently working on a book about the politics of contemporary antisemitism.

Shayna Weiss '07, Brandeis University
Shayna Weiss is associate director of the Schusterman Center for Israel Studies. Before coming to the Schusterman Center, Dr. Weiss held the title of Distinguished Visiting Scholar in Israel Studies at the U.S. Naval Academy. Her manuscript, Gender Segregation and the Political Rise of Ultra-Orthodox Jews in Israel examines the demand to reorder space to prevent mixing between men and women, an increasingly common and controversial practice in Israel, as part of the political training of Haredi Jews, a battle whose successes and failures taught its leaders how to function in the new State of Israel. She is also interested in Israeli popular culture, and especially the growth of Israeli television. After receiving her doctorate from New York University, she completed postdoctoral fellowships at Bar-Ilan University and Tel Aviv University. She has published in the Journal of Jewish History, the Journal of Jewish Film and New Media, and recently published an essay about teaching the 1948 war at the Naval Academy in an edited collection entitled Teaching the Arab Israeli Conflict. She is completing a book on gender segregation in the Israeli public sphere. She contributed the chapter "Borders, Boundaries, and Barriers: Depictions of Land in Israel/Palestine through Film" to Teaching the Arab-Israeli Conflict (Wayne State University Press, 2019), edited by Rachel Harris.
Ilan Fathi Amit
Ilan Fathi Amit is the Israel Representative and Content Expert of the Inter-Agency Task Force on Israeli Arab Issues. Ilan joined the IATF as Israel Representative in 2020. He has over a decade of experience in the field of socio-economic development as a department and program director in Arab-Jewish NGO's focusing on the Arab-Bedouin society of the Negev and the Southern West Bank Palestinian communities. Ilan has lifelong experience and commitment to Jews and Arabs' mutual existence through community development and the promotion of a shared society. Ilan holds a Ph.D. in Anthropology from The University of Amsterdam and an M.A. in Urban Planning from The Ben Gurion University in Israel. Ilan resided in the Netherlands during his academic work and traveled internationally for fieldwork, focusing on refugees and asylum seekers. Ilan is married with two lovely children and currently resides in Jerusalem.

Anat Baron
Anat Baron was born in Israel in 1953. In 1971 she graduated from High School in Tel Aviv-Jaffa. Between the years 1971 to 1973 she served in the Israel Defense Forces. She completed her law studies at Tel Aviv University Faculty of Law in 1977. From 1976 to 1979 she interned at the Office of the General (Legal) Counsel to the Ministry of Defense and at a private law firm. In 1979 she was admitted to the Israeli Bar and worked in private practice until 1991. In 1991 she was appointed Judge of the Tel Aviv-Jaffa Magistrates Court, and in 2002 was appointed Judge of the Tel Aviv-Jaffa District Court. In January 2015 she was appointed Justice of the Supreme Court of Israel.

Rebecca Woods Baum
Rebecca Woods Baum is an expert and creative Global Corporate Social Responsibility manager and experienced non-profit Program Director. She is passionate about bringing life to strategies and delivering results for individuals, communities and organizations.

Ayelet Ben Yishai
Ayelet Ben Yishai is Associate Professor and current Chair of the English Department at the University of Haifa, specializing in postcolonial and Victorian literature and culture, and in the history and theory of the novel, with particular focus on questions of realism, genre, and literary epistemology. Ayelet's teaching, research, and way of being in the world often overlap, allowing her to think and write about the political and discursive problems of complicity.

Hana Bendcowsky
Hana Bendcowsky is the program director of the Jerusalem Center for Jewish-Christian Relations (JCJCR) at the Rossing Center for Education and Dialogue. She holds an M.A. degree in Comparative Religions from Hebrew University and has 24 years of practical experience in interfaith activities in Israel and abroad. She teaches in varied institutions, colleges, academic programs, Christian seminaries, post and pre-military programs, IDF, governmental offices, and more. She is involved in many of the Center's activities including its dialogue programs, producing educational materials, consulting, and advocacy work. Hana is a professional tour educator in Jerusalem leading study tours in the Christian Quarter, her expertise is the Christian Communities in Israel and Jewish-Christian Relations in the Israeli context.

Maurice Ebileeni
Maurice Ebileeni is a member of the faculty in the English Department at the University of Haifa. Dr. Ebileeni's work on Palestinian literature and culture has appeared in Comparative Literature, The Journal of Postcolonial Writing, and Interventions, among other publications.

Elan Ezrahi
Elan Ezrahi is a Jerusalem-based consultant in the areas of Jewish Peoplehood and Israel - Diaspora relations. Elan served in various executive roles including the International Dept. of Melitz – Center for Jewish Zionist education, the Charles Bronfman Mifgashim Center, Masa - Israel Journey (founding CEO) and the International School for Jerusalem Studies at Yad Ben-Zvi. He is currently on the faculty of the MA program in Jewish Peoplehood and the Ruderman Program on American Jewry at the University of Haifa. Elan received his BA and MA from Hebrew University in Education and Jewish Thought and his Ph.D. from the Jewish Theological Seminary in New York. His dissertation topic was "Encounters between American Jews and Israelis: Israelis in American Jewish Summer Camps". He is the author of two books: Awakened Dream: 50 Years of Complex Unification of Jerusalem (2017), and Deep Pain and Sublime Joy: Pepita and Yehuda Haezrahi (2022). Elan is married to Rabbi Naamah Kelman, a father of three, and grandfather to five boys.

Alaa' Hamdan
Alaa' Hamdan, is a Palestinian with Israeli citizenship. Alaa' earned his BA in Psychology, Sociology, and Anthropology from Haifa University and his MA in Conflict Transformation from Eastern Mennonite University. For years, Alaa' has taken part in social activities such as youth counseling, youth movements, and in the fields of human rights education and applied social research. He has also served as a Teaching Assistant at Haifa University in Statistics and Sociology and was previously a Co-Director of the Shared Tourism Project at Sikkuy-Aufoq, an Arab-Jewish shared organization that works to promote full equality between Jewish and ArabPalestinian citizens of Israel. Alaa' lives in Acre, with his wife and children.

Dalal Iriqat
Dalal Iriqat is an Assistant Professor and VP of International Relations at the Arab American University - Palestine and a columnist at Al Quds Newspaper since 2016. Iriqat was identified as a Young Global Leader at the World Economic Forum 2021. Dalal's research focuses on Diplomacy, Nation Branding, Palestinian State Building, Coercive Diplomacy, Public Diplomacy, Soft Power, Mediation and Conflict Resolution. She holds a PhD in Public Administration from Paris I Sorbonne, an MA in Diplomatic Studies from Westminster University in London, and a BA in Political Science from the University of Jordan.
Sivan Kaniel
Sivan Kaniel (she/her) has over 15 years of experience in Israel, Ireland, and NL in various leadership roles in the tech industry. She's passionate about people and the power of diversity in and out of the workspace. She's a keen believer in education and advocacy, and a forever optimist.

Naamah Kelman
Naamah Kelman is a descendent of 10 generations of rabbis, becoming the first woman to be ordained in her family and in Israel by the Hebrew Union College in 1992 where she is recently retired as Dean. Born and raised in New York, she has lived in Israel since 1976 where she has worked in community organizing and Jewish education, promoting Jewish Pluralism and Inter-faith Dialogue and Co-existence, and feminist causes. Naamah Kelman has had various roles at HUC including the Director of the Year in Israel, and direct involvement in the professional and spiritual development of the Israeli Rabbinic students. She was among the founders of the Blaustein Center for Spiritual Care at HUC and, years ago, a founding parent and professional of the first Reform pre-School, which spearheaded curriculum and teacher training for a growing network of Reform Educational settings. She has and is serving on the Boards of Rabbis for Human Rights, Project Kesher, the Tali Education Fund. She is devoted to building bridges between Diaspora Jews and Israel as well as celebrating and promoting the evolving Israeli Jewish Renaissance.

Etgar Keret
Etgar Keret is a leading voice in Israeli literature and cinema. Keret's books have been published in fifty languages. His writing has been published in The New York Times, Le Monde, The New Yorker, The Guardian, The Paris Review and Zoetrope. Keret lectures at Ben Gurion University of the Negev as a Full professor. Over 100 short movies have been based on his stories, as well as feature films. He has received the Book Publishers Association's Platinum Prize several times, the St Petersburg Public Library's Foreign Favorite Award (2010) and the Newman Prize (2012). In 2010, Keret was honored in France with the decoration of Chevalier de l'Ordre des Arts et des Lettres. In 2007, Keret and Shira Geffen won the Cannes Film Festival's "Camera d'Or" Award for their movie Jellyfish, and Best Director Award of the French Artists and Writers' Guild. The two also co-wrote and directed "The Middleman" (2019), a French mini-series for ARTE. The series won the best screenplay award at La Rochelle fiction TV festival in France. Keret was the winner of the 2016 Charles Bronfman Prize. His latest collection "Fly Already" won the most prestigious literary award in Israel- the Sapir prize (2018) as well as the National Jewish Book Award of the Jewish Book Council.

Isabel Kershner
Isabel Kershner is a Jerusalem-based correspondent for The New York Times covering Israeli and Palestinian affairs. She is also the author of Barrier: The Seam of the Israeli-Palestinian Conflict, which examines the political, strategic, and human dimensions of the West Bank barrier that Israel has constructed. Ms. Kershner previously served as Senior Editor for the Middle East at The Jerusalem Report magazine. Before moving to Jerusalem from England, Ms. Kershner worked as a Middle East risk consultant at Control Risks Ltd. She is the recipient of the Search for Common Ground journalism award for fostering understanding of the Middle East.

Bianca Lewis
Bianca Lewis (she/her) has specialized in building sales teams at technology start-ups for the last decade, including Logz.io, where she helped take the company from a $5 million valuation to well over $300 million within 3.5 years. Bianca is currently the Chief Revenue Officer at Opster and serves on the commercial advisory boards of several start-ups.

Suleiman Maswadeh
Suleiman Maswadeh is a Political Correspondent for Israel Public Broadcast Corporation (Kan). The eldest brother to six sisters, he was born and raised in the Muslim Quarter of the Old City of Jerusalem and currently lives in Tel Aviv. Maswadeh studied accounting for two years at the University of Bir Zeit, before deciding to attend an Israeli academic institution. He learned Hebrew for the first time at the age of 20 while attending a pre-academic preparatory course. Maswhadeh then obtained a BA in politics and communications from Hadassah College. He is the first in his family to go to an academic institution and first East-Jerusalemite to fulfill such a job at Kan.

Danielle Mayron
Danielle Mayron is the Tours Coordinator and Guide for EcoPeace Middle East. She has a Master of Science degree in Marine Ecology and eighteen years of conservation experience.

Tsivie Merilous
was born in Antwerp 54 years ago. After marrying, she and her husband moved to Israel where her husband was studying and wanted to continue his studies. They have ten children, four of whom are married! One of their sons lives in America and the rest are in Israel. Tsivie is a housewife and enjoys being a stay-at-home mother. Their youngest is twelve so there's plenty to do at home to keep her busy!

Naim Obeid
Naim Obeid is a lifelong resident of Akko, Israel. Naim, a sound engineer, is the founder and owner of an acoustic design firm that owns and operates a music production and professional sound studio. Naim is active in many community organizations around the city. He is a board member of the Akko Conservatory of Music and a founding member of "Keshet", an Arab/Jewish community leadership council. In 2015 Naim joined the board of the NICAT organization and played a leading role in the process of building the A-CAT Center. In January 2016 was appointed as CEO of the A-CAT Center.

Alex Rif
Alex Rif is an Israeli-Russian poet and social activist. As a cultural-social entrepreneur and community organizer, Alex synthesizes storytelling and cultural-hacking with her public policy experience to amplify unheard voices in Israeli society, particularly, Russian-speaking Israelis (RSI). Founder and CEO of One Million Lobby, the first Israeli lobby to advocate for a better social, economic, and cultural reality for the 1.2 million RSIs and The Cultural Brigade, a platform for cultural-hacking projects, led NovyGod and other country-wide projects, which rebranded Russian-Israeli culture and made the RSIs feel at home. A TV series she created, "Generation 1.5", about the 90's immigration wave from the FSU was broadcast on April 2022 on Israeli Public Broadcasting Corporation (Kan). Previously, she led employment policy for marginalized populations at the Ministry of Economy. Alex was recognized by 'The Marker' as one of the 40 under 40 promising young Israelis, and her poetry book, 'Silly Girl of the Regime,' won the Matanel award. She holds an MA in Public Policy (Civil Service Cadet Program) and a BA in Political Science & Business Administration, both from The Hebrew University of Jerusalem. Mother to Gur and Oz, and partner to Daniel.

Emili Rishmawi
Emili Rishmawi, originally from the Shepherds field town of Beit Sahour, holds an MA in Public Policy and Political Action, and speaks three languages (Arabic, English and French). She is an activist, public speaker and an experienced facilitator for programs bringing together Palestinians and Israelis for dialogue and action. Besides her work as a tour guide, Emili served as a project manager with Musalaha Ministry of Reconciliation and with the Taghyeer movement.

Sigal Rozen
Sigal Rozen is the Public Policy Coordinator at the Hotline for Refugees and Migrants (HRM), an Israeli NGO she helped found with a group of concerned citizens in 1998. Rozen was the Hotline's first director, until 2004 and later served as the spokesperson of the HRM. Over the last 20 years, Rozen serves as the public policy coordinator of HRM, has written most of the HRM's reports and shadow reports, and represented the HRM in the Israeli Parliament and in front of international organizations as well. Rozen interviewed hundreds of trafficking and torture survivors. Rozen previously served as a coordinator of the Israeli Refugee Rights Forum and The Committee for Advancement of Refugees from Darfur. Rozen holds a BA from Tel Aviv University in English and French literature. She lives in Ramat Gan.

Amalia Sa'ar
Amalia Sa'ar is the Associate Professor and Chair of the Anthropology Department at the University of Haifa. She is a cultural anthropologist, feminist, and peace activist.

Arin Shawkat Salamah-Qudsi
Arin Shawkat Salamah-Qudsi is an associate Professor of Sufi and Islamic studies at the University of Haifa, Israel. Her research focuses on Medieval Sufi literature and doctrines, the role and position of women in early Sufism.

Jamie Salter
Jamie Salter is an experienced Jewish Educator and officially licensed Israel Tour Guide. He has a BA in Modern History from Oxford University and a MA in Jewish Education from the Hebrew University. Jamie works in many different Jewish educational arenas – in recent years he has taught in a Jewish school in America, guided British Members of Parliament on their trip to Israel, and worked as an educational consultant for the Jewish Agency. He is a regular guide and educator in Israel for, amongst others, Hebrew Union College, the Nachshon Project, and the Brandeis Schusterman Center for Israel Studies. Jamie served as the educational director of the Ministry of Tourism Tour Guide course at the Yad Ben Zvi Institute. He currently holds a position as the director of Israel education at Machon Pardes. Jamie has completed about a third (so far!) of the 'Israel Trail' hiking trail. He and his family live in Jerusalem.

Zivi & Aaron Schechter
Zivi & Aaron Schechter founded Yad Menachem Menachem in 1998. To date they have helped thousands of needy families with birth related expenses. Aaron and Zivi were contemplating what they could do to make a difference, when they were approached by a friend telling the story of a mutual friend who couldn't afford to clothe his newborn baby. The rest is history…

Hanan Schlesinger
Hanan Schlesinger lives in Alon Shvut, Israel and is one of the founders of Roots/ Shorashim/ Judur, the Palestinian Israeli Grassroots Initiative for Understanding, Nonviolence and Transformation. Currently, Rav Hanan serves as its Director of International Relations. He also is the founder of the American Friends of Roots, a multi-faith organization dedicated to supporting the work of Roots, and frequently speaks in the USA together with one of his Palestinian partners about the amazing work of the organization. Prior to the founding of Roots, Rav Hanan spent his entire career teaching Jewish studies in various seminaries, colleges, and frameworks in the Jerusalem area, among them the Pardes Institute, Beit Midrash Elul, Nishmat and Yeshivat Bat Ayin. He also spent two years as part of the Judaic Fellows Program in Boca Raton Florida and ten years in Dallas Texas, first as Dean of the Community Kollel and later as founder and Executive Director and Community Rabbinic Scholar for the Jewish Studies Initiative of North Texas. He and his Israeli–born wife Ayala have four grown children and eleven grandchildren.

Shahira Shalaby
Shahira Shalaby joined the Inter-Agency Task Force on Israeli Arab Issues (IATF) in 2022 as Content Expert and Field Representative. In this role, she serves as a bridge between the civil society field in Israel and American Jewish communities and brings educational content to funders, educators, and Jewish communal professionals. She comes with decades of dynamic experience as a civil society and community leader dedicated to improving the lives of Arab citizens of Israel. Shahira is on the Haifa City Council and previously served as Haifa's Deputy Mayor. She has held several key managerial roles at numerous social service organizations, including helping establish the Hiwar School for Alternative Education in Haifa. Previously, Shahira directed Shatil's Shared Society Department for ten years and she co-founded Kayan, the first Palestinian feminist organization in Israel. She was on the faculty of the Mandel Center for Leadership in the North and managed its local leadership programs. Shahira holds an M.A. in Religious Studies and a BA in Social Work. She is a trained organizational consultant, group facilitator, and trainer specializing in dialogue, conflict, and conflict resolution.

Samir Sobhi Mahamed, Phd
Samir Sobhi Mahamed, Phd is the mayor of Umm Al Fahm, a city of about 57 thousand inhabitants. By virtue of his position, he manages the city's affairs and services, adapts government policy to local needs, and works to improve quality of life for all its residents. As mayor, Samir's work spans many areas, including the continuous development of residential neighborhoods, industrial areas, public institutions, improving the appearance of the city, dealing with education, welfare, and more. In the past, Samir served as a teacher, educator, deputy principal, school principal, lecturer at the academy and accompanying managers. He is a Maoz Fellow.

David Silberklang
David Silberklang is Senior Historian at the International Institute for Holocaust Research at Yad Vashem. He also teaches at the University of Haifa's Weiss-Livnat International MA Program in Holocaust Studies and at the Rothberg International School of the Hebrew University of Jerusalem, and he has been a visiting professor at various universities around the world. David represented Israel at the International Holocaust Remembrance Alliance for twelve years, as a member and Chair of the Academic Working Group, a member of the Committee on Antisemitism and Holocaust Denial, and numerous other steering committees and planning teams. Among his past functions at Yad Vashem, David was Editor of the scholarly journal Yad Vashem Studies for twenty-three years; was Editor-in-Chief of Publications; Series Editor of The Holocaust Survivors' Memoirs Project; and Chief Historian of the Museum Development Project. In the last capacity, he wrote the extensive conceptual historical outline that served as the basis for the content of Yad Vashem's Holocaust History Museum. David has published widely on the Holocaust and his book, Gates of Tears: The Holocaust in the Lublin District was a finalist for the National Jewish Book Award and for the Yad Vashem International Book Prize in Holocaust Research.

Besan Wattad
Besan Wattad is the community manager of Hasoub, a grassroots movement paving the way for the coming generation of Arab tech entrepreneurs.

Nechumi Yaffe
Nechumi Yaffe is a faculty member in the department of Public Policy at Tel Aviv University. She completed her postdoctoral research at Princeton University affiliated with the Daniel Kahneman Center of Behavioral Science and Public Policy, and the University Center for Human Values. Nechumi's research examines, from a social psychology perspective, how identity, social norms, and authority play a role in creating and preserving poverty. Her work focuses on the ultra-orthodox (Haredi) community in Israel and USA. Before entering the doctoral program, she was an advisor for the Haredi educational system and she wrote the new curriculum and textbook in history, now used by all Haredi high schools in Israel. Nechumi earned a Ph.D. in political science from the sHebrew University in Jerusalem, under the supervision of Avner de-Shalit, Eran Halperin and Tamar Saguy. In her vision, research and practice are intertwined and her academic work is driven towards improving, reaching out and helping the community.

Rabia Zioud
Rabia Zioud is a physical therapist by training, and an entrepreneur and community leader by heart. He started his first business when he was 20 years old and has since been involved in the Israeli startup ecosystem. He has served as the VP for the MENA region at Voiceitt (which was the Masschallenge Finalist in 2014). Rabea also cofounded Hasoub - a non-profit grassroots movement that promotes tech and entrepreneurship in Arab society. He is currently the CEO of Hasoub. Rabea's experience in the social impact field is also seen in his participation in the German-Israeli Young Leaders Exchange 2017, as well as the Digital Changemakers Delegation 2019: The Power of StartUps held in Hong Kong.
"The Summer Institute provided me with a chance to take a rigorous scholarly approach to the study of Israel, to inquire and critique and discuss important issues with a community of international scholars."
Janice Fernheimer
University of Kentucky Writing, Rhetoric and Digital Studies