Faculty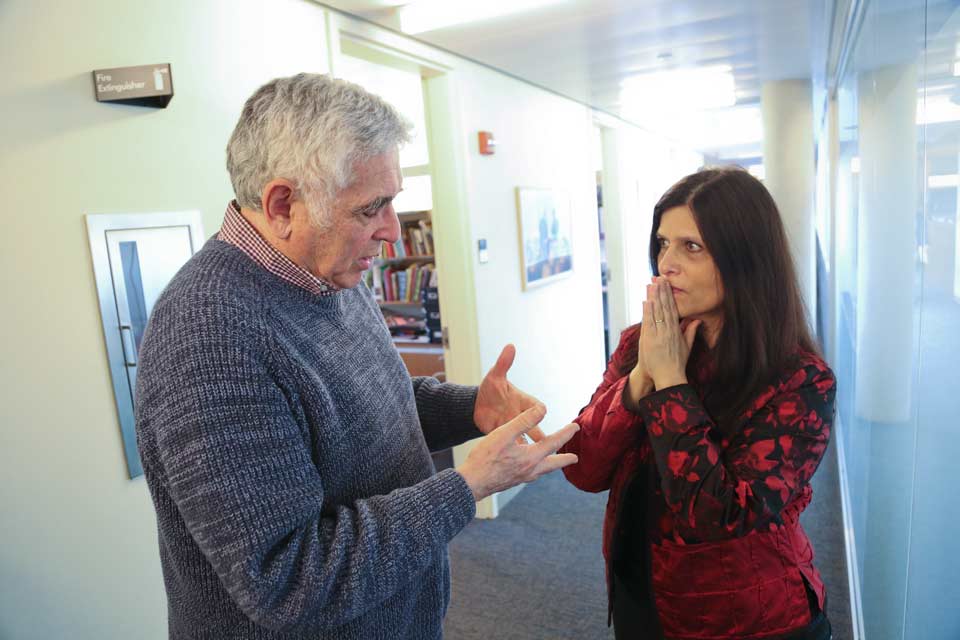 The Summer Institute seminars are taught by distinguished Israel Studies scholars. These seminars focus on Israel's society, history, politics, economics, culture, foreign affairs, and diplomacy.
Below is a sampling of scholars who have taught Summer Institute sessions in the past.
Expand All
Ghaith al-Omari, Washington Institute for Near East Policy
Ghaith al-Omari, a senior fellow at The Washington Institute, is the former executive director of the American Task Force on Palestine. Previously, he served in various positions within the Palestinian Authority, including advisor to the negotiating team during the 1999-2001 permanent-status talks where he participated in the Camp David summit.
Gannit Ankori, Brandeis University
Ankori is head of the Division of Creative Arts at Brandeis University. She is professor of Art History & Theory and chair in Israeli Art at the Department of Fine Arts and the Schusterman Center for Israel Studies. Ankori has published extensively in the field of Israeli and Palestinian art, with special emphasis on issues pertaining to gender, nationalism, religion, trauma, exile, hybridity and their manifestations in art and film. Her book Palestinian Art (Reaktion Books, London 2006) was awarded a "Polonsky Prize for Originality and Creativity in the Humanistic Disciplines" in 2007. She has curated several exhibitions of Israeli and Palestinian artists, among them "Home" (1997) with Jack Persekian at Gallery Anadiel, Jerusalem and "Dor Guez: 100 Steps to the Mediterranean" (2012) with Dabney Hailey at the Rose Art Museum. She is currently working on a series of exhibitions of Israeli video art. Ankori has also published three books and numerous articles on the Mexican artist Frida Kahlo, among them her 2013 book Frida Kahlo that is part of Reaktion Book's acclaimed 'critical lives' series; her 2002 Imaging Her Selves: Frida Kahlo's Poetics of Identity and Fragmentation; and a major catalogue essay for the Kahlo retrospective at Tate Modern, London (2005). Before coming to Brandeis in 2010, she served as the Henya Sharef Professor of Humanities and chair of the Department of Art History at the Hebrew University of Jerusalem. At Brandeis she teaches courses on Israeli and Palestinian Art, Art and Trauma, and on the Legacy of Frida Kahlo.
Steven Bayme, American Jewish Committee
Bayme is the national director of the William Petshek Contemporary Jewish Life Department of the American Jewish Committee and of the Institute on American Jewish-Israeli Relations. He holds the title of Visiting Associate Professor of History at the Jewish Theological Seminary, and has lectured widely across the country and taught at Yeshiva University, Jewish Theological Seminary, Hebrew Union College and Queens College. He has published articles on family policy, intermarriage, liberal Judaism, Jewish parenting, Jewish responses to modernity, Jewish attitudes on terrorism and violence and modern Orthodoxy in America. He has edited a volume of essays on American Jewry entitled Facing the Future: Essays on Contemporary Jewish Life, is co-editor of a volume entitled Rebuilding the Nest: A New Commitment to the American Family, and is co-editor of The Jewish Family and Jewish Continuity. His volume, Understanding Jewish History: Texts and Commentary, is widely used in adult education. Recently published are Continuity and Change: Festschrift in Honor of Irving (Yitz) Greenberg's 75th Birthday, co-edited by Bayme and Steven Katz (University Press of America) and American Jewry's Comfort Level: Present and Future, with Manfred Gerstenfeld (Jerusalem Center for Public Affairs).
Uri Bialer, Hebrew University of Jerusalem and Brandeis University
Bialer is the Emeritus Professor of International Relations at the Hebrew University and Maurice B. Hexter Chair in International Relations – Middle Eastern Studies. He is the former director of Yad Ben Zvi Institute for the Study of Eretz Israel, visiting fellow at St. Antony's College Oxford, at the British Academy, at Harvard University, and visiting professor at the University of Chicago, at Monash University and at New York University. Publications include: Cross on the Star of David: The Christian World in Israel's Foreign Policy 1948-67 (2005); Oil and the Arab-Israeli Conflict 1948-1967 (1999); Between East and West: Israel's Foreign Policy Orientation 1948-1956, Cambridge University Press (1990); and The Shadow of the Bomber: The Fear of Air Attack and British Politics 1932-1939 (1980). At Brandeis he served as visiting professor at the Schusterman Center for Israel Studies and the Department of History, teaching about Israeli foreign policy.
David Ellenson, Brandeis University
David Ellenson is director of the Schusterman Center for Israel Studies and visiting professor in the Department of Near Eastern and Judaic Studies at Brandeis University. Chancellor-emeritus of Hebrew Union College-Jewish Institute of Religion, he served as president of HUC-JIR from 2001-2013. In the spring of 2015, New York University appointed him as Distinguished Visiting Professor and he taught there in the Skirball Department of Judaic Studies in 2015 and 2016. A scholar of modern Jewish thought and history, Ellenson is recognized for his writings and publications in these fields. He has written extensively on the origins and development of Orthodox Judaism in Germany during the nineteenth century, Orthodox legal writings on conversion in Israel, North America, and Europe during the modern era, the relationship between religion and state in Israel, the history of modern Jewish religious movements, and American Jewish life. Ellenson has authored or edited seven books and over 300 articles and reviews in a wide variety of academic and popular journals and newspapers.
Shai Feldman, Brandeis University
Feldman is the Judith and Sidney Swartz Director of the Crown Center for Middle East Studies at Brandeis University. He is also an associate fellow of the Royal United Services Institute (RUSI) in London and a member of the Board of Directors of Harvard University's Belfer Center for Science and International Affairs. Before joining the Crown Center, Feldman served from 1997 to 2005 as head of the Jaffee Center for Strategic Studies at Tel Aviv University, and from 2001 to 2003, as a member of the U.N. Secretary General's Advisory Board on Disarmament Matters. Author of numerous publications, Feldman has written five books on the topic of Israeli security and peacemaking, including: Israeli Nuclear Deterrence: A Strategy for the 1980s (1982); The Future of U.S.-Israel Strategic Cooperation (1996); Nuclear Weapons and Arms Control in the Middle East (1997); Bridging the Gap – A Future Security Architecture for the Middle East (1997) with Abdullah Toukan; and, Track-II Diplomacy – Lessons from the Middle East (2003) with Hussein Agha, Ahmad Khalidi, and Zeev Schiff. His book, Arabs and Israelis: Conflict and Peacemaking in the Middle East, co-authored with Abdel Monem Said Aly and Khalil Shikaki, was published in October 2013.
Rachel Fish, Brandeis University
Rachel Fish, PhD'13, is associate director of the Schusterman Center for Israel Studies at Brandeis University. She completed her doctoral degree in the Near Eastern and Judaic Studies department at Brandeis University in 2013. Her dissertation, "Configurations of Bi-nationalism: The Transformation of Bi-nationalism in Palestine/Israel 1920's-Present," examines the history of the idea of bi-nationalism and alternative visions for constructing the State of Israel. She has worked as an educator and consultant in various capacities in the Jewish community and higher education, teaching about Zionism and Israeli history at Brandeis University, Harvard University, UMASS Amherst and the Me'ah Adult Education program. At Brandeis, Fish teaches the Myra Kraft Seminar on Israel at the Hornstein Jewish Professional Leadership Program. In 2015 she held the Rohr Visiting Professorship at Harvard University, where she lectured on modern Israel and received the Derek Bok Certificate of Teaching Excellence.
Asa'd Ghanem, University of Haifa
Ghanem is a leading academic and intellectual among the Arabs in Israel, and is considered as one the most effective public intellectuals in Palestine\Israel. Between 1993 and 2003 he used to act as the co-director of Sikkuy-the association for civic equality in Israel, in 2006, he took a key role in the publication of the future vision of the Palestinian Arabs in Israel. Ghanem is a lecturer at the School of Political Science, University of Haifa. His theoretical work has explored the legal, institutional and political conditions in ethnic states and conflict studies. He published 14 books and numerous articles about ethnic politics in divided societies, including about ethnic divisions and Arab-Jewish relations in Israel.  In the context of Palestinian domain, Ghanem's work has covered issues such as Palestinian political orientations, the political structure of the Palestinian National Movement, and the future of the conflict with Israel.  He has been the initiator and designer of several policy schemes and empowerment programs for Arabs in Israel. Dr. Ghanem's recent books are the following: Palestinian Politics After Arafat: A Failed National Movement (Indiana University Press, 2009); Ethnic Politics in Israel - The Margins and the Ashkinasi Centre (Routledge Press, 2010); Palestinians in Israel - Indigenous Group Politics in the Jewish State (Madar, 2008, in Arabic); with Dan Bavly. Towards a Bi-National Homeland for Israelis and Palestinians - In Search of a Doable Solution – A United Democracy (Lambert Publishing 2015).
Jonathan Marc Gribetz, Princeton University
Gribetz is an assistant professor in the Near Eastern Studies department and in the program in Judaic Studies at Princeton University.  He earned a BA from Harvard University, a master's degree from the University of Oxford, and a PhD in Jewish and Middle Eastern history from Columbia University.  Before arriving at Princeton, he taught at Rutgers University and has been a fellow at the University of Pennsylvania, the University of Toronto, and Harvard University.  His first book, Defining Neighbors: Religion, Race, and the Early Zionist-Arab Encounter, published by Princeton University Press, was named a Choice Outstanding Academic Title in 2015.  He is currently writing a new book, tentatively titled Reading Herzl in Beirut, on the Palestine Liberation Organization's Research Center. 
Liora Halperin, University of Washington

Liora Halperin is associate professor of 
International Studies
, 
History
, and 
Jewish Studies
 at the 
University of Washington
 in Seattle, where she also holds the Jack and Rebecca Benaroya Endowed Chair in Israel Studies. Her research focuses on Jewish cultural history and collective memory, the history of Zionism, language ideology and policy, and the politics surrounding nation formation in Palestine/Israel, particularly during the interwar period and the first decades of Israeli statehood. Her first book, 
Babel in Zion: Jews, Nationalism and Language Diversity in Palestine, 1920-1948,
was published by Yale University Press and awarded the Shapiro Prize from the Association for Israel Studies for best book in Israel Studies. She is currently working on a second book, a project entitled "The Oldest Guard: Narratives of Beginnings in Palestine and Israel." A locally-based study of the European Jewish agricultural colonies first established in late 19th century Palestine, it explore national memory and commemoration, the politics of heroism and "firstness," and the often ambiguous place of these early colonies in evolving narratives about the origins and implications of the Zionist settlement project in Palestine.
Sara R. Horowitz, York University
Horowitz is a professor of Comparative Literature and Humanities and former Director of the Israel and Golda Koschitzky Centre for Jewish Studies at York University in Toronto, where she teaches contemporary Jewish literature, including courses on Israeli literature and film. She is participating in SIIS to deepen her interdisciplinary knowledge and expertise in Israel studies, to enhance her courses in Israeli cinema and to develop a new course in Representations of the Holocaust in Israeli Film.  She is the author of Voicing the Void:  Muteness and Memory in Holocaust Fiction, which received the Choice Award for Outstanding Academic Book, and served as the senior editor of the Azrieli Series of Holocaust Memoirs - Canada (Series 1 and 2). She is the editor ofLessons and Legacies of the Holocaust Volume X : Back to the Sources (2012), and co-editor of the Hans Günther Adler: Life, Literature, Legacy (2016), of Encounter with Appelfeld, and other books.  In addition, she is founding co-editor of the journal KEREM:  A Journal of Creative Explorations in Judaism. She served as editor for Literature for The Cambridge Dictionary of Judaism and Jewish Culture (ed. Judith Baskin).  She publishes extensively on contemporary Holocaust literature, women survivors, and Jewish North American fiction, and writes a monthly column for the Canadian Jewish News.  She served as president of the Association for Jewish Studies, sits on the Academic Advisory Committee of the U.S. Holocaust Memorial Museum and the Academic Advisory Council of the Holocaust Education Foundation.  Currently, she is completing a book called "Gender, Genocide, and Jewish Memory."  
Joshua R. Jacobson, Northeastern University
Jacobson is Professor of Music and Director of Choral Activities at Northeastern University, where he served nine years as Music Department Chairman and six years as the Bernard Stotsky Professor of Jewish Cultural Studies and inaugural chair of the Jewish Studies Committee. He is also founder and director of the Zamir Chorale of Boston, and Visiting Professor and Senior Consultant in the School of Jewish Music at Hebrew College. He has guest conducted and lectured throughout the United States as well as in Europe, Israel and Australia. In 2016 Choral Arts New England presented him the Alfred Nash Patterson Lifetime Achievement Award. Over one hundred of his choral arrangements, editions and compositions have been published, and are frequently performed by choirs around the world. His book, Chanting the Hebrew Bible: The Art of Cantillation, published by the Jewish Publication Society in 2002, was a finalist for the National Jewish Book Award. He is co-author of Translations and Annotations of Choral Repertoire—Volume IV: Hebrew Texts, published by earthsongs in 2009. Dr. Jacobson holds degrees in Music from Harvard College, the New England Conservatory, and the University of Cincinnati, and a Doctor of Humane Letters honoris causa from Hebrew College.
Aziza Khazzoom, Indiana University
Aziza Khazzoom is associate professor in the Department of Jewish Studies and Near Eastern Languages & Culture at Indiana University. Aziza Khazzoom's work traces the formation of ethnic inequality among Jews in Israel, combining quantitative and qualitative methods. She is the author of Shifting Ethnic Boundaries and Inequality in Israel, Or: How the Polish Peddler Became a German Intellectual, published by Stanford University Press in 2008. The book focuses on why ethnic discrimination occurred in Israel, and argues that concerns over producing the state as western centrally determined who was excluded and who was included. Other work on ethnic formation in Israel has appeared in the American Sociological Review, Social Forces, and Signs. She is currently collecting life stories of Polish and Iraqi Jews who immigrated to Israel in the 1950s. She has held NSF and ISF grants and postdoctoral fellowships from Tel Aviv University and the Van Leer Institute.
David Makovsky, Washington Institute for Near East Policy
Makovsky is the Ziegler distinguished fellow at The Washington Institute and director of the Project on the Middle East Peace Process. He is also an adjunct professor in Middle East studies at Johns Hopkins University's Paul H. Nitze School of Advanced International Studies (SAIS) and recently concluded an almost ten-month stint as a senior advisor on Secretary of State John Kerry's peace team. Author of numerous Washington Institute monographs and essays on issues related to the Middle East peace process and the Arab-Israeli conflict, he is also coauthor, with Dennis Ross, of the 2009 Washington Post bestseller Myths, Illusions, and Peace: Finding a New Direction for America in the Middle East (Viking/Penguin). His 2011 maps on alternative territorial solutions to the Israeli-Palestinian conflict were reprinted by the New York Times in the paper's first interactive treatment of an op-ed. His widely acclaimed September 2012 New Yorker essay, "The Silent Strike," focused on the U.S.-Israel dynamics leading up to the 2007 Israeli attack on Syrian nuclear facilities. Before joining The Washington Institute, Mr. Makovsky was an award-winning journalist who covered the peace process from 1989 to 2000. He is the former executive editor of the Jerusalem Post, was diplomatic correspondent for Israel's leading daily, Haaretz, and is a former contributing editor to U.S. News and World Report. He served for eleven years as that magazine's special Jerusalem correspondent.
Yehudah Mirsky, Brandeis University
Mirsky is professor of Near Eastern and Judaic Studies at Brandeis University. He teaches courses on Jewish Thought, Jewish Law, Human Rights and the nexus of religion, state and society. Mirsky worked in Washington as an aide to then-Senators Bob Kerrey and Al Gore, and at the Washington Institute for Near East Policy, and served in the Clinton administration as special advisor in the US State Department's human rights bureau. After the attacks of September 11 he served as a volunteer chaplain for the Red Cross. From 2002-2012, Mirsky lived in Israel where he was a fellow at the Van Leer Institute and Jewish People Policy Institute. He was a grassroots activist in Jerusalem and is on the board of Yerushalmim, the movement for a pluralist and livable Jerusalem. He has written widely on politics, theology and culture for a number of publications including The New Republic, The Daily Beast, The American Interest and The Economist. He is the author of the widely-acclaimed biography, Rav Kook: Mystic in a Time of Revolution published in 2014 by Yale University Press. In 2016, Rav Kook received the Sami Rohr Choice Award from the Jewish Book Council. Mirsky studied at Yeshivat Har Etzion and Yeshiva College and received rabbinic ordination in Jerusalem. He graduated from Yale Law School, where he was an editor of the law review, and completed his PhD in Religion at Harvard University. He tweets @YehudahMirsky.
Bruce A. Phillips, HUC-USC
Bruce A. Phillips was an SIIS Fellow in 2012 and teaches a course on society and culture in Israel in the Middle East Studies Program at the University of Southern California. He is one of the leading researchers in the demography and sociology of American Jewry. His published work covers a wide variety of topics from Iranians and Israelis in the United States to Jewish suburbanization, Jewish education, the economics of Jewish life, and intermarriage.  His most recent publications are "The Geography of American Jewish intermarriage," "New Demographic Approaches to the Study of Jewish Intermarriage," "Not Quite White, the Jewish Ethnoburbs of Los Angeles." He is currently writing an article on intermarriage for the American Jewish Year Book, a chapter for an edited volume on religion in Southern California, and a book manuscript pulling together two decades of research on American Jewish intermarriage. His current research projects include Jews in inner-ring suburbs, multi-racial studies as a lens for understanding Jews of mixed parentage, applying economic models to understanding intermarriage, and a demographic-historical study of race and place in Los Angeles, 1920-1930.
Brent Sasley, University of Texas at Arlington
Brent E. Sasley is associate professor in political science, at the University of Texas at Arlington. His research and teaching focus on foreign policy decision-making, the role of collective memories and emotions in group formation, Israel studies, and Middle East studies. His most recent book, co-authored with Harold Waller, is Politics in Israel: Governing a Complex Society​ (Oxford University Press, 2017). He writes and interviews regularly for national and international media.
Yedidia Z. Stern, Bar-Ilan University Law School and Israel Democracy Institute
Stern is the Vice President for Research on the Jewish State at the Israel Democracy Institute and a distinguished professor at Monash University in Australia. A full professor at Bar-Ilan University Law School, Stern served as its dean from 1994 to 1998. He received his LLB degree from Bar-Ilan Law School in 1982, and earned his master's degree (1984) and doctorate (1986) from Harvard Law School. His areas of professional interest are religion and state, Jewish law, public law, corporate law, corporate acquisitions, corporate finance and corporate governance. Stern is co-editor of the scholarly journal Democratic Culture and of the series Israeli Judaism. He is also a regular contributor to the Israeli and international press. Stern has served on numerous national committees on constitutional and commercial affairs, including the Israeli government's Commission of Inquiry into the State's Treatment of the Residents of Gush Katif after the Disengagement (2009). Stern won the Zeltner Prize for excellence in legal research in Israel in 2009. Additionally, Stern is co-editor of the scholarly journal Democratic Culture (published by Bar-Ilan University Law School in conjunction with IDI) and of the series Israeli Judaism (published jointly by Keter Publishing House, Bar-Ilan University Law School, and the Shalom Hartman Institute).
Asher Susser, Tel Aviv University
Susser is the Stanley and Ilene Gold Senior Fellow at the Moshe Dayan Center for Middle Eastern Studies at Tel-Aviv University. He is a former visiting professor in Israel studies at the University of Arizona and former visiting senior fellow on the Myra and Robert Kraft Chair in Arab Politics at Brandeis University. He has been teaching at Tel Aviv University's Department for Middle Eastern History for over 30 years and was director of their Moshe Dayan Center for Middle Eastern and African Studies from 1989-1995 and from 2001-2007. One of Israel's leading experts on Jordan and the Palestinians, Susser was the only Israeli academic invited by Prime Minister Rabin to join him and King Hussein at their historic appearance before the U.S. Congress. His most recent publications include: Israel, Jordan and Palestine - The Two State Imperative (Crown Center publication, 2011); The Rise of Hamas in Palestine and the Crisis of Secularism in the Arab World (2010); Challenges to the Cohesion of the Arab State (ed. 2008); and Jordan: Case Study of a Pivotal State (2000).
Ilana Szobel, Brandeis University
Szobel is the assistant professor on the Joseph H. and Belle R. Braun Chair in Hebrew Literature. Her recent book, A Poetics of Trauma: The Work of Dahlia Ravikovich (2013) was published as part of the Schusterman Series in Israel Studies. It examines the work of Dahlia Ravikovich (1936-2005), one of the most significant cultural figures in Israeli society. Szobel has authored various articles treating Hebrew literature, gender and trauma studies, psychoanalysis, disability studies, and Israeli film. She is currently working on a second book project, Flesh of My Flesh: Sexual Violence in Hebrew Literature and Israeli Culture. This study explores the literary history of sexual assault in Hebrew literature. In her teaching, Szobel presents the challenges posed by gender, war and peace, family structure, and economic and cultural dislocation as compelling entry points for the study of Israeli society and culture.
Ilan Troen, Brandeis University
Ilan Troen '63 is the Stoll Family Chair in Israel Studies and founding director of the Schusterman Center. He is currently chair of the Center's publications committee and serves as president of the Association for Israel Studies. Before joining Brandeis, he served as dean of Humanities and Social Sciences at Ben-Gurion University of the Negev and as director of the Ben-Gurion Research Institute and Archives in Sede Boker, Israel. He has authored or edited numerous books in American, Jewish and Israeli history. He is also the founding editor of Israel Studies (Indiana University Press), the leading journal in this new field, and co-edits the Schusterman Series in Israel Studies. His publications include Jewish Centers and Peripheries: European Jewry Between America and Israel 50 Years after World War II (1998); The Americanization of Israel (2001), with Glenda Abramson; Divergent Jewish Cultures: Israel and America (2001), with Deborah Dash-Moore; Imagining Zion: Dreams, Designs and Realities in a Century of Jewish Settlement (2003); with Jacob Lassner, Jews and Muslims in the Arab World; Haunted by Pasts Real and Imagined (2007); with Maoz Azaryahu (eds.), Tel Aviv, The First Century: Visions, Designs, Actualities (2012); with Donna Robinson Divine (eds.), Zionism in the Twenty-First Century (2014) and, with Rachel Fish (eds.), Essential Israel: Essays for the Twenty-First Century (Indiana University Press, 2017).
Shayna Weiss, United States Naval Academy
Shayna Weiss is the Distinguished Visiting Scholar in Israel Studies at the United States Naval Academy. She earned a BA (summa cum laude) in Near Eastern and Judaic Studies and International and Global Studies from Brandeis University in 2007. In 2015, she earned  a PhD from New York University in Hebrew and Judaic Studies. She completed postdoctoral fellowships in Israel at Bar Ilan University and Tel Aviv University, where she taught courses about Israeli history and society. She has also taught at Brooklyn College and New York University. Dr. Weiss' dissertation, "A beach of their own: the origins of gender segregation in the Israeli public sphere" examines controversies about mixed and separate swimming in Israel as a lenses to understand conflicts of religion, gender, and state. She is currently revising her dissertation into a book manuscript. Dr. Weiss is also interested in the politics of Israeli popular culture, particularly in television and film.
Gannit Ankori
Gannit Ankori is chair of Israeli Art in the Department of Fine Arts at Brandeis University, where she teaches courses on art in Israel and trauma and art. Prof. Ankori previously served as Henya Sharef Professor of Humanities and Chair of the Department of Art History at the Hebrew University of Jerusalem. She has taught and lectured about Israeli and Palestinian art for many years and published extensively on the visual representation of gender-related issues, the construction of identity, exile, trauma and hybridity. She is the author of Palestinian Art and the forthcoming book Frida Kahlo. Prof. Ankori holds a PhD from the Hebrew University of Jerusalem.
Fentahun Assefa-Dawit
Fentahun Assefa-Dawit is the executive director of Tebeka (Advocacy for Equality and Justice for Ethiopian Israelis). He grew up in Ethiopia, learning Hebrew while praying to come to Israel with his family. He fled Ethiopia when he was about to be drafted into the army. With all paths to Israel closed, he spent seven years in Montreal, Canada. He made aliyah to Israel in 1994. After some time in the high tech sector, Mr. Assefa-Dawit realized that his true calling was working with the Ethiopian community to assist in their successful integration into Israeli society. He worked at the Jewish Agency, running two immigrant absorption centers in northern Israel, guiding their residents through the 2006 Second Lebanon War. As a result of his work there, he was asked to serve as a representative of Keren HaYesod in Sydney, Australia. Mr. Assefa-Dawit holds a degree from Technion-Israel Institute of Technology.
Sarah Bernstein
Sarah Bernstein is the director of the Jerusalem Center for Jewish-Christian Relations (JCJCR). Born and brought up in the UK, and with a background as a lawyer and mediator, for the last sixteen years she has been working in the field of peace-building and coexistence work, specializing in interreligious dialogue between Israelis and Palestinians. With a PhD in Peace and Reconciliation Studies from Coventry University, Sarah sits on the Alliance for Peacebuilding Global Advisory Council on Effective Interreligious Peacebuilding, and is a founding Board member of the International Association of Spiritual Care.
Ze'ev Binyamin (Benny) Begin
Ze'ev Binyamin (Benny) Begin is a member of Knesset (Israel's Parliament) representing the Likud party. Between 1988 and 1999 he served as a member of the Foreign Affairs and Defense Committee of the Knesset. He then returned to the Geological Survey of Israel (GSI), and later became its director. In 2009 he was again elected as a member of Knesset and served in the inner cabinet until 2013. A geologist by trade, he then worked for the Division of Novell Technologies in Agriculture at ADAMA Ltd. In 2015 he was again elected to the Knesset. He is the author of several publications on Israeli geography, including The Geology of the Jericho Street. He is the son of the late Prime Minister Menachem Begin. Mr. Begin holds a B.Sc., an M.Sc. in geology from The Hebrew University of Jerusalem and a PhD in Geology from Colorado State University.
Michal Biran
Michal Biran is a member of Israel 20th Knesset (Israel's parliament), for the Zionist Union party. Prior to becoming an MK, Ms. Biran was the parliamentary aid of MK Shelley Yachimovich. She holds an MA in political science from Tel Aviv University. She is currently working on her doctorate in financial policy.
Avishay Braverman
Avishay Braverman is an Israeli economist and politician. He is a former president of the Ben-Gurion University of the Negev and between 2009 and 2011 he served as Minister of Minorities. Prof. Braverman studied Statistics and Economics in Tel Aviv University and received his PhD in Economics from Stanford. After serving as a senior official in the World Bank in Washington, specializing in economic development with an emphasis on social justice, he returned to Israel to become president of the Ben-Gurion University of the Negev for the next sixteen years. In November 2005, he joined the Labor party and was elected to the Knesset in the 2006 elections. Prof. Braverman entered the government as Minister of Minorities. He resigned from the cabinet in January 2011.
Hana Bendcowsky
Hana Bendcowsky is the program director at the Jerusalem Center for Jewish-Christian Relations (JCJCR). She is a professional tour guide, educator and lecturer, focusing on the Christian communities in the Holy Land, and on Jewish-Christian relations within the local Israeli context. Ms. Bendcowsky holds a BA in history and general studies and an MA in early church studies from the Department of Comparative Religion at The Hebrew University of Jerusalem.
Ruth Calderon
Ruth Calderon is one of Israel's leading figures spearheading efforts to revive Hebrew Culture and a pluralistic Israeli-Jewish identity. In 1989, she co- established ELUL in Jerusalem, the first Beit Midrash in which secular and religious women and men studied and taught together. In 1996, she founded in Tel Aviv ALMA, which a Jewish liberal arts program for advanced learning. Dr. Calderon is the author of "A Bride for One Night" (2001), a personal homiletic reading of Talmudic legends, and "Talmudic Alpha Beta" (2014). From 2013-2015, Dr. Calderon was a Knesset Member from the Yesh Atid Party, where she was Deputy Speaker, member of the education and state control committees, and Chairperson of the Lobby for Jewish Renewal. Dr. Calderon holds a Master of Arts and PhD in Talmud from The Hebrew University of Jerusalem.
Kimmy Caplan
Kimmy Caplan is chair of the Faculty of Jewish Studies at the Israel and Golda Koschitzky Department of Jewish History and Contemporary Jewry, Bar-Ilan University. Dr. Caplan previously lectured at the Institute for Contemporary Jewry, The Hebrew University of Jerusalem and at the Department of History, Ben-Gurion University of the Negev. He is a board member at The Institute for Holocaust Research, Bar-Ilan University and at the Association for Jewish Studies (AJS). Dr. Caplan holds a BA in sociology, anthropology, and Jewish thought, an MA, and a PhD from The Hebrew University of Jerusalem.
Elan Ezrachi
Elan Ezrachi is an independent consultant for Effective Partnerships in Today's Jewish World and a fellow at the Center for Jewish Peoplehood Education. He has pursued a career in Jewish education, serving in many executive positions, including executive director of Masa – Israel Journey, director of the International Department at Melitz - Centers for Jewish and Zionist Education, director of the Charles Bronfman Mifgashim Center, director of the Division of Israel Programs and Experiences at the Jewish Agency, and director of the International School for Jerusalem Studies at Yad Ben Zvi. Dr. Ezrachi is also the founding chair of Panim – the Coalition for Jewish Renaissance in Israel. He is a visiting lecturer at the Hadassah Academic College and the Schechter Institute in Jerusalem. He holds a BA and MA in education and Jewish thought from the Hebrew University of Jerusalem and a PhD from the Jewish Theological Seminary.
Jafar Farah
Jafar Farah is the founder and director of the Mossawa Center – the Advocacy Center for Arab Citizens in Israel. He lectures before the Israeli and international community on the status of Arab citizens in Israel and works on projects promoting equality and conflict prevention. Mr. Farah previously served as a journalist for Ha'Aretz newspaper. He is the founder of the Center for the Educational Guidance of Arab Students. Mr. Farah served as the Head of the National Union of Arab Students and has a degree from Haifa University.

Majdi Halabi
Majdi Halabi is a lawyer who specializes in human and civil rights. An experienced correspondent and editor. Mr. Halabi previously served as bureau chief for Israel, the West Bank and the Gaza strip, for Al Hurra TV, where he was responsible for the coverage of security and political affairs. Within this framework he covered the Second Lebanon War, Operation Cast Lead, and Israel and Palestinian peace talks. Between the years 1994 and 2004 Mr. Halabi was correspondent and editor at the Israel Broadcasting Authority ( Channel 1 – Israel's state broadcasting network), where he covered the Oslo Accords, the peace treaty with Jordan, the second Intifada, two Israeli election campaigns, and the IDF withdrawal from Lebanon. He currently writes for the Saudi Arabian site elaph.com , based in London, England. Mr. Halabi holds a diploma in communication and journalism studies from the Department of External Studies, University of Haifa, and a law degree from Ono Academic College.
Israel Harel
Israel Harel is the founding chairman of the Institute for Zionist Strategy. He also writes a weekly column for Ha'aretz newspaper and is the author of several books, including The Lion's Gate and The Valor of the Heart. Mr. Harel founded the Council of Jewish Communities in Judea, Samaria and Gaza, which he headed, first as secretary general and later as chairman. He was the founder and first editor of Nekuda , the monthly journal of the Israeli settler movement. Mr. Harel also initiated and founded the Forum for National Responsibility, which created the "Kinneret Covenant," a document of basic understandings between the major sectors in Israeli Jewish society. He served as director of the Leadership Forum at the Shalom Hartman Institute, established the Center for Religious Zionism and initiated the Gavison-Meiden Project, which formulated a comprehensive covenant to regulate the joint existence of secular and religious populations in Israel. He currently chairs the Association of the Paratroopers who Liberated Jerusalem. Mr. Harel graduated from the Kfar HaRoeh Yeshiva and continued his studies at Bar Ilan University, majoring in literature, history and economics. He resides in the settlement of Ofra.
Riad Kabha
Riad Kabha is director of Jewish-Arab Center for Peace in Givat Haviva and former head of Barta'a local council. Since 1974 Mr. Kabha has been a junior high school teacher in Kfar Kara. He is very involved in Arab- Israeli relations, researching the subject, writing articles, and organizing conferences. He recently published the book, Tales of the Wadi, in conjunction with Yoram Miron. Born in Barta'a in 1953, Mr. Kabha earned his BA in Arabic and Middle Eastern History from the University of Tel Aviv. While a student, he was Secretary of the Arab Student Union. Mr. Kabha is married with four children.
Ayoob Kara
Ayoob Kara is the deputy minister of regional cooperation and a member of Knesset (Israel's Parliament) representing the Likud party. He served in the Israel Defense Forces (IDF) reserve and attained the rank of major. Serving alongside Jews before and after the establishment of Israel has been a source of family pride. Mr. Kara was first elected to Knesset in 1999, becoming the third Druze Likud member of Knesset in history. He was appointed deputy speaker of the Knesset and served as chairman of the Committee on Foreign Workers. He retained his seat in the 2003 elections and became chair of the Anti-Drug Committee. Mr. Kara later served as Israel's deputy minister of the Development of the Negev and Galilee. He is the first non-Jewish nationalist to receive a portfolio. He worked to help former soldiers study free of charge at colleges in the Negev and Galilee, and to establish a new college of medicine in the latter. Mr. Kara holds and L.L.B. degree from Ono Academic College and an MA in public policy from Tel Aviv University.
Etgar Keret
Etgar Keret is an Israeli, world-acclaimed writer known for his short stories, graphic novels, and scriptwriting for film and television. His works have been published in several international publications, including The New York Times, Le Monde, and The New Yorker. His books, which were all bestsellers in Israel, have been translated into various languages. Over 60 movies have been based on Mr. Keret's short stories. Mr. Keret has directed several films, including Jellyfish (Meduzot), for which he and his wife Shira Gefen were awarded the Cannes Film Festival's "Camera d'Or" award. He is a recipient of the Prime Minister's Award for Literature in Israel and the Chevalier (Knight) Medallion of France's Ordre des Arts et des Lettres. Mr. Keret also lectures at the Ben Gurion University of the Negev.
Isabel Kershner
Isabel Kershner is a Jerusalem-based correspondent for The New York Times covering Israeli and Palestinian affairs. She is also the author of Barrier: The Seam of the Israeli-Palestinian Conflict, a book which examines the political, strategic, and human dimensions of the West Bank barrier that Israel has constructed. Ms. Kershner previously served as Senior Editor for the Middle East at The Jerusalem Report magazine. Before moving to Jerusalem from England, Ms. Kershner worked as a Middle East risk consultant at Control Risks Ltd. She is the recipient of the Search for Common Ground journalism award for fostering understanding of the Middle East.
Avital Leibovich
Avital Leibovich is the director of AJC Jerusalem. Her career spans over 20 years in a wide range of senior media and public relations positions within the Israel Defense Forces (IDF), where she served as the face of the IDF to the international community during critical events such as the 'Cast Lead' and 'Pillar of Defense' operations, Gilad Shalit's return and many others. Immediately before coming to AJC, Lt. Col. Leibovich served as head of the Interactive Media Branch of the IDF Spokesperson's Unit, a branch which she was uniquely positioned to create as a response to the rapidly growing influence of social networks and internet platforms in the media world. Previously, Lt. Col. Leibovich had held the position of head of the Foreign Press Branch. Lt. Col. Leibovich received a BA in English literature and political science from Bar-Ilan University and an MA in international relations from University of Haifa, as well as a diploma in spokesmanship, communications, and public relations from the Department of Foreign Affairs at Bar-Ilan University.
Bashar Masri
Bashar Masri is chair of the board of Massar International, a company he founded to propel Palestinian economic development and growth through the private sector. Massar International, includes over 30 companies in the fields of real estate, financial services, journalism, advertising and information technology. Mr. Masri is the visionary behind Rawabi, the first Palestinian planned city. He also launched Siraq I Fund, a private equity fund dedicated to investing in Palestinian businesses. Mr. Masri also serves on numerous boards including the Board of Directors of Palestine Development and Investment (PSE: PADICO), and the Board of Trustees of An-Najah National University. He is a member of the Deans' Council of Harvard University's John F. Kennedy's School of Government.
Benny Morris
Benny Morris is a professor of Middle East history at Ben-Gurion University of the Negev. Previously, Professor Morris was a journalist at The Jerusalem Post where he was a diplomatic correspondent, night news editor and features writer. He is a frequent guest lecturer at universities in the United States and Europe, and was a visiting professor at several universities including Dartmouth College, Ludwig-Maximilians University, and Harvard University. Professor Morris holds a BA in European history and European philosophy from The Hebrew University of Jerusalem, and a PhD in modern European history from Cambridge University.
Nitzan Nuriel
Nitzan Nuriel is a research fellow at the International Institute for Counter-Terrorism at the Interdisciplinary Center Herzliya. He is the former director for the Counter Terrorism Bureau, and advisor to the Prime Minister (2007-2012). Brigadier General (res.) Nuriel has held many positions in the Israel Defense Forces (IDF), including commanding officer of the IDF Liaison and Foreign Relations Division, deputy commander of the Gaza Strip Division, commander of a territorial brigade in the West Bank and commander of the Northern Command Training Installation. While still in the army, Brig. Gen. (res.) Nuriel served as the military attaché at the Embassy of Israel in Washington, D.C. where he was the liaison between the Israeli Defense Forces and the U.S. Army, Marine Corps, Special Operations Command, FEMA and the Home Front Command. He was awarded the Legion of Merit from the President of the United States, and completed his regular army service with the rank of Brig. General. After he retired from military service, Brig. Gen. (res.) Nuriel joined the Israeli National Security Council and worked on the development of crisis management concepts at the government level. Brig. Gen. (res.) Nuriel holds a BA and an MA in political science and national security from Tel Aviv University.
Smadar Perry
Smadar Perry is the editor for Middle East Affairs and the Arab World at Yediot Aharonot, the largest daily newspaper in Israel. She writes on Middle East affairs, the peace process, the Arab-Israeli conflict and social, economic and cultural events in the Muslim world. During working visits in eight Arab countries, Ms. Perry gained exclusive interviews to prominent personalities in the region including President Mubarak (Egypt), H.M. King Abdullah (Jordan), President Buteflika (Algeria), President Mahmoud Abbas (the Palestinian Authority), and women in senior posts. She is also a frequent contributor to TV and radio programs on the Middle East. She holds a BA in Middle East History and Arabic Language and Literature from the Hebrew University of Jerusalem.
Alex Rif
Alex Rif is the founder and artistic director of Cultural Brigade, a group of young Russian-speaking Israelis from the 1.5 generation, who were born in the Soviet Union but grew up in Israel. Cultural Brigade works to expose Soviet-Israeli culture to the Israeli public, in Hebrew. Ms. Rif has initiated events, including Israeli Novy God, designed to introduce the Russian New Year holiday to Hebrew speakers, and Operation Veteran, which brings to light the heroic stories of Jewish soldiers in the Red Army during World War II. Prior to this, Ms. Rif was senior deputy director of the Employment and Regulation Office at the Ministry of Economy. She holds a BA in business and political science, and an MA in public policy and government from The Hebrew University of Jerusalem. Ms. Rif studied screenwriting at The Sam Speigel Film and Television School.
Aiman Saif
Aiman Saif is general director of the Authority for the Economic Development of the Arab, Druze and Circassian Sectors. He served as a senior economist in the Economic Department of the PMO and the Israeli Ministry of Economy and Planning. Mr. Saif is the PMO representative on the Board of Directors of several organizations, including The Investment Center, the Authority of Planning and Construction and the Authority for Advancement of the Status of Women. He holds an MBA from Bamberg University and an MA in International Planning and Development from Clark University.
Khalil Shikaki
Khalil Shikaki is a professor of political science and the director of the Palestinian Center for Policy and Survey Research in Ramallah. He is a senior fellow at the Crown Center for Middle East Studies at Brandies University. Dr. Shikaki has taught at several universities, including Bir Zeit University, al-Najah National University, the University of Wisconsin, Milwaukee and the University of South Florida. He served as dean of scientific research at al-Najah University in Nablus. He was a visiting fellow at the Brookings Institution in Washington, D.C., and has authored several books on Palestinian politics. Dr. Shikaki's research has focused on the peace process, Palestinian state building, public opinion, transition to democracy, and the impact of domestic Palestinian politics on the peace process. He has conducted more than 200 polls among Palestinians in the West Bank and Gaza Strip, as well as dozens of joint polls among Palestinians and Israelis. Dr. Shikaki holds a BA in political science from the American University in Beirut and a PhD in political science from Columbia University.
Wendy Singer
Wendy Singer is executive director of Start-Up Nation Central. She worked with the US-based funders in order to build the infrastructure and professional team in Israel, and to launch its initial activities – bringing government and business leaders to Israel to participate in a highly customized program around Israeli innovation. Before joining Start-Up Nation Central, Ms. Singer concluded a 23-year career at AIPAC where she served as director of AIPAC's Israel office. There she maintained relationships with Israeli ministers and senior government leaders, members of the opposition, and a wide range of members of knesset (Israel's parliament), in addition to U.S. diplomats, and Palestinian officials.
Sammy Smooha
Sammy Smooha is Professor of Sociology at Haifa University. A winner of the Israel Prize for Sociology, he is president of the Israeli Sociological Society. A specialist in comparative ethnic relations, he has published widely on the internal divisions in Israeli society and on Israel in comparative perspective. His books include Israel: Pluralism and Conflict and Arabs and Jews in Israel. Prof. Smooha served as Adato Visiting Professor in Sephardic Studies at UCLA and as Posen Visiting Professor in Judaic Studies and Sociology at the University of Michigan. He has a BA in Psychology and Sociology from Bar Ilan University, and an MA and PhD in Sociology from UCLA.
Alexander Yakobson
Alexander Yakobson is an associate professor of ancient history at The Hebrew University of Jerusalem. His areas of research include democracy, popular politics, public opinion and elections in the Classical World, and democracy, national identity, nation-state and the rights of national minorities in Israel and in Western democracies. He is the author of Elections and Electioneering in Rome: a Study in the Political System of the Late Republic. He co-authored with Prof. Amnon Rubinstein the book Israel and the Family of Nations – Jewish Nation-State and Human Rights. Prof. Yakobson served as a political advisor to the minister of education and culture, the minister of energy and infrastructure and the minister of communication. He holds a BA in history and political science, an MA in ancient history and a PhD in history from The Hebrew University of Jerusalem.
Avraham Zavdi
Avraham Zavdi is managing director of United Infrastructure, Inc., with over forty years of experience in power installations, renewables, co-generation projects and desalination both in Israel and other countries. He has taken charge of engineering projects from definition and specification, to evaluation of technical requirements and site tailoring, project supervision and management. He carries out business plans, feasibility studies, investment recommendations and negotiations with clients and investors. Zavdi is a member of the Israeli Society of Mechanical Engineers, the Israeli Desalination Association and International Desalination Association.
Rabbi Meir Azari
Rabbi Meir Azari is the congregational Rabbi and executive director of Beit Daniel since 1991. He holds a BA in Jewish History and Political Science from Haifa University, and a MA in Jewish History from the Hebrew University of Jerusalem. He was one of the first Israelis ordained as a Rabbi by the Hebrew Union College in Jerusalem in 1992. He has also studied at San Francisco University and at the Graduate Theological Seminary in Berkeley, California. Rabbi Azari served as the Executive Director of the Israel Movement for Progressive Judaism and as a two-term chair of the Israeli MARAM (Israeli Council of Progressive Rabbis). He currently sits on the Board of the Jewish Agency and is the Chair of the evaluation and measurement committee. Under his leadership and with support from the Daniel family and many others, Beit Daniel has grown into the Daniel Centers for Progressive Judaism with three Kehilot throughout Tel Aviv.
Yizhar Hess
Yizhar Hess is the executive director and CEO of the Masorti (Conservative) Movement in Israel. He served as director of partnerships at the Jewish Agency for Israel, where he forged links between cities in the Diaspora and cities in Israel. He served as a community emissary for the Agency in Tucson, Arizona, where he also directed the local federation's Israel Center. Mr. Hess is a former deputy director of the Shorashim Center for Jewish Studies and the Kfar Blum Jewish Studies Festival. He is the co-editor of Questions about God and a regular contributor to the Israeli press on the subjects of religion and state as well as pluralism. He served as a commander of the Israel Defense Forces Hasbara (Information) Unit at the Jerusalem Education Center, where he held the rank of lieutenant. A 10th generation Jerusalemite, he holds a BA in political science and Hebrew literature from the Hebrew University of Jerusalem, an MA in Jewish studies from the Schechter Institute in Jerusalem, a law degree from the Interdisciplinary Center in Herzliya, and is currently working on a PhD at Sussex University.
Zvika Klein
Zvika Klein is an award winning, Jerusalem-based journalist. He works for the NRG news site and the national daily newspaper Makor Rishon. A native of the U.S., who immigrated to Israel with his family in 1985, Mr. Klein is fluent in both Hebrew and English. He served as an Israel Defense Forces spokesperson during his army service, dealing with ultra- Orthodox and religious Zionist media. Mr. Klein's videoed article, of his 10 hour walk in Paris while wearing a kippah, has had more than five million views, and resulted in Mr. Klein being interviewed on various international news outlets, such as CNN, BBC, Washington Post, Time Magazine, Der Spiegel, the Daily Mail and Japanese national television.
Yael Ronen
Yael Ronen is professor of public international law at Sha'arei Mishpat Academic Center and editor of the Israel Law Review, published by Cambridge University Press for the Minerva Center for Human Rights at the Hebrew University of Jerusalem. Prior to embarking on an academic career, she served as a diplomat and lawyer in the Israeli Foreign Service. Her areas of interest include statehood and territorial status, international human rights law, the laws of armed conflict and international criminal law, as well as the intersection between these areas of law. Dr. Ronen holds an LLB and an LLM from The Hebrew University of Jerusalem, and a PhD from the University of Cambridge.
Daniel Reisner
Daniel Reisner is the head of the Public International Law, Defense and Homeland Security Division at Herzog, Fox and Neeman, Israel's largest law firm. Col. (res.) Adv. Reisner is the former head of the International Law Department in the Israel Defense Forces (IDF) Military Advocate General's Corps, as well as a lecturer at three Israeli universities. He serves as a senior member of Israel's peace negotiations with both Jordan and the Palestinians, working in the triple role of negotiator, legal advisor and drafter. Following his retirement from the IDF, Col. (res.) Adv. Reisner opened a law firm specializing in international consulting, where he advises senior members of the government on issues relating to the Middle East peace process and security.
Yedidia Stern
Yedidia Stern is a senior fellow at the Israel Democracy Institute. He is in charge of projects on business and democracy and religion and state. He is also Co-Chair of Yachad – Council for Reconciliation between Secular and Religious Jews, and co-editor of the journal Democratic Culture. Prof. Stern has served as a lecturer at Bar Ilan Law School for many years, and in the past served as Dean of the Law School. He was also a visiting scholar at Harvard Law School and continues to serve as a legal consultant for leading corporations in Israel on issues of commercial law. Prof. Stern has a Law Degree from Bar Ilan University and an MA and PhD in Corporate Law from Harvard Law School.
Danny Tirza
Danny Tirza is the general manager of Yosmot Consultation, Management & Guidance Company. He is a colonel (res.) in the Israel Defense Forces (IDF). Dr. Tirza's illustrious military career spans three decades – during which he held various positions, from combat soldier to consultant on the planning of Israel's security infrastructure. He served as the territorial and border advisor to the Prime Minister at the Anaplolis peace summit. Dr. Tirza holds a BA in political science from Tel Aviv University, an MA in business administration from the University of Riga, and a PhD in business administration from York University (USA).
"The Summer Institute provided me with a chance to take a rigorous scholarly approach to the study of Israel, to inquire and critique and discuss important issues with a community of international scholars."
Janice Fernheimer
University of Kentucky Writing, Rhetoric and Digital Studies