Israeli Art @ SCIS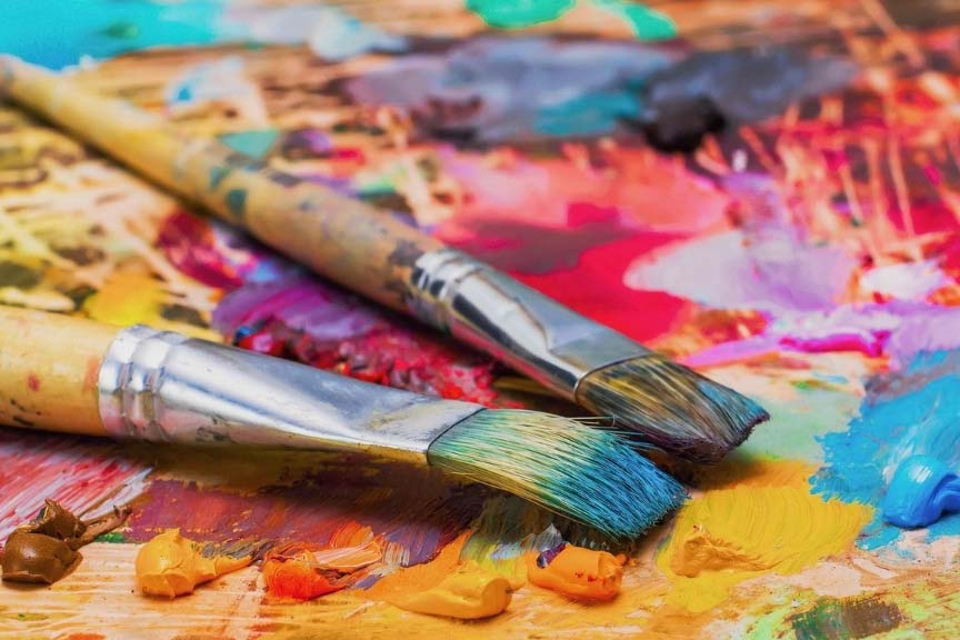 Schusterman Center Permanent Exhibit
Thanks to a generous gift by the Charles and Lynn Schusterman Family Foundation, the Center features a permanent exhibition of Israeli art curated by Rivka Saker and Marge Goldwater.
Art@SCIS provides an inclusive venue for this display of art, photography and videos by Israeli artists from diverse ethnic, cultural and religious backgrounds. Integrated into the teaching curriculum at Brandeis, this exhibition serves as a primary visual source for the study of art, society and culture.
Featured Artists
Nelly Agassi
Nelly Agassi (b. 1973, Tel Aviv) assisted by Brandeis students, created a site-specific installation composed of red satin ribbons for the Center's Dedication in November 2010. An exhibition of three video works and several "embroidery" pieces by Agassi are showcased at the Center.
Yael Bartena
Yael Bartena (b. 1970, Afula) filmed Trembling Time (2001) from a bridge overlooking the Ayalon highway in Tel Aviv as the sirens marking Israel's National Memorial Day sounded.
Guy Ben-Ner
Guy Ben-Ner (b. 1969, Ramat Gan) with his wife Nava and children, Elia and Amir, play the parts of a family of ostriches, in Elia - A Story of an Ostrich Chick, migrating to find better feeding grounds.
Yossi Breger
Yossi Breger (b. 1960, Montreiul Sous Bois, France) presents a nostalgic image of the Yarkon river in Tel Aviv in his photograph, The Yarkon River, 2001.
Moshe Gershuni
Moshe Gershuni (b. 1936, Tel Aviv) revisits a studio photograph of his father's family in Poland in a series of etchings that deconstruct the collective familial body and enlarge its constituent elements. I shall go to him, but he will not return to me is from a series of etchings completed in 2008.
Dor Guez
Dor Guez (b. Jerusalem) creates a series of nocturnal images of the ruins of Lydd (Lod), with the photograph Lydd Ruins 5, 2009 simultaneously hiding and exposing the remnants of a Palestinian home destroyed and depopulated in 1948.
Sigalit Landau
Sigalit Landau (b. 1969, Jerusalem) creates poignant videos in which her body interacts with the Israeli landscape in poetic and symbolic ways.  Dead Sea (2007) offers a lyrical image of Landau floating in the Dead Sea, ensconced in a slowly unraveling spiral of green watermelons.
Leora Laor
Leora Laor's photograph Untitled #117, 2003 is part of a series that captures the insulated world of little girls in from the ultra-Orthodox Jewish neighborhood of Mea She'arim.
Reuven Rubin
Reuven Rubin (1893-1974) proclaimed: "I paint what I love: my people, my family, my country." Near Jerusalem, painted shortly after the artist immigrated to Palestine, accentuates the pristine beauty of the land and its Arab inhabitants.
Efrat Shalem
Efrat Shalem (b. 1971) displays a compelling juxtaposition of geometric and organic shapes in her photograph of an apartment building framing flowering trees in Untitled, 1999.
Doron Solomons
Doron Solomons (b.1969, London) is a video artist whose artistic practice in the last decade has been inextricably connected to his experience as a professional news editor. In Shopping Day (2006) Solomons directly addresses the language of consumerism and subverts it.
Yocheved Weinfeld
Yocheved Weinfeld (b. 1947, Legnica, Poland) creates conceptual artworks that incorporate family photographs, stitched photographs and additional multimedia components. The composite pieces, Family Line, 1976/2010, attempt to grasp the passing away — or "disappearance" — of a loved on and the traces left behind.
Pavel Wolberg
Pavel Wolberg (b. 1966, Leningrad) casts a keen eye on the loaded encounters that occur at the gateway between Israel and the occupied territories, in his photograph Qalqilya Checkpoint, 2004.