Doctoral Students
The central mission of the Schusterman Center is to promote exemplary teaching and scholarship in the field of Israel Studies. As such, it supports doctoral students enrolled in Brandeis' Graduate School of Arts & Sciences whose research focuses on the modern State of Israel.
These Schusterman Scholars are part of the intellectual hub of students, faculty and visiting scholars that make up the Center. Biweekly seminars on Israel Studies enrich their academic coursework and prepare them to make significant contributions to the scholarship in the field.
Our Current Schusterman Scholars
Maham Ayaz, NEJS
Maham is a PhD candidate in Near Eastern and Judaic Studies and is writing her dissertation on the legal history of Israel from 1992 to 2013. Her research stems from her interests in comparative citizenship, universalism and inclusivity in nation-states, and courts as political institutions. In Spring 2021, she taught "Defining Status in the Modern State," an original interdisciplinary course on citizenship, nationalism, indigeneity, and migration. She received her BA in International Studies from the University of Chicago, where she wrote her thesis on citizenship law in Bangladesh. She has previously worked at the Young Center for Immigrant Children's Rights and at the American Bar Foundation. She currently teaches History of Israel at SUNY Albany.
Shirah Malka Cohen, NEJS

Born in Israel and raised in Japan, Shirah completed her undergraduate studies in liberal arts at Doshisha University in Kyoto, during which she also spent time at Leiden University in the Netherlands and wrote her honour's thesis on the impact of nationalism on the development of Modern Hebrew and Modern Japanese literatures. Her main interest is in the relationship between modernity and literature in the early 20th century, in particular in how writers processed their place in the world. She is interested in topics such as artistic intertextuality, especially the relationship between literature and music, as well as in themes such as anxiety and the sublime. In her graduate studies, she hopes to further delve into these topics, focusing on Hebrew, Japanese, English, and German literatures. 
Robert DeBoard, NEJS
Robert is a PhD candidate in Near Eastern and Judaic Studies. He is currently writing his dissertation, a study of the British withdrawal from Palestine during the first phase of the 1948 Arab-Israeli War. His research interests include the history of Mandatory Palestine, military history, counterinsurgency, and counterterrorism. Robert received his MA in History from Baylor University in Waco, Texas, where he wrote his thesis on Britain's security policy for the Palestine Mandate from 1917-1947. He is currently a Visiting Assistant Professor of Israel Studies at Binghamton University
.
Eva Gurevich, NEJS

Working at the intersection of cultural history and political theology, her dissertation examines a group of hegemonic Israeli literary and public figures who converted from 'left' to 'right' wing in the aftermath of the 1967 war, paving the way for the Israeli right wing and the settlement movement as we know it today. Her research interests include Jewish political thought, religious and secular messianism, gender and nationalism, place studies, as well as Israeli and Palestinian visual arts and literature. Eva speaks fluent Hebrew and Russian, has advanced proficiency in Yiddish, and is gaining proficiency in German. In 2019-2020 she was a visiting scholar at the Berkeley Institute for Jewish Law and Israel Studies at UC Berkeley. 
Mika Hackner, Politics

Mika holds an MA in Politics from Brandeis University and an MA from the University of Haifa in Peace and Conflict Management, as well as an honors degree from the University of Cape Town in Justice and Transformation and a BA from the University of Auckland in Politics and History. She specializes in comparative politics and her research focuses on militant democracy with a specific interest in party bans. Her research interests also include comparative regime types; democratic transition and consolidation; and democratic regime persistence. Focusing most particularly on Israel and Germany, Mika's dissertation explores when and why political parties are banned from running in elections. She has been published in The Washington Post's The Monkey Cage and has a forthcoming chapter in an edited book on challenges to democracy.
Skyler Inman, Anthropology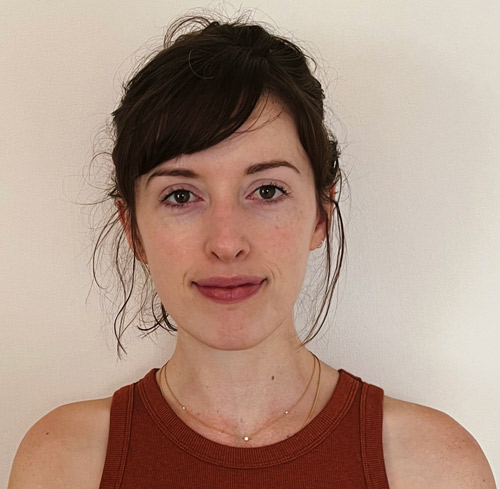 Skyler Inman is a PhD student in Anthropology. Her research interests include ethnicity and migration, nationalism and the self, as well as family, identity, belonging, and the political and ideological formation of young people. She received a BA in English from Yale University, and an MA in International Development Studies from Hebrew University in Jerusalem. Before coming to Brandeis for her doctoral studies, she worked as a multimedia storyteller, writing, photographing, and producing radio pieces about a range of topics. Her dissertation will look at identity and belonging amongst non-Jewish youth in South Tel Aviv—primarily the children of asylum seekers and foreign workers—who are coming of age in Hebrew-speaking social and educational environments while grappling with their identities as the Israeli national "other."