The Fusion of Japanese and Jewish Cultures in Children's Fantasy Literature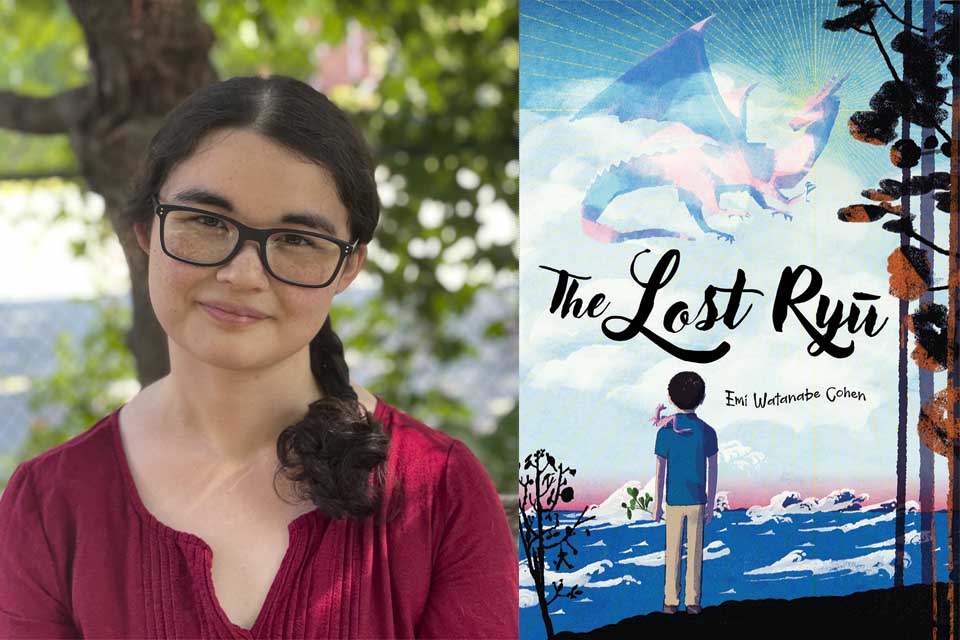 By Penny Schwartz, P'13
In her debut 2022 middle-grade novel, "The Lost Ryū," Emi Watanabe Cohen '21 tells the story of a Jewish Japanese American girl named Isolde, her Japanese friend Kohei, and a Yiddish-speaking dragon.
In her forthcoming middle-school fantasy epic, "Golemcrafters," Japanese-Jewish siblings learn to create golems, the supernatural creature from Jewish folklore.
The combination of Jewish and Japanese characters and themes reflects Watanabe Cohen's heritage. Her mother is a second-generation Japanese American whose parents immigrated to the United States in the 1960s. Her father is an Ashkenazi (Central and Eastern European) Jew.
It's a mixture that sometimes caused her confusion as a child. "I had a sense of always belonging somewhere, but not necessarily belonging anywhere," she said.
But it also gives rise to a central theme in her fiction: the quest by children and young adults to make sense of their identity.
"In America, race is everything. For some people, it's all they understand. And I don't fit. I can't be both. I have to be either," Isolde says in "The Lost Ryū."
Isolde eventually comes to this conclusion: "I'm not half anything. I'm not divided into parts. I'm just me. One single person."
A Precocious Talent
Watanabe Cohen grew up in Brookline, Massachusetts, and Chicago. She remembers at a very young age wondering if the English and Japanese spoken in her home were the same language. She attended Hebrew school but also had many Japanese friends.
A voracious young reader, she decided early on she wanted to be a writer. She published a story in the prestigious children's literary magazine Stone Soup when she was 10.
In her early teens, she wrote novels and sent them to agents, amassing a collection of rejection letters. But she wasn't discouraged.
She felt she was joining a distinguished line of writers who'd also struggled to publish their work. "If you get enough rejection letters, it's an achievement," early mentors told her.
At Brandeis, Watanabe Cohen majored in creative writing and took a fiction class with Barbara Mandel Professor of the Humanities John Plotz, who gave her new insight and appreciation into J. R. R. Tolkien's "The Lord of the Rings." In the acknowledgments to "The Lost Ryū," Watanabe Cohen writes that Plotz's "hot takes on Tolkien will forever be a part of my soul."
In her junior year in college, her agent texted her, "Call me." During the call, Watanabe Cohen learned "The Lost Ryū" was being published.  
"I was so surprised and excited that I was left kind of speechless," she said.
Of Golems and Dragons
In the novel, a fantasy tale set in Japan in 1965, 10-year-old Kohei searches for an ancient mythical dragon that fought battles during World War II. Kohei meets Isolde when her family moves into his apartment building in Osaka.
As their unlikely friendship develops, Kohei, shy and introspective, and Isolde, insightful and outgoing, help each other discover painful truths about their families' pasts. Watanabe Cohen said the two characters reflect her personality, Isolde on the outside and Kohei on the inside.
In one poignant scene, Isolde grapples with questions about her mixed American, Jewish, and Japanese heritage. She admits she feels like a fake, an outsider in Japan, and yet not American enough in her native country.
Isolde's dragon, Cheshire, speaks Yiddish, the language spoken by Isolde's grandparents, who died in a Nazi camp in the Holocaust. The war and the impact of its intergenerational trauma are a backdrop to the novel.
"Golemcrafters," due out in 2023, was inspired by the Yiddish folktale about a golem, a supernatural character crafted from clay with the power to save Jews from persecution. Watanabe Cohen read it as a kid. 
In "Golemcrafters," a pair of siblings discover they are descended from a long line of golem crafters and spend the summer learning to sculpt golems.
Watanabe Cohen said she's intrigued by what she calls Yiddish's "loan words," words and expressions brought in from other languages and integrated into Eastern European Jewish culture. Yiddish, which originated in the 9th century, is a combination of Hebrew, German, Slavic languages, and even Aramaic.
While it's not always been easy for Watanabe Cohen to grapple with identity issues, she sees an upside.
"I would not be the writer I am today if I hadn't spent so much of my childhood standing in the corner wondering who I was," she said.