Class of 1960
Class Correspondent
Joan Silverman Wallack, P'86
Our 55th Reunion will offer an excellent opportunity for reconnecting and reminiscing. Alumni College will be held during the day on Friday, followed by our informal class dinner and the exciting Fire and 'Deis all-Reunion party that evening. Saturday's schedule includes the traditional Ralph Norman Barbecue followed by our own special class programming and a memorial service. The evening will feature our class dinner. On Sunday morning, we will enjoy a farewell champagne and jazz brunch. In honor of our Reunion, please consider making a meaningful gift to Brandeis, perhaps in support of the Lois Zetter Theater Arts Scholarship. We hope to raise $50,000 for the scholarship by June 30. The fund supports students who might otherwise be unable to afford a Brandeis education. All gifts are appreciated and will make a difference. For further information, contact Lisa Fleischman in Institutional Advancement at 781-736-4062 or lfleisch@brandeis.edu.
The Rev. Lance Beizer says he is enjoying life now more than ever, thanks to a great marriage and an encore career that keeps him just busy enough. "I preach once or twice a month and tend to other things that clergy do without the hassle of running a church and worrying about the heating bill in the winter or what to do if the secretary gets sick," he writes. He is involved in a number of nonprofit and civic activities, and has taken cruises to Sochi, Riga, Budapest and Albania. Stephen Benjamin, professor emeritus of veterinary medicine at Colorado State University, has been writing fiction since retirement. His science fiction novel, "The Galactic Circle Veterinary Service," was a finalist at the Rocky Mountain Fiction Writers and Northern Colorado Writers book awards. Leanore Friedland Ickstadt reports that her short stories "Stories From the Villa" and "Alone" are posted on her website, leanore-ickstadt-dance.com. She writes, "These stories of transatlantic life may be interesting for those of you who knew me back in Waltham. Writing has become what dancing was for me." She and her husband, Heinz, continue to travel between their homes in Berlin and New York, with many side trips to London, where their sons, Markus and Mischa, and their three grandchildren live. Having retired from the Hebrew University of Jerusalem in 2000, Professor Galia Golan-Gild (Gail Greene) has now retired from the Interdisciplinary Center Herzliya. In her second retirement, she plans to work with David Matz at Neve Shalom/Wahat al-Salam. Galia published her 10th book, "Israeli Peacemaking Since 1967: Factors Behind the Breakthroughs and Failures," and co-edited a book with Walid Salem, "Nonstate Actors in the Middle East: Factors for Peace and Democracy." Galia's four children are married, and she has six grandchildren. She is still deeply attached to Brandeis, chairing the committee that helps select the Slifka Scholars; serving on the board of the Women's Studies Research Center; and co-organizing a conference between the Tami Steinmetz Center for Peace Research at Tel Aviv University and the Brandeis International Center for Ethics, Justice and Public Life. After retiring following 40 years of practicing law in Boston, Marty Greenblatt now works as a detective for the Los Angeles Police Department through its reserve program. Since graduating from the police academy and completing extensive training, he works about 20 hours a week investigating financial elder abuse, embezzlement and other complex crimes. He interviews victims, witnesses and suspects; writes reports; makes arrests; presents cases to the district attorney; and testifies in court — just as his full-time colleagues do. His pay: $50 a month. Artist Suzanne Hodes' recent series of mixed-media paintings on paper, "Water Reflections," inspired by the changing seasons on the Charles River, were on display at Waltham Mills Open Studios, in Waltham. She also displayed her "City Reflections" paintings and some earlier works on paper. In the past year, her art was added to the collections of the Portland (Maine) Museum of Art, Emmanuel College, Wheaton College, Danforth Art, and the Art Complex Museum. Jonathan Korn has retired from patient treatment and incorporated his love of the sea and sailing into another occupation: chief medical consultant at Future Care, an international company handling medical problems at sea, where he consults with attorneys on medicolegal issues. Jonathan is also pursuing another love, welding sculpturing, which commenced at Brandeis under the tutelage of Peter Grippe. He writes, "Most important, I have again been hired as babysitter for a new grandchild. The fees are small, but the rewards great." Milton Wallack, P'86, was honored with a Lifetime Achievement Award from the Jewish Federation of Greater New Haven. A retired periodontist, he served in many capacities in the Jewish and civic communities: president of the Jewish Federation, chair of the Jewish Federation Association of Connecticut, chair of the Jewish Community Relations Council, trustee at Brandeis, president of the New Haven chapter of the Juvenile Diabetes Research Foundation and founder of the Connecticut Stem Cell Research Coalition.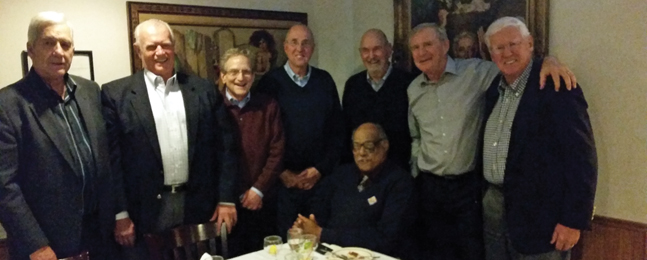 GARDEN PARTY: Eight former members of the men's basketball team held a reunion in New York City, in honor of the Judges' upset of powerhouse NYU on Jan. 5, 1957, at Madison Square Garden. From left: Marty Zelnik '61, Bob Peretti '60, Jeff Golland '61, Gerry Schwartz '60, Bob "Buff" Fowler '60 (seated), Bob Berkman '60, Ron Carner '61 and Anton Lahnston '60.
Submit a Class Note