Class of 1989
Hope everyone is well. I had a wonderful time attending Rob Levy's younger daughter's bat mitzvah and seeing Sarah Fallowes Kaplan; her husband, Andy Kaplan '87; and all the little Kaplans — though they're not so little anymore. Michelle Weisberg Cohen and I got to catch up a bit at the Alumni Club of Washington, D.C.'s recent Lawyers Network event (no, I am not an attorney, though I could play one on TV). I played Emilia in WSC Avant Bard and Lean & Hungry Theater's production of "Othello" in February.
Michelle Cohen and Lori Bring, who actually met at last year's Reunion, have lunched together twice since then. Recent Facebook photos show Jim Eber sharing a meal with Micki Barnett Jacobs in California. Karen Splansky Farbman, P'18, loves her work in pediatric emergency medicine at Boston Children's Hospital. She and David Farbman '90, P'18, moved their daughter, Emily '18, into her Usen dorm as she started freshman year at Brandeis (younger sibs Shira and Jonathan were good helpers during the move). The family attended Karen's 25th Reunion in June, and will return to campus soon for David's 25th. In her spare time, Karen chairs the medical committee for Camp Ramah in New England, and dabbles in creating Purim Shpiels and leading High Holiday davening. She enjoys keeping up with Brandeis friends. M.J. Hafter writes, "I've been hangin' with Matt Bailis and Jen Novak, both '90. I love that Matt is in Denver and so glad I get up there. Now, if I could only catch up with a few more dearies when I am east for turkey." Joel Hoffman wrote "The Bible's Cutting Room Floor: The Holy Scriptures Missing From Your Bible." With a focus on bringing the Bible to life, Joel is a popular speaker who presents to churches, synagogues, community groups and university audiences across the world. Dan Levin lives in Takoma Park, Md.; is still married; and now has a teenager instead of a child (shudder). He continues to work at the University of Maryland, College Park, teaching science and mathematics teachers, and conducting research on science teaching and learning. He writes, "I have really enjoyed reconnecting with folks from the Class of 1989, especially those who live in the D.C. area, like Alyssa Sanders and Michelle Weisberg Cohen. I was out in LA a few weeks ago and got to hang out with Ridgewood and Ziv roommate Miles Crakow." The Ford Foundation named Rakesh Rajani director of democratic participation and governance. A global leader on issues of social justice, he has been at the forefront of citizen engagement and government accountability for two decades. Formerly, he was head of Twaweza, the organization he founded in Tanzania to promote basic learning, advance access to information and enhance government responsiveness. Rick Schoenberg reports he is still at Allstate and now manages the staff counsel offices in Middletown, Rochester and Buffalo, N.Y. He was also recently elected president of Habitat for Humanity of Greater Newburgh. Last but not least, he's enjoying his kids, who are 12 and 9. Jeffrey Siegel, an internist at Kaiser Permanente in Los Angeles, helps to run a program for high-need patients. He's married with two children, enjoys Sundays filled with soccer and performs stand-up when he can.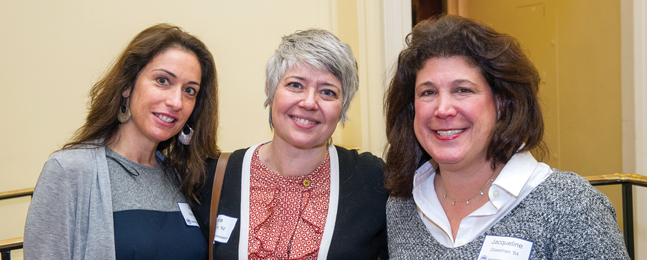 FINE DAY: Alyssa Sanders '89, Sara Cormeny '92 and Jackie Glassman '84 joined fellow alumni for a reception, symposium and concert at the Library of Congress in celebration of the life, legacy and music of Irving Fine (1914-62), founder of Brandeis' School of Creative Arts and Department of Music. Several alumni and faculty spoke and performed at the event, including Martin Boykan, Irving Fine Professor of Music Emeritus; Joel Spiegelman, MFA'56; Georgia Luikens, PhD candidate in musicology; Claudia Fine '70; Nicholas Brown '10; and Yehudi Wyner, professor emeritus.
Submit a Class Note