Class of 2011
Julie Judson received a ONEin3 Impact Award, which recognizes the efforts of Bostonians under 35 who are making a difference in their communities in the fields of science, technology, engineering, art and math (STEAM). Julie was cited for her successful efforts to revive and revitalize the Metropolitans, the Citi Performing Arts Center's young-professionals group. The organization provides Boston's adults with social, networking and volunteer opportunities, as well as access to world-class entertainment. Emily Leifer received a master's degree in art history from Williams.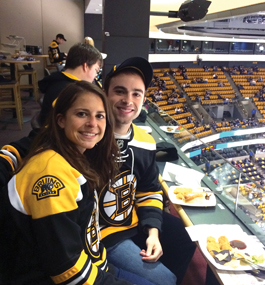 COMMON GOAL: Taryn Martiniello '11, MA'12 (left), joined 40 other alumni to watch the Boston Bruins edge the Carolina Hurricanes, 2-1, from a ninth-floor suite above center ice at TD Garden. Hal Leibowitz '82 chaired the seventh annual event.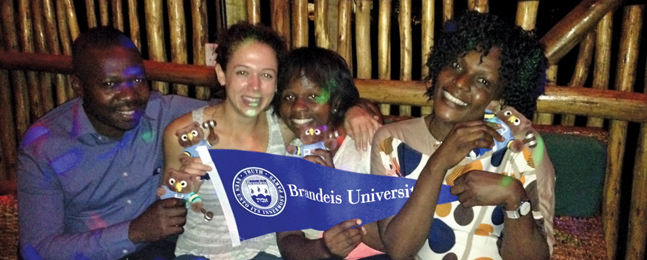 THINKING GLOBALLY: Alumni in Uganda organized the first-ever meetup in Kampala, where nearly 40 Brandeisians reside. The group gathered at Centenary Barbecue Lounge for dinner and a conversation about building a vibrant alumni community. Chiara Bercu '11 and Viola Nalutaaya, Heller MA'17, co-chaired the event. From left: Patrick Eyul, Heller MS'11; Chiara; Brenda Nankanja, MA'11; and Viola.
Submit a Class Note