Class of 2008
Thank you for sharing your wonderful life updates. My husband, Alan Cherney, and I live in Pennsylvania. He is completing his emergency medicine residency, and I attend the Reconstructionist Rabbinical College. We are always so happy to see and celebrate many happy occasions with our Brandeis friends.
Elizabeth (Bessie) Bianco and Frank Longo founded Nobul Apparel in 2013 in an effort to improve awareness around bullying. The company donates $1 from each garment sold to the Stand Up to Bullying Program. Both Bessie and Frank have family members and friends who were severely affected by bullying. "We created Nobul to allow us a voice, to send messages of love and acceptance, a message that says, 'It's cool to be kind,'" Bessie explains. Mikaela Faye was born on April 13, 2014, to Rabbi Danielle (Gobuty) and Jonathan Eskow. John Farr is a strategy consultant at Booz Allen Hamilton in Washington, D.C. Ari Fertig lives in Medford, Mass., with his girlfriend, Liz Schwartz. He recently started working at The Conversation (www.theconversation.com/us) as editorial liaison/audience development coordinator. The Conversation is an independent online platform for news analysis and commentary written by academic experts, edited by journalists and aimed at the general public. Nicole Gilliat moved to Israel in 2011 and joined Ion Asset Management, a long/short equity hedge fund, as a global equity analyst. She and her husband live in Ra'anana with their new baby boy. Nicole is also a Bold class agent and serves on the Steering Committee for the Brandeis Alumni Club of Israel. Lauren Hamid-Shapiro joined the New York City Department of Environmental Protection as an associate project manager. She works at the Croton Water Filtration Plant, in the Bronx. Scott Herman was named senior vice president of provider solutions and performance improvement at Univita Health, a leader in post-acute and home health-care solutions. Prior to joining Univita, he served as vice president of practice development at Sheridan Healthcare. Rachel Marder is in her second year at the Ziegler School of Rabbinic Studies, in Los Angeles, where she is also a Wexner Fellow. She is studying shechita (Jewish ritual slaughter) and hopes to become certified as a shochet. Amy Marsh is an interactive producer at J. Walter Thompson in New York City. At the Class Notes submission deadline, she was still undecided as to which 2015 dog calendar to order. Deborah Beth Medows serves as associate counsel for New York's Assembly Majority Program and counsel to the New York State Assembly. She is attorney for the insurance, and racing and wagering committees for the Assembly majority. She was also selected to serve on the board of directors of the Albany Collegiate Interfaith Center at the University of Albany, SUNY. Tamar Moskowitz, MA'09, Heller MBA/MA'11, will marry Adam Jacobson '09 in June in Westchester County, N.Y. Jeremy Novich earned his PsyD in clinical psychology from Long Island University Post in September. He is completing a postdoctoral fellowship in the counseling center at Stevens Institute of Technology, in Hoboken, N.J. Lucas Emet was born on Oct. 6, 2014, to proud parents Marissa (Rubin) '07 and Brandon Pick. They chose Emet as Lucas' middle name in part because they met at Brandeis. Molly Jane Rosen is a curriculum developer in the Bay Area. More important, she writes, she is the devoted girlfriend of a successful doctor. Harley Yanoff (known by his stage name, Harley Harrison) was cast in a supporting role in the Disney film "The Finest Hours," which stars Chris Pine and Casey Affleck. The film is set for theatrical release in April 2016. Harley also owns a catering and staffing company in New York, Topnotch Events (www.topnotchstaffingnyc.com), and is the founder/director of a Massachusetts summer-theater workshop for kids, Spotlight Productions (www.spot-light.org).
HEART TO HEART: Brandeis alumni and staff members celebrated the marriage of Gayle Gordon '08 to David Sudit on Sept. 21, 2014. From left: Adam Kaplan, PhD'18; Bonnie Grumet Rubenstein '93; Steven London '77; Joel Gordon '80; Mary Casady '08; Heather Poulos (staff); Myles Weisenberg '78; Ashley Whittemore (staff); Gayle; David; Susan Nebel (former staff); Nancy Winship, P'10, P'13 (staff); Jeffrey Gladstone '89; Gabriela Lupatkin '09; Danna Biala '08; Elizabeth Kraft Korngold '01; and Kelly Whiffen (staff).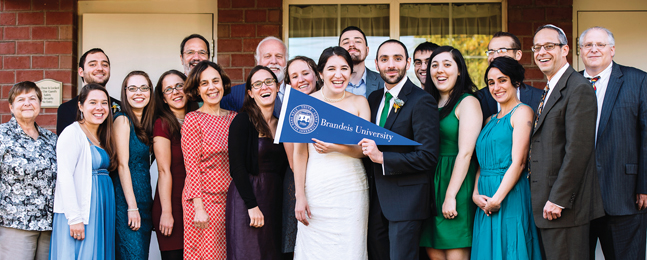 DOWN-EAST I DO'S: Alumni representing five decades came together for the wedding of Ariel Linet and Daniel Goodman, both '08, on Oct. 12, 2014, in Freeport, Maine. From left: Ellen Waks '73; Dylan Maeby '10; Micky Waks '13; Jaclyn Canter '08; Jessica Keweshan '08; Paul Linet '75, P'08, P'10; Naomi (Cohen) Sacks '73; Lewis Mintz '69; Sarah Gaby '08; Becky Solo '08; Ariel; Art Bergevin '08; Daniel; David Nash '08; Sarah Linet '10; Stefan Borst-Censullo '08; Naomi Goodman '02; Michael White '83; and Ken Bruss, MA'77.
Submit a Class Note