Class of 2013
Class Correspondent
Ellyn Getz, Robyn Spector and Amanda Winn
Ell works as manager of development and fundraising at the Center for Information and Study on Clinical Research Participation. In her free time, she helps organize events for the Alumni Club of New York City's Performing Arts Network and teaches fitness classes. Amanda received her master's degree in nutrition at Columbia University. She continues to conduct research at NewYork-Presbyterian Hospital on the impact of bariatric surgery on diabetes. She enjoys camping with fellow alums.
Yan Chu assists with clinical trials at Tufts Medical Center, in Boston. She enjoys her work and living in the city, especially walking along the Charles River and exploring cultural cuisines. David Fisch is a sales planner at CollegeHumor. He still checks The Justice's website every week to pick up crazy things from the Brandeis Police Log for his Facebook status. Alex Kramer, who attends Stony Brook University's School of Journalism, was the first recipient of a $2,000 scholarship from HealthDay. The scholarship will be awarded annually to an outstanding student who intends to seek a career in health or science journalism. Alex will also serve as an intern at HealthDay, the largest provider of consumer health news in the U.S. Rozi Levi moved back to Israel, where she is taking an academic Hebrew course at Hadassah College, working as an English teacher for at-risk youth in Jerusalem and volunteering as a youth-club counselor. In her spare time, she hikes, travels, and makes hiking and travel plans. Rachael Pass was named director of youth engagement at Temple Shir Tikva in Wayland, Mass. In her new role, she facilitates educational, community-service and social programming for children of all ages, and provides leadership opportunities for teens in AISH: Shir Tikva Center for Youth Leadership. Annifreed Sinjour works in asset management at Community Builders, a nonprofit affordable-housing organization in Boston. When she's not working, she enjoys spending time with friends; traveling; exploring Boston; and volunteering at Hostelling International Boston, where she interacts with travelers staying at the hostel. Leah Smith started a new job as a grants associate at the Children's Museum of Manhattan. She lives on the Upper West Side but frequently returns to her native Brooklyn to visit her family and her dog. Jessie Stettin, MA'14, is about to leave his hometown of New York City for Chicago. In addition to his day job in commercial mortgage banking, he has partnered with his brother to build a real-estate private-equity fund for opportunistic investing across the United States. In between travel and countless espressos, he has become an active member of New York Cares. After earning his master's degree in journalism from Northwestern's Medill School of Journalism, Gordy Stillman took a job as a Web content producer with the New Jersey Devils. "It's a lot of fun to be writing for a team, even if the hours are intense," he says. Before entering Harvard Medical School, Piyawat Sukijthamapan is spending a gap year leading his nonprofit organization, Project Plus One, on a global health project to combat tuberculosis in Timor-Leste. Piyawat enjoys scuba diving and traveling with his family.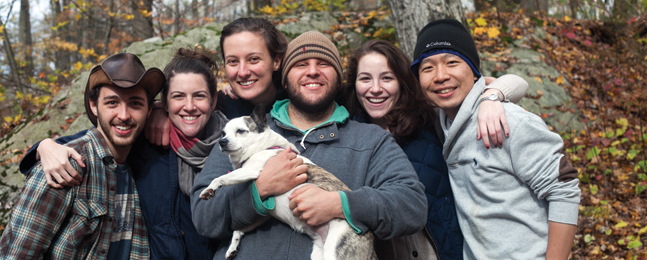 GREAT OUTDOORS: A group of alumni went camping together at Clarence Fahnestock State Park, in Carmel, N.Y. From left: Asher Krell '13, Robyn Spector '13, Liana Langdon-Embry '11, Jonathan Steinberg '13 (with Robyn's dog, Kati Mae), Amanda Winn '13 and Nan Pang '13.
Submit a Class Note