Class of 2005
I have an update of my own: On Nov. 21, 2014, I gave birth to our first daughter, Nina Libby. She's already excited to join the Brandeis Class of 2035! We can't wait for her to meet you all at Reunion in June.
After Anna Pikovsky Auerbach relocated to Las Vegas for her husband's job with Caesars Entertainment, she found an amazing opportunity herself, as a philanthropy adviser and community builder at Moonridge Group. She recently published an article in Stanford Social Innovation Review, and is teaching a class on strategic planning at the University of Nevada, Las Vegas. Her son, Asher, is 18 months old. Rachael (Oppenheimer) Granby is spending the year in New Jersey, working for Seeking Alpha and trying to re-acclimate to snow, English and a curious lack of hummus after spending the past nine years in Israel. Her husband, Jonny, is a proud stay-at-home dad who runs ultra-marathons for fun. Their children — Gabe, 5, and Nava, 3 — like playgrounds, especially those with fast slides. Rachael and her family will head back to Israel in June. Edward Greenberg is in the fourth year of his internal medicine residency at Case Western Reserve University. He is conducting cancer research. He and his girlfriend just moved into a new place together. Jacqueline Hersh received her doctorate in clinical psychology from Duke University and is now a postdoctoral fellow in Harvard's Department of Psychology. Chad Kurtz married Colby Itkowitz on Oct. 12, 2014, in Philadelphia, where they met. They live in Washington, D.C. Chad, who received his law degree from Temple University, is a commercial litigation attorney at Cozen O'Connor. Colby is a political reporter at The Washington Post. Daniel Ludevig is the founder of MOVE Leadership (www.moveleadership.com), which facilitates deep conversations for organizations and systems using a cutting-edge embodiment and creativity approach to address transformational change around culture, communication and strategy. He also dances professional swing and Lindy hop with dance partner Claire (www.danielandclaire.net). Ilana Shapiro works in the marketing/demand generation department at Guidewire Software, in Foster City, Calif. She focuses on North American, Chinese, Japanese and Australian lead generation. Arnon Shorr directed a feature-length indie thriller and a short film, worked on a sci-fi book trailer, and is creating a comedy Web series. His work was recently featured in a front-page article in The Wall Street Journal. In Brandeis-related news, Arnon helped organize a Brandeis Alumni in Film and Television networking event that let recent alumni meet with studio heads and production executives in LA. Alan Tannenwald joined the Sierra-Cedar Group, one of the largest independent IT-services companies in North America, as associate general counsel. He lives in Cambridge, Mass. Hannah Taytslin works at the Lyric Stage Company of Boston, the city's oldest professional theater, as director of individual giving. She's thrilled to advance the Lyric Stage's mission of hiring the best Boston-based artists and producing excellence onstage and in the community. Ari Teman is the new host of TRNDNGNEWS (www.trndngnews.com) and the CEO of Friend or Fraud (friendorfraud.com), a Tel Aviv-based tech startup that verifies identities and catches imposters across a wide array of industries.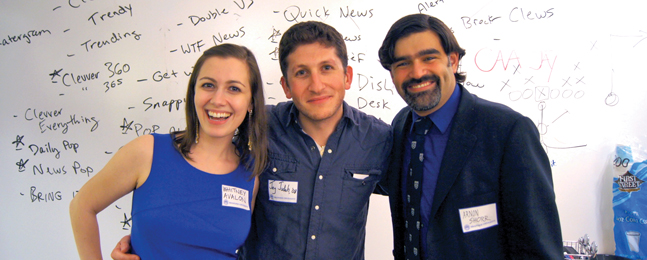 THAT'S ENTERTAINMENT: Actress and alumna Whitney Avalon joined event co-chairs Jay Judah '08 and Arnon Shorr '05 at Defy Media in Los Angeles as alumni in the entertainment industry gathered for a networking session. Jay is Defy's manager for content and strategic partnerships, and Arnon is director for new and traditional media.
Submit a Class Note