Class of 2006
I continue in my role as vice president at Boston's Northwind Strategies, where I advise political candidates, nonprofit organizations and businesses on their media relations efforts. I am also an adjunct faculty member at Emerson College and Northeastern University.
Lalin Anik is a postdoctoral scholar at Duke University and will be joining the faculty at the University of Virginia's Darden School of Business in the summer. Azeez Aranmolate, MS'08, left his biotech job to pursue a PhD in molecular and cellular biology at Stony Brook University. When he's not busy trying to remember why he left the industry, he can usually be found living the grad-student life on Long Island. Eleonora (Ziser) Bahar is head of the Hebrew department at the Jewish School in Istanbul. She married Vidal Bahar '07 in June 2010. Joshua Bengal works as a deputy attorney general in Newark, N.J. Josh, wife Melissa and their 18-month-old son recently moved to Glen Rock. College roommates Hannah Berg; Stacey Levine, MA'07; Jacob Baron, MA'07; Michelle Pilloff; Samantha Laub; Tara (Steinberg) Goldman; Nate Goldman; and Monica Katz-Lapides reunited for Hannah's wedding to Danny Mandel in Portland, Ore., in July, and again for Michelle's wedding to Mike Lewis four months later in New York City. They were joined in Portland by Cara Abrams-Simonton, Sabrina Dax, Jeremy Kurtz, Chana Miller, Elliott Rector and Ashley Joyce, and in New York by Joanna Gang, Joanna Roberts and Ben Snodgrass. Adena Blum is now the assistant rabbi at Congregation Beth Chaim in Princeton Junction, N.J. She and her husband, Sean, are enjoying their new home. Ilana Cohen and partner Weldon Kennedy live in Nairobi, Kenya. Ilana works as the Africa project manager for the GSMA's Mobile for Development Utilities Programme, and Weldon is managing director for Europe and Australia at Change.org. Rafi Farber is a freelance writer and blogger in Karnei Shomron, Israel. He and his wife, Natasha, recently had their third child, Fry (Efrayim), who joins siblings Tzivie and Daffy. Jeff Fowler is a PhD candidate in theology at the University of Chicago. He married Sara Eber in October in Rochester, Mich. They live in Chicago. Jennifer Frisanco is pursuing an executive MBA at ESCP Europe Business School, in Paris. She is due to graduate in June. Karen and Josh Goldfischer welcomed their first child, Benjamin Leopold, on Aug. 22, 2014. Former Brandeis soccer player Lauren Gregor is conducting postdoctoral research in organometallic chemistry at the University of North Carolina, Chapel Hill, after earning master's and doctoral degrees in inorganic chemistry at Boston University. She has run the past two Boston Marathons for the Joe Andruzzi Foundation, which provides financial and emotional support to cancer patients and their families. Lauren's father and first soccer coach, Richard, died of cancer when Lauren was 6 years old. Kathryn Harris teaches sixth grade in San Jose, Calif. Amanda Martin Hordos is an optometrist on Long Island. She and husband Jonathan are expecting their second child. Meryl Kahan is an obstetrician/gynecologist in Livingston, N.J. Lindsay Kaplan is vice president of communications at Casper in New York. She recently married Richard Blakeley. Matthew Kaplan is an investment associate at Dillon Trust, in New York City. Rachel Gordon Loube won a Student Academy Award for a short film she made. She's working on her first feature documentary film. She lives in Brooklyn. Attorney and mediator Marc Narotsky won election to serve as a commissioner in Aventura, Fla. Edgar Ndjatou, who specializes in employment law, started a new law firm, McCree Ndjatou, in Washington, D.C. Edgar also reports that he is engaged to Chrissy Balz. Abby Orenstein, a lecturer at the University of the Arts in Philadelphia, is pursuing a doctorate in rhetoric at Temple University. She is also a kripalu yoga teacher. After earning an MBA from the University of Chicago's Booth School of Business, Donnie Phillips, MA'06, is a business manager for Citadel's market-making platform in Chicago. He had a second daughter, Leora Bess, in July. Jason Prapas is chief technology officer and co-founder of Factor(E) Ventures (www.factoreventures.org), an early-stage investment firm that aims to bring innovative energy-access technologies to the developing world. Jessie Pressman launched Bite Size Learning (www.bitesizelearning.net), which teaches tech concepts to nontech professionals through a series of five-minute videos. If you ever wondered what "the cloud" and "big data" actually are, the TechBites series can help explain. Erica (Friedman) Rémi married Sebastian Rémi on Nov. 10, 2013. In lieu of wedding favors, the couple made a gift to the Leukemia & Lymphoma Society in loving memory of Mira Elias '07 and Seth Roberts. Erica and Sebastian welcomed their first child, Emma Rose, on Aug. 28, 2014. Erica works as associate director of development at Year Up in Boston. Maya (Kosowsky) Resnikoff and her husband welcomed a daughter in October. Jason Schlossberg works as store account manager at Greenwich Safety. He and his wife, Lindsay Simon Schlossberg, bought a home in East Greenwich, R.I. Eli Schneider is working as a realtor in Los Angeles and recently married Jessica Perelle '07. Joshua Simmons is an intellectual property litigator in New York City and was recently named a Rising Star in that specialty by Super Lawyers Magazine. Ilana Snapstailer, MA'07, is executive director at Kesher Newton and recently was engaged to Avner Fink '04.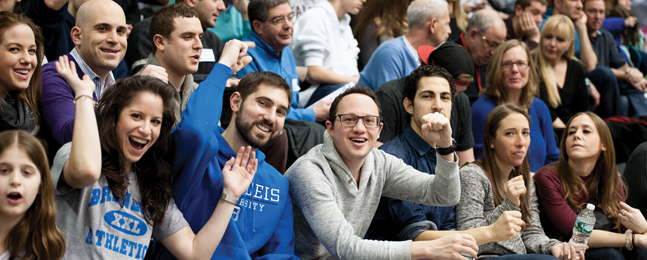 WEARING OF THE BLUE: Elissa (Glucksman) Hyne '06, Jay Hyne '06, Matt Rubinstein, Ari Schnitzer '07 and Lindsay Shaw Schnitzer joined more than 150 alumni at the Alumni Club of New York's annual outing to watch the Brandeis men's and women's basketball teams face New York University. Danny Lehrman '64 and Jessica Bergman '91 served as event chairs. Following the games, Bold (Brandeisians of the Last Decade) sponsored a happy hour at a nearby bar.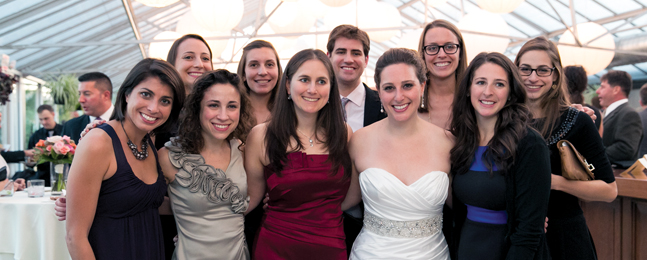 SHARING SMILES: Erica Friedman '06 married Sebastian Rémi on Nov. 10, 2013, in Farmington, Conn., toasted by a group of Brandeis alumni. Front row, from left: Joanna Roberts '06, Alexandra Perloe '06, Carissa Jackel '06, Erica, and Robyn (Goldstein) McCullough '07. Back row: Sharon Makowsky '06, Rebecca Welch '06, Robert Marx '06, Alison Smizer '07 and Laura Yenchman '06.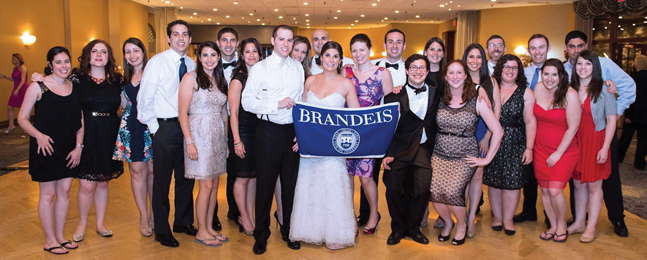 EAT, DRINK, MARRIED: Ben Wolinsky '06 wed Brooke Mendelson (holding banner) in June 2014, with members of the Brandeis family in attendance. From left: Judy (Mark) Kaufman '06; Deborah Model '06; Heather (Daugherty) Windman '06; Adam Rosen '10; Jennifer Levine '09; Jason Hyne '06; Elissa (Glucksman) Hyne '06; Sarah (Passarelli) Katz '07; Andrew Katz '06, IBS MA'07; Mira (Abramsohn) Prives '05; Glenn Prives '06; Ben Gellman-Chomsky '08; Aliza (Liebman) Gellman-Chomsky '06; Melissa (Alter) Sussman '06, IBS MA'07; Elyse (Seener) Nagiel '06; Michael Weinstein '96; Jennifer Pollack '06; Justin Drake '06; Jessica Herman '06; David Ostrowsky '06; Lauren (Schreider) Ostrowsky '05; and Hayley Levenson '06.
Submit a Class Note