Past Events
All MCH events for 2022-2023 are subject to health standards, precautions and protocols as determined by Brandeis University and the State of Massachusetts. For events before Spring 2023, please click here.
Spring 2023
Public Scholarship at Brandeis: New Directions
February 10, 2023
Speakers: Professor Émilie Diouf (English), Professor Elizabeth Ferry (Anthropology), Professor Sara Shostak (Sociology), Gowthaman Ranganathan (Anthropology) with Angel Queentus.
Co-sponsored by COMPACT and the Department of Anthropology.
February 3, 2023
"White Orientations in Late Victorian Slum Fiction" — Professor Sophia Hsu, Lehman College (CUNY)
"Teaching to Learn: The Stakes of Anti-Racist Pedagogy for Literary Studies" — Professor Cassander Smith, University of Alabama
"Better to the Commonwealth: Merchant, Mixedness, and Demographic Revision" — Professor Kyle Grady, University of California, Irvine
"Medii Homines: Toward a Critical Ontology of Brownness" — Professor Manu Chander, Rutgers University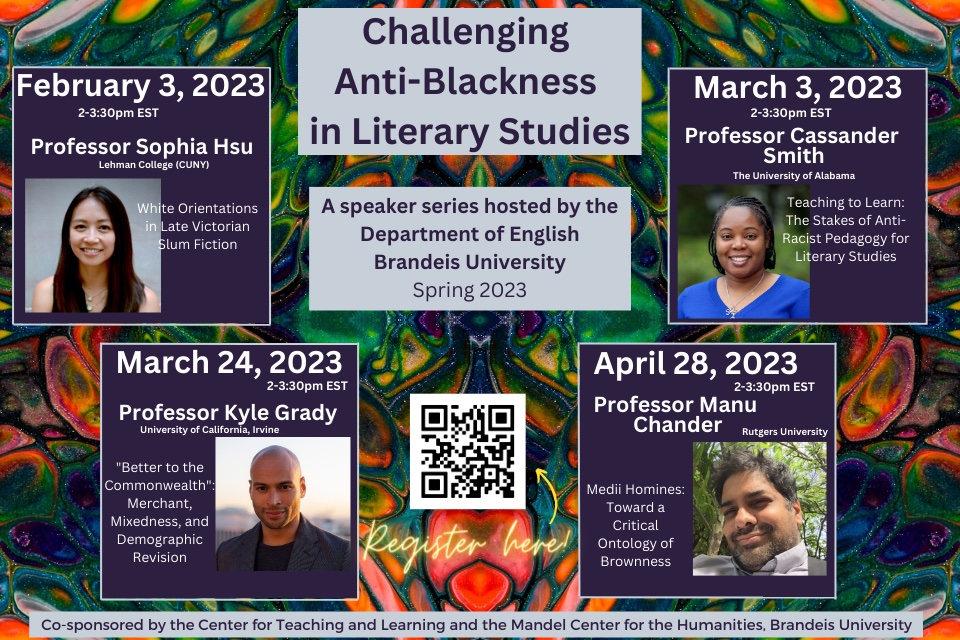 Dark Fictions of Blood: A Conversation about Blackness and Vampires
March 13, 2023
"Dark Fictions of Blood: A Conversation about Blackness and Vampires" with Tananarive Due, Brandon Massey and Lisa Marie Wood
Moderated by Professor Brandon Callender
Tananarive Due is an award-winning author who teaches Black Horror and Afrofuturism at UCLA. She is an executive producer on Shudder's groundbreaking documentary "Horror Noire: A History of Black Horror." She and her husband/collaborator Steven Barnes wrote "A Small Town" for Season 2 of Jordan Peele's "The Twilight Zone" on Paramount Plus, and two segments of Shudder's anthology film "Horror Noire." They also co-wrote their upcoming Black horror graphic novel "The Keeper," illustrated by Marco Finnegan.
Due and Barnes co-host a podcast, "Lifewriting: Write for Your Life!" A leading voice in Black speculative fiction for more than 20 years, Due has won an American Book Award, an NAACP Image Award, and a British Fantasy Award, and her writing has been included in best-of-the-year anthologies. Her books include "Ghost Summer: Stories, My Soul to Keep" and "The Good House." She and her late mother, civil rights activist Patricia Stephens Due, co-authored "Freedom in the Family: A Mother-Daughter Memoir of the Fight for Civil Rights." She and her husband live with their son, Jason. 
A recipient of the gold pen award, Brandon Massey began his prolific career as a horror and thriller author with his first self-published novel, "Thunderland," in 1999. Since writing his first novel, Massey has regularly written and published as many as three books a year, including a vampire novel, "Dark Corner" (2004), a short story collection, "Twisted Tales" (2006), and his more recent thrillers "The Quiet Ones" (2020) and "No Stone Unturned" (2022). In addition to the 15 novels and short story collections that Massey has produced over the last 20 years, he has also edited three horror and thriller anthologies featuring the work of black authors, "Dark Dreams: A Collection of Horror and Suspense by Black Writers" (2004), "Voices from the Other Side" (2006), and "Whispers in the Night" (2007). 
Lisa Marie Woods is an award-winning author of psychological and supernatural horror and dark romance. She works across many genres, including novels, novellas, short stories, screenplays, essays and poetry. Her work has been published in newspapers, anthologies, chapbooks, magazines and comic books. Wood's short fiction has been published in groundbreaking works, including the Bram Stoker Award Finalist anthology "Sycorax's Daughters" and "Slay: Stories of the Vampire Noire." She won the Golden Stake Award for her vampire novel "The Promise Keeper." She is a recipient of the MICO Award and has won Best Horror, Best Action, Best Afrofuturism/Horror/Sci-Fi and Best Short Screenplay awards in both national and international film.
She is also part of the 2022 Bookfest Book Award winning poetry anthology "Under Her Skin." Her academic writing has been published by Nightmare Magazine and in the cross-curricular text "Conjuring Worlds: An Afrofuturist Textbook," and she has recently released a creative writing book "About Horror: The Study and the Craft" (2022). Wood is the founder of the Speculative Fiction Academy, an English and Creative Writing professor, a horror scholar with a PhD in Creative Writing and an MFA in Speculative Fiction, and a frequent contributor to the conversation around the evolution of genre fiction. 
Towards an Arabic Neo-Slave Narrative
March 30, 2023
Mud: Ecologies of Racial Meaning, a lecture by Professor C. Riley Snorton
April 21, 2023
Moderated by Professor V. Chaudhry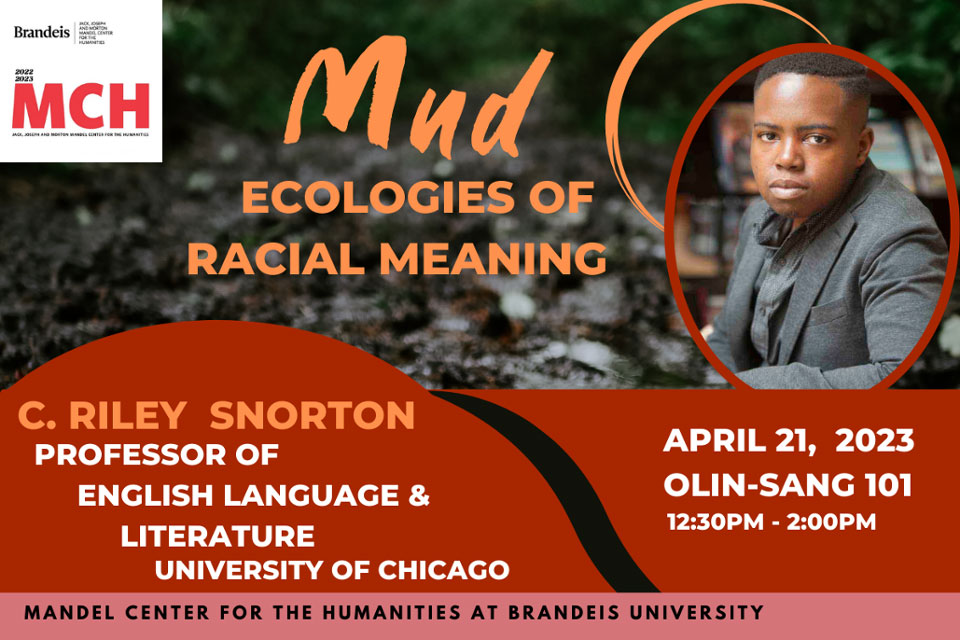 Poetry vs. Disaster
April 24, 2023