Isaiah M. Wooden Joins the Theater Arts Faculty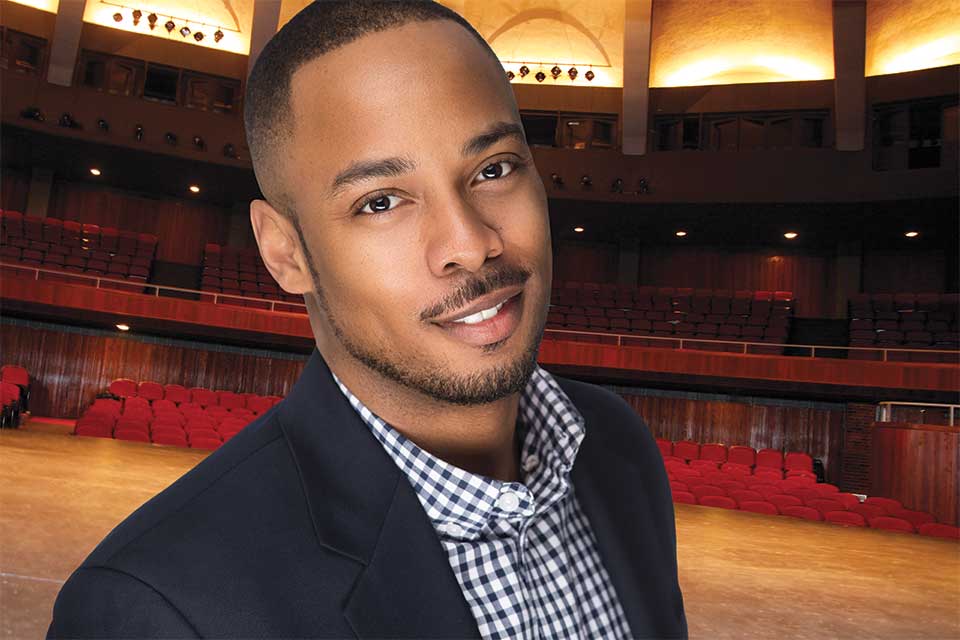 Photo Credit: Elliott O'Donovan
The following article originally appeared in the fall 2019 issue of State of the Arts magazine.
Imagining a More Just World
By Gannit Ankori
Professor of Art History and Theory
This fall Brandeis welcomes Assistant Professor of Theater Arts Isaiah M. Wooden, a scholar, director and critic of modern and contemporary African American art, drama and performance. Wooden's astute and informed understanding of critical cultural issues such as race, sexuality and protest through the lens of performance has earned him a stellar reputation in theaters and universities around the world.
Wooden has presented his research at national and international venues. He is currently the performance review editor of Theatre Journal and a contributing editor to PAJ: A Journal of Performance and Art, and has served on the executive board of the Black Theater Association.
As a director, Wooden has staged new and canonical works in the United States and abroad. Some favorite projects include "Argonautika" by Mary Zimmerman; "Big Love" by Charles L. Mee; and "Beyond My Circle," the multidisciplinary performance project that he co-devised and presented at the National Theater in Kampala, Uganda. Recent dramaturgy projects include the world premiere of "Les Deux Noirs: Notes on Notes of a Native Son" at Mosaic Theater Company in Washington, D.C.
He is currently at work on a monograph that explores the interplay of race and time in post-civil rights black expressive culture and is co-editing an anthology on playwright Tarell Alvin McCraney.
Wooden is an innovative, boundary-breaking artist-scholar — a perfect fit for Brandeis. The following conversation only made me more excited to welcome him as a colleague!
Gannit Ankori: I know we are thrilled to have you joining the faculty at Brandeis this fall — but what excites you about coming to campus?
Isaiah Wooden: I am incredibly excited to participate in a community of scholars, artists and thinkers who are committed to grappling with some of the most pressing questions of our time and imagining ways we might radically remake the world.
GA: Would you be interested in collaborating with the fine arts department, the film program or the Rose Art Museum on interdisciplinary projects?
IW: Absolutely! The opportunities for cross-campus collaborations are among the many things that excite me about Brandeis.
GA: You come from theater, but your writing about visual art and film is rigorous and powerful, too. What is the path that brought you to this interdisciplinary scholarship?
IW: It was not a straightforward path by any means. I did quite a bit of acting during my youth, but by the time I got to college, my passion for being onstage had waned. As such, I started cultivating other areas of interest. I developed a passion for politics and was planning to go to law school. I quickly found that I missed the camaraderie of making theater, so I decided to try my hand at directing. While cutting my teeth as a director, which often required doing extensive research, I realized that I wanted to engage theater both critically and creatively. When I explained this to a mentor, she suggested that I think about performance studies. The idea that anything could be studied as performance completely shifted my way of thinking and, indeed, opened up all these fresh possibilities.
I abandoned my law school plans and applied to graduate programs in theater and performance studies instead. It turned out to be one of my smartest decisions. Interdisciplinarity is essential to the field of performance studies, and it has likewise become essential to my work as a scholar-artist. Even as I explore a range of artistic mediums and genres — theater, film, live art, quotidian acts — in my scholarship, I always do so through the lens of performance.
GA: Much of your scholarship focuses on race and social justice and their manifestation in the arts. What draws you to the nexus between ethics and aesthetics?
IW: In part, because of the important role that art often plays in effecting change. Artists have no doubt been on the front lines of every movement for social transformation. My scholarship chiefly explores the ways that African American artists, in particular, deploy their creative practices to stage vital critiques and inspire fresh imaginings of a more just world. I am especially interested in the ways these artists activate the body in their work to refuse and upend dominant narratives and hegemonic norms.
GA: What courses will you be offering this year?
IW: In the fall, I will teach a course on black theater and performance that will consider the crucial role that the stage has played in shaping perceptions and understandings of race — blackness, in particular. My spring schedule isn't set yet, but I hope to teach a course that explores global theatrical traditions and perhaps another one that examines documentary theater practices.
GA: What can you tell us about Isaiah Wooden that cannot be gleaned from your CV?
IW: I am a huge tennis fan. I don't play much anymore, but I watch as much as I can. I've been to all of the Grand Slam tournaments. The Australian Open was definitely my favorite. Melbourne is a great city, and it really comes alive for the tournament. And I, like so many others, also have an unhealthy obsession with the musical "Hamilton." To date, I've seen the show 10 times in various cities. It's rare that I return to a show for multiple visits, but there's just something special about experiencing that score live in community with others who enjoy it as much as I do.