PowerPoint
PowerPoint offers many accessibility features. When used properly, these features improve your presentation's accessibility.
Keep It Simple
Keep layout similar throughout presentation. For example, keep the Heading in the same place on each slide.
Do not overcrowd your slides
Avoid animations and slide transitions
Next Steps for Digital Files
Presentations are often shared via email or the web. Be sure to follow the notes in the above sections that apply to digital files.
Once you have created your accessible PowerPoint:
Toggle

Test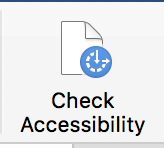 Use the built-in accessibility checker to identify and repair accessibility issues.
The checker's Inspection Results (usually located on the right in a column next to your document) classifies accessibility issues into three categories:
Errors: content that makes a document very difficult or impossible for people with disabilities to access. Example: an image with no alt text.

Warnings: content that in most—but not all—cases makes the document difficult for people with disabilities to access. Example: a link with text that is not descriptive of its function.

Tips: content that people with disabilities can access, but that might be better organized or presented. Example: skipping from a first-level heading to a third-level heading.