Microsoft Word
Microsoft Word is a common file type that offers many accessibility features. When used properly, these features improve your document's accessibility.
Next Steps
Once you have created your accessible Word document:
Expand All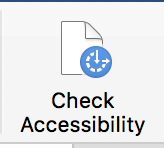 Use the built-in accessibility checker to identify and repair accessibility issues.
The checker's Inspection Results (usually located on the right in a column next to your document) classifies accessibility issues into three categories:
Errors: content that makes a document very difficult or impossible for people with disabilities to access. Example: an image with no alt text.

Warnings: content that in most—but not all—cases makes the document difficult for people with disabilities to access. Example: a link with text that is not descriptive of its function.

Tips: content that people with disabilities can access, but that might be better organized or presented. Example: skipping from a first-level heading to a third-level heading.
Clicking an item in the results locates and highlights the corresponding item in the document and displays additional information.