Past Events
2022-2023 Events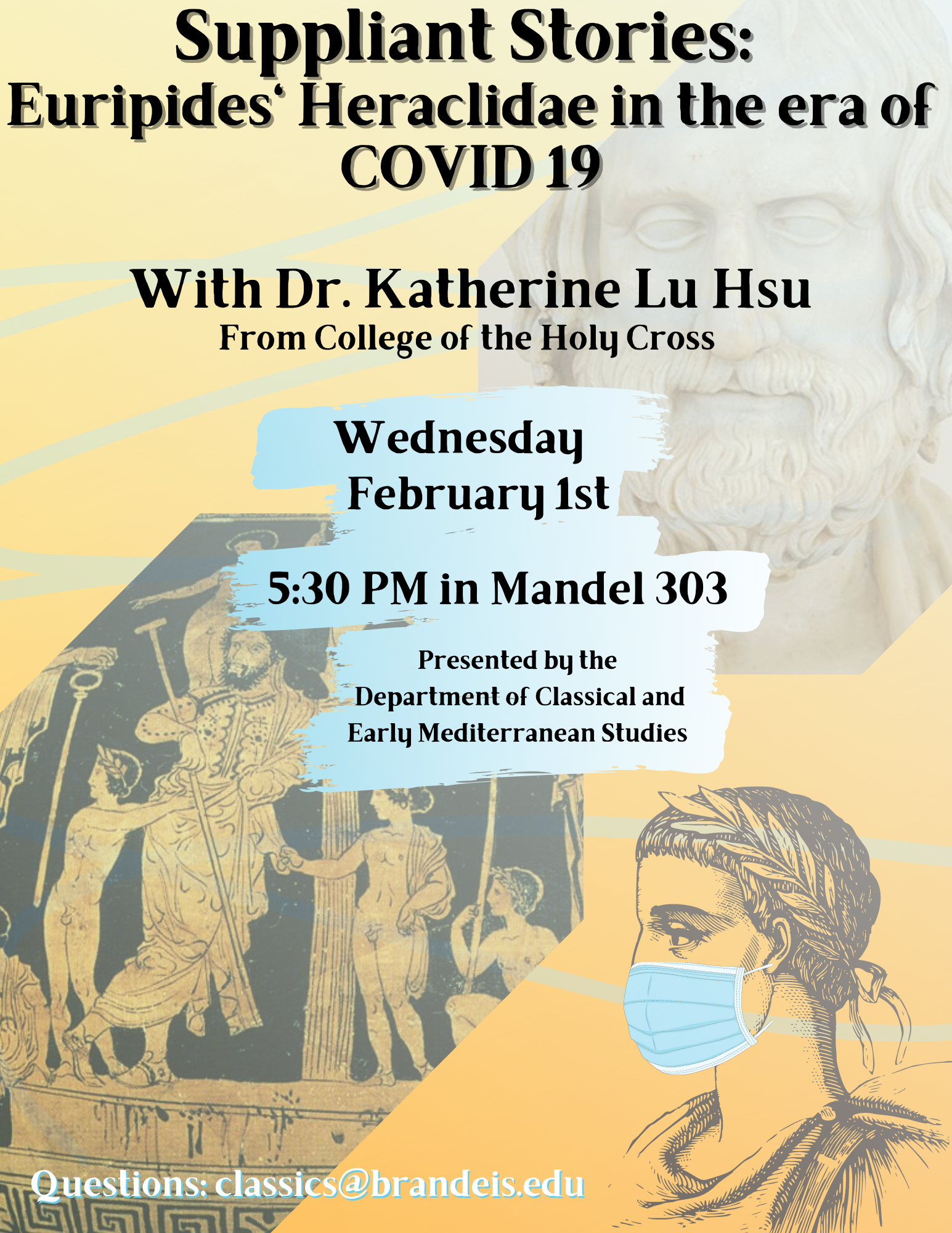 Suppliant Stories:Euripides' Heraclidae in the Era of COVID 19 with Dr. Katherine Lu Hsu
February 1, 2023
Join us for a lecture with Dr. Katherine Lu Hsu about how Euripides' work connects to the modern-day COVID-19 pandemic.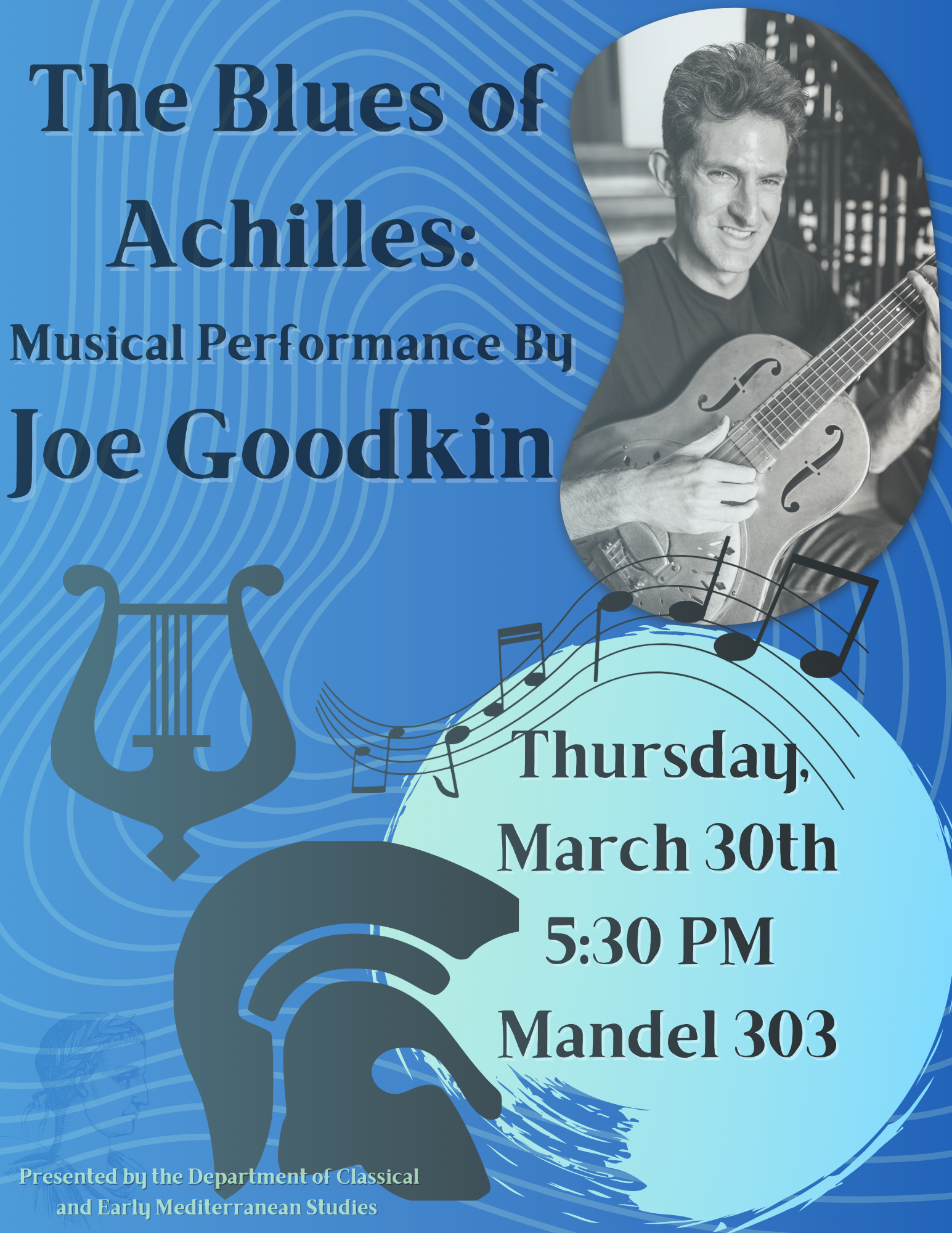 Musical Performance: The Blues of Achilles with Joe Goodkin
March 30, 2023
Chicago-based musician and Classics degree holder Joe Goodkin has traveled the world as a modern bard. He has now turned his attention to Homer's other epic poem and created a 17-song adaptation of the
 Iliad 
steeped in ancient and modern war literature as well as interviews and his experiences playing music at VA hospitals as part of recreational therapy for veterans experiencing PTSD and other related war traumas. 
Goodkin's first-person songs capture the horror, grief, and love that permeate the Iliad and the combat experience.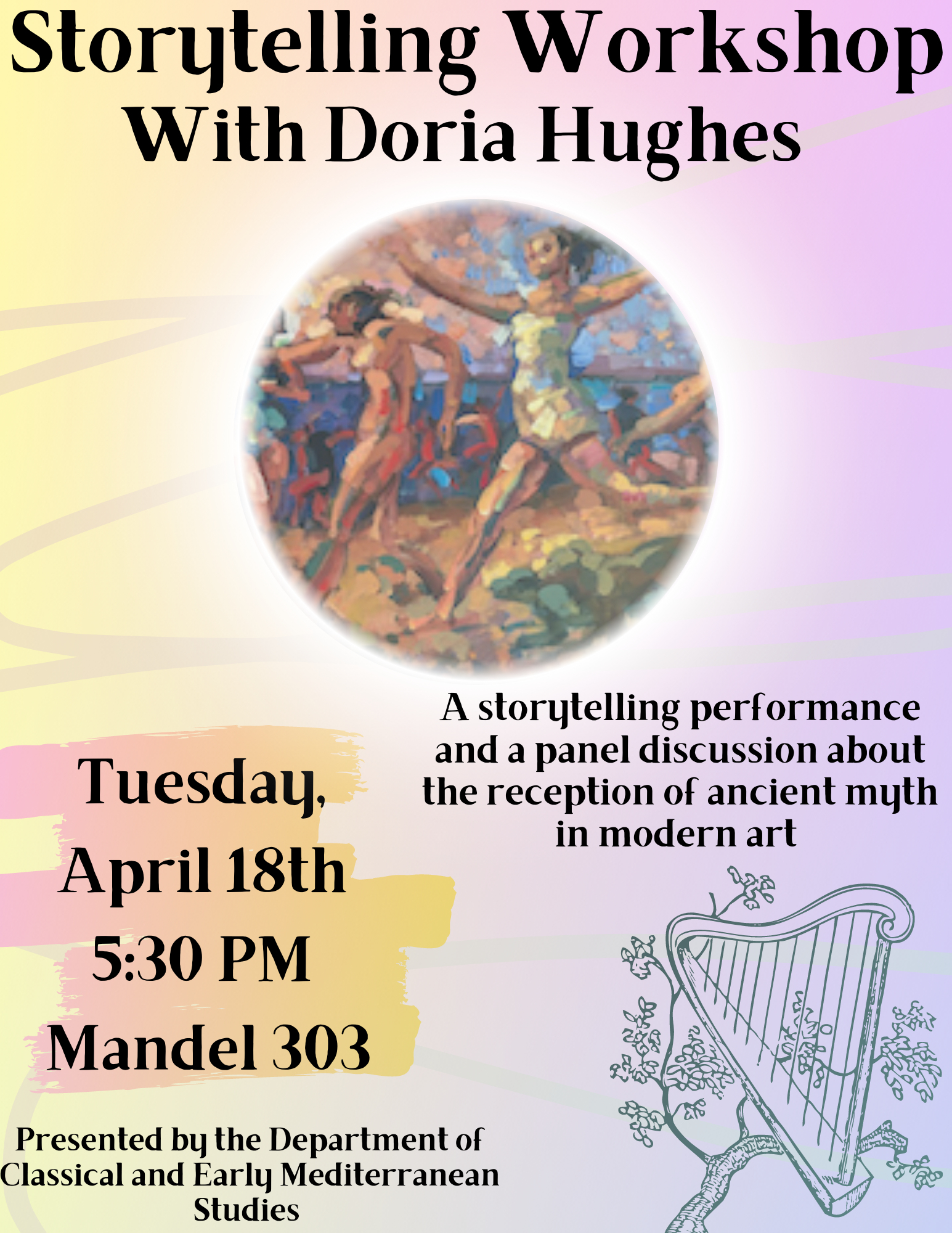 Storytelling and Myth Workshop with Doria Hughes
April 18, 2023
Stories from ancient cultures have shaped art throughout the centuries. Starting off with a storytelling performance by Doria Hughes, this event will focus on the reception of classical myths today through avenues including literature, theater, and fine arts. The event will also identify the importance of these stories in the modern age.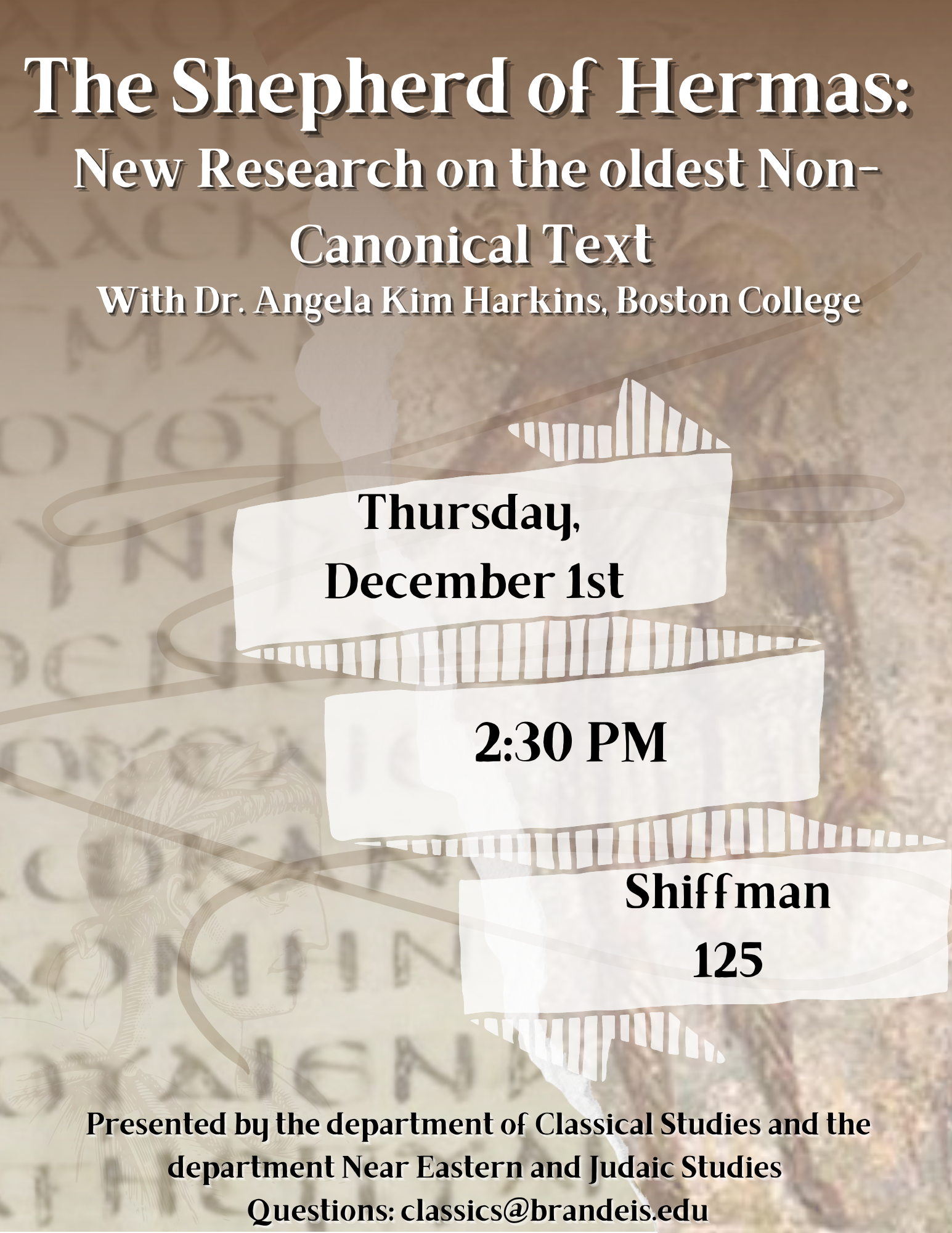 The Shepherd of Hermas: New Research on the Oldest Non-Canonical Text with Dr. Angela Kim Harkins
December 1, 2022
Join us for a lecture from Dr. Angela Kim Harkins on December 12 at 2:30 PM.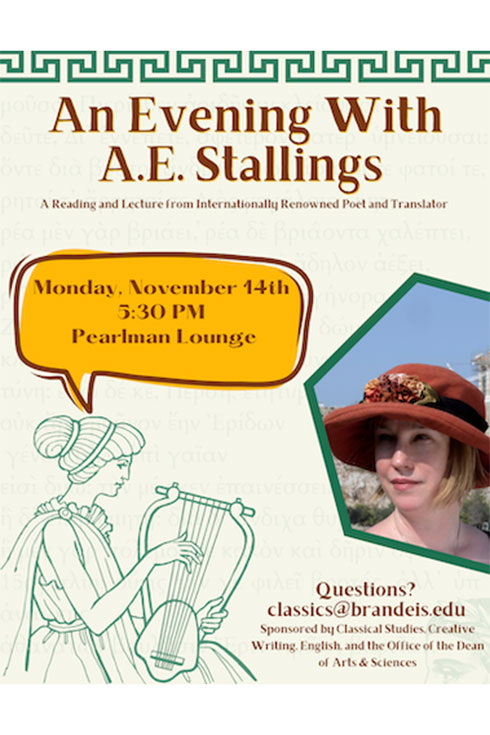 An Evening with A.E. Stallings
November 14, 2022
Join us for an Evening With A.E. Stallings on Monday, November 14th, at 5:30 PM in the Pearlman Lounge. This will be a poetry reading and lecture from renowned poet A.E. Stallings.
Archaeology Day
October 29, 2022
Please join us for our annual Archaeology Day celebrations as part of the University's Family Weekend on Saturday, October 29th, from 10:00 AM to 12:00 PM.
We will be offering family-friendly activities of an artifact touch cart and
archaeology
dig bins for the full two hours. 
We will also be hosting a speaker panel from 10:00 AM to 11:00 AM.
Summer Excavation and Research Symposium
October 14, 2022
All students are encouraged to join our annual student symposium on research, excavations, and projects from the previous summer! We will be meeting in Mandel 303 on Friday, October 14th, at 12:00 PM.
2021-2022 Events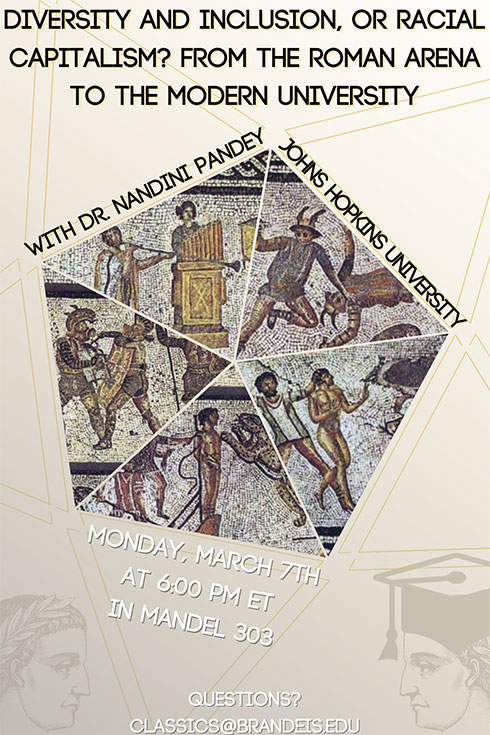 Diversity and Inclusion, or Racial Capitalism? From the Roman Arena to the Modern University with Dr. Nandini Pandey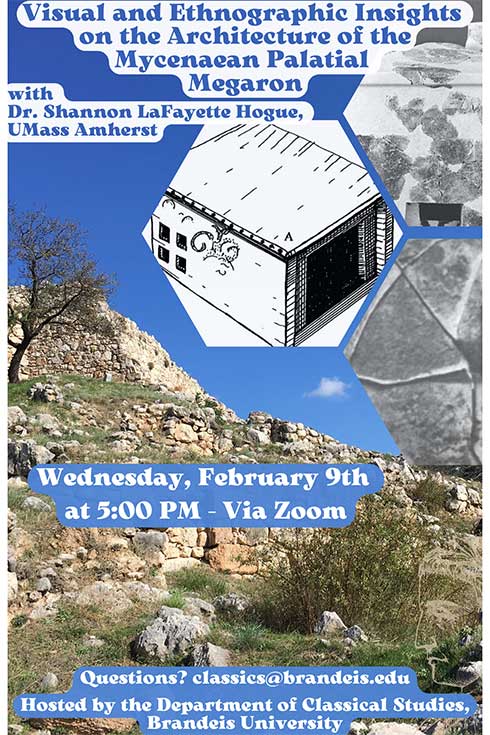 Visual and Ethnographic Insights on the Architecture of the Mycenaean Palatial Megaron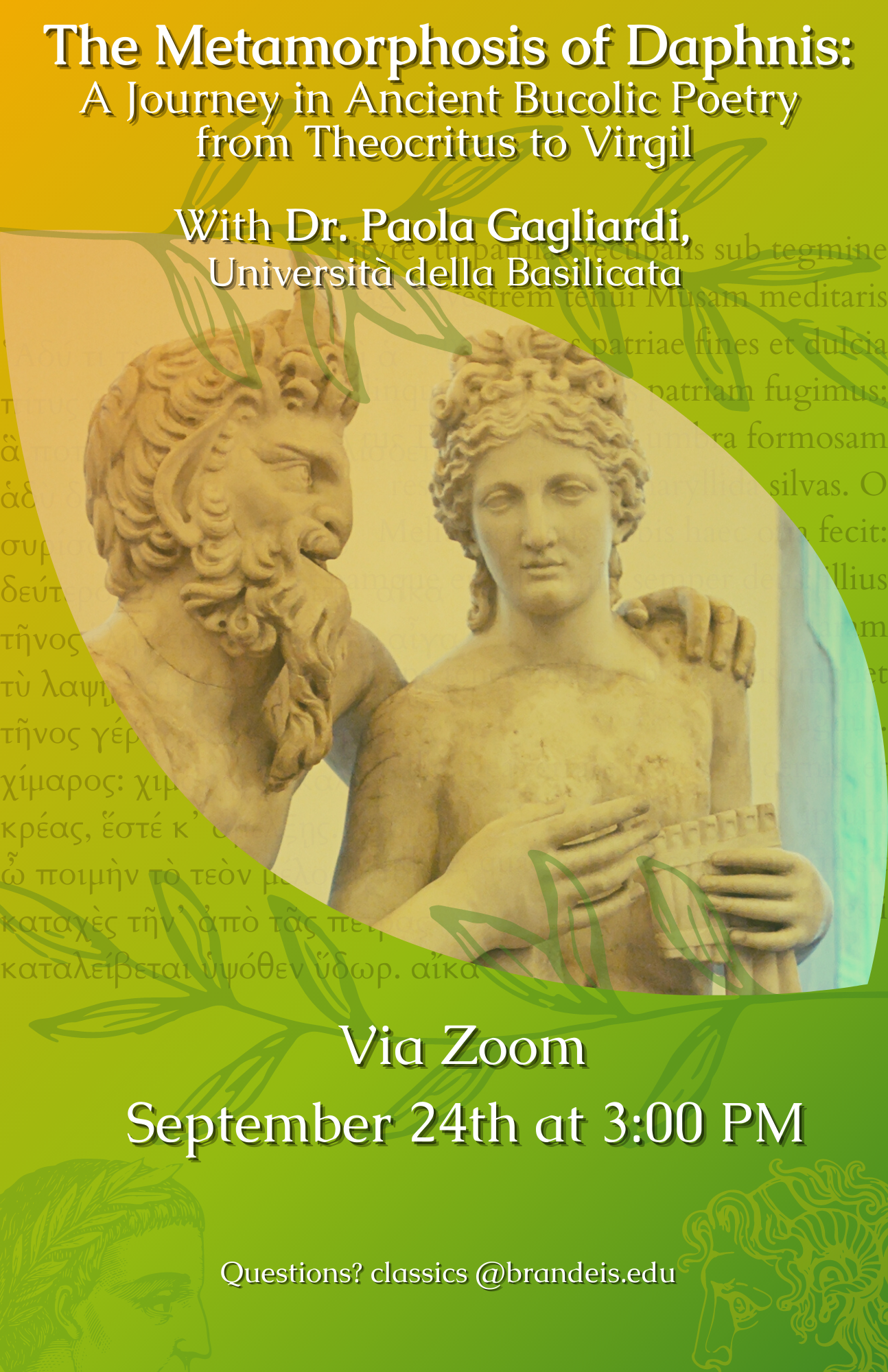 The Metamorphosis of Daphnis: A Journey in Ancient Bucolic Poetry from Theocritus to Virgil with Dr. Paola Gagliardi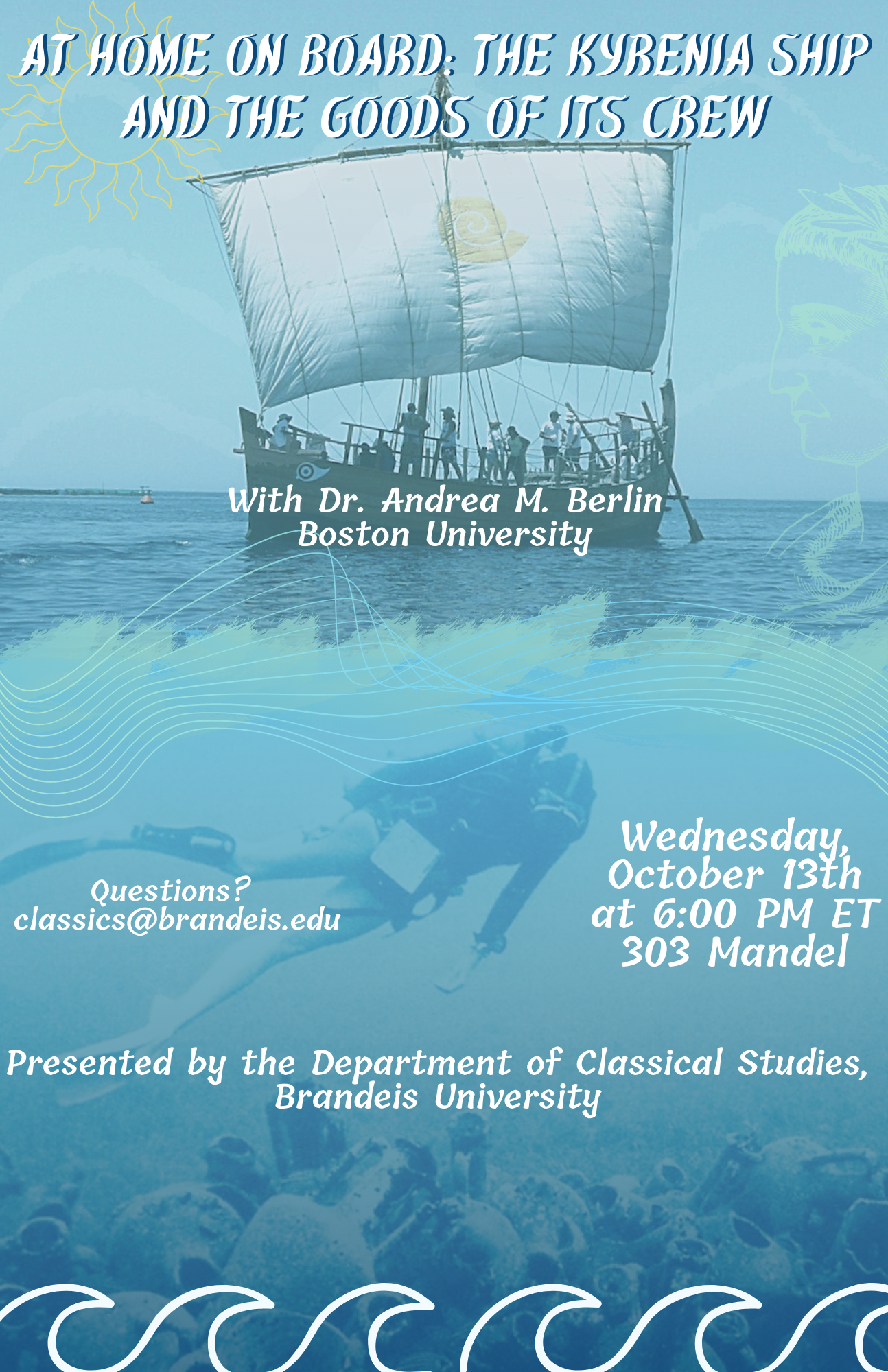 At Home on Board: The Kyrenia Ship and the Goods of Its Crew with Dr. Andrea M. Berlin
2020-2021 Events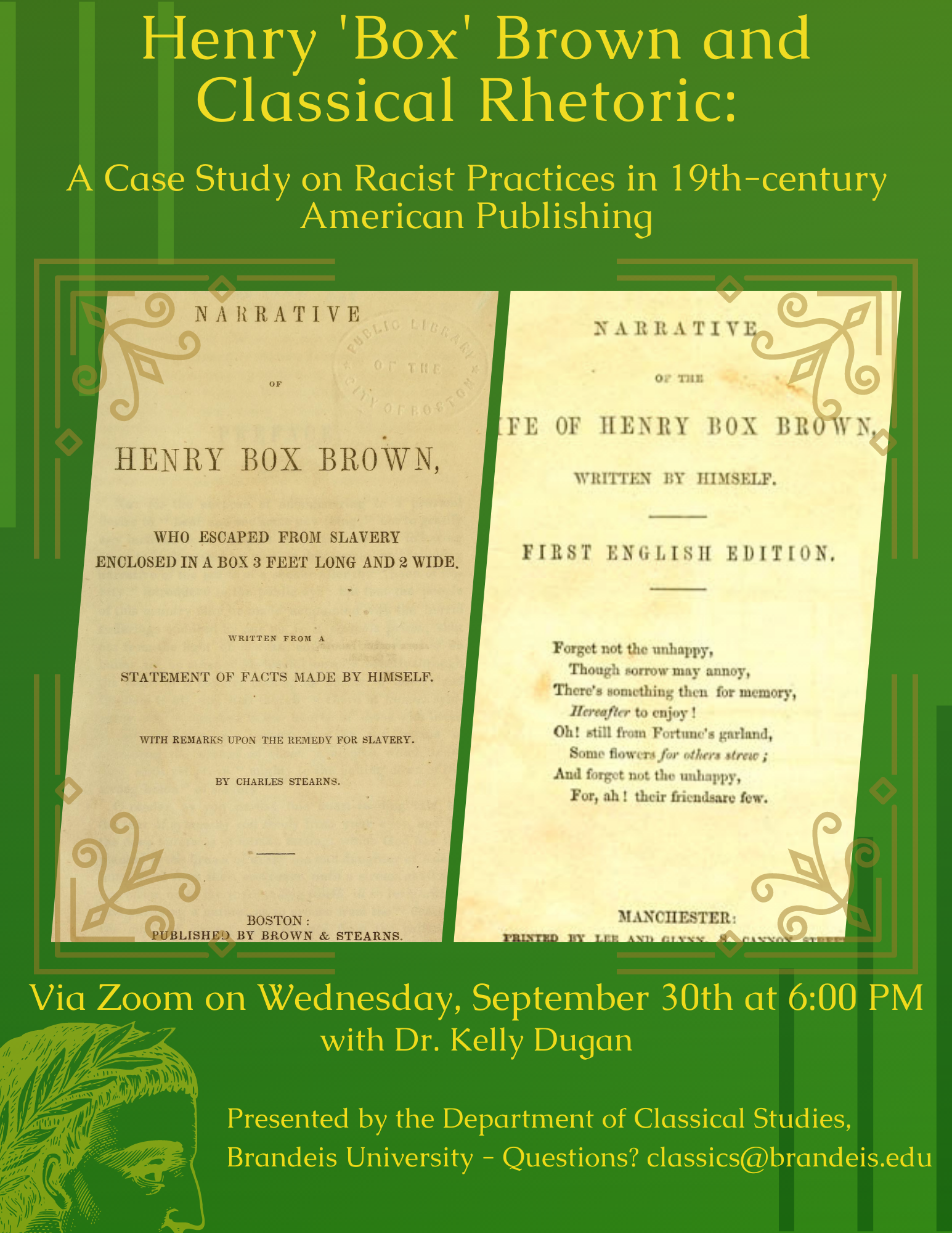 "Henry 'Box' Brown and Classical Rhetoric: A Case Study on Racist Practices in 19th-century American Publishing" with Dr. Kelly Dugan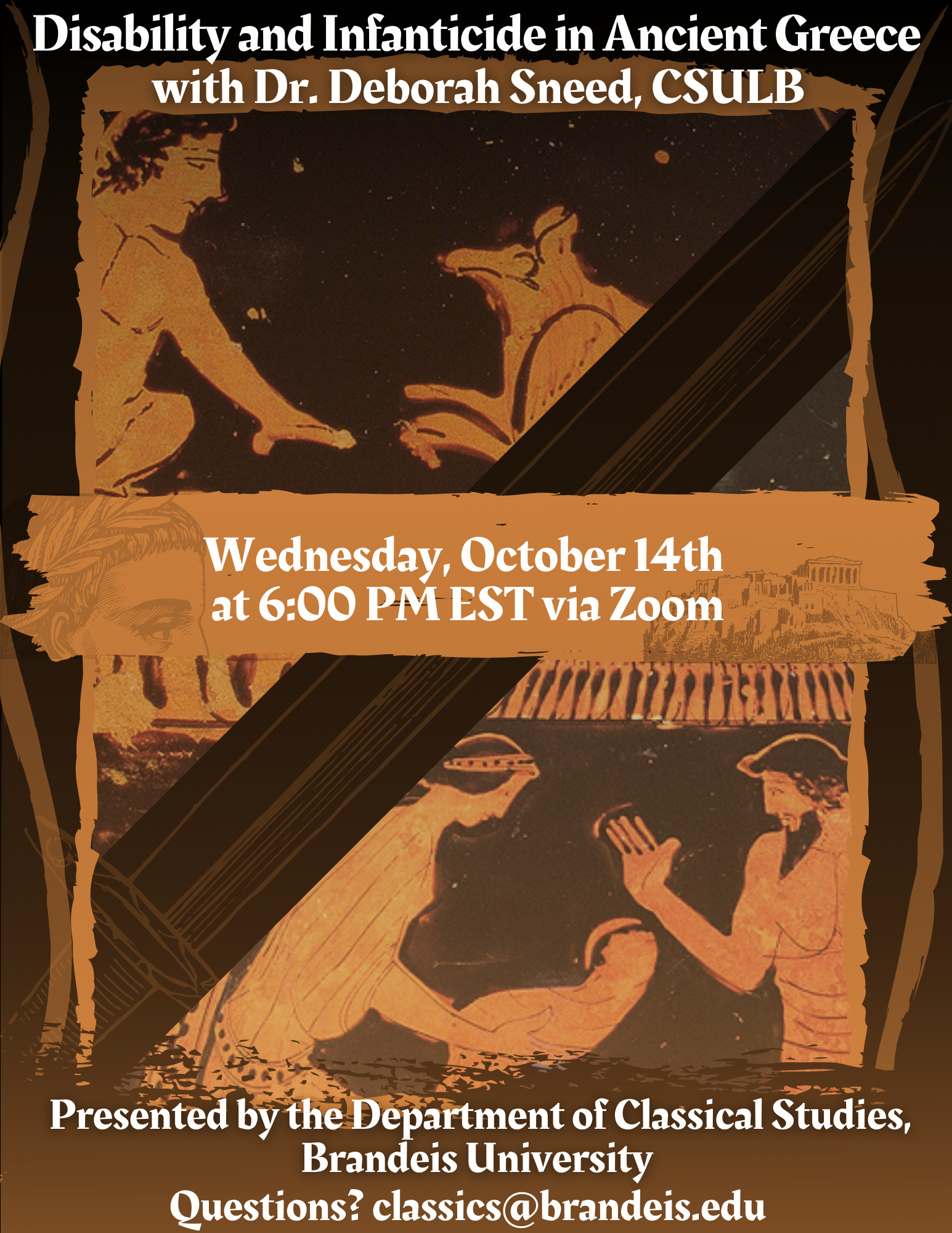 "Disability and Infanticide in Ancient Greece" with Dr. Debby Sneed, CSULB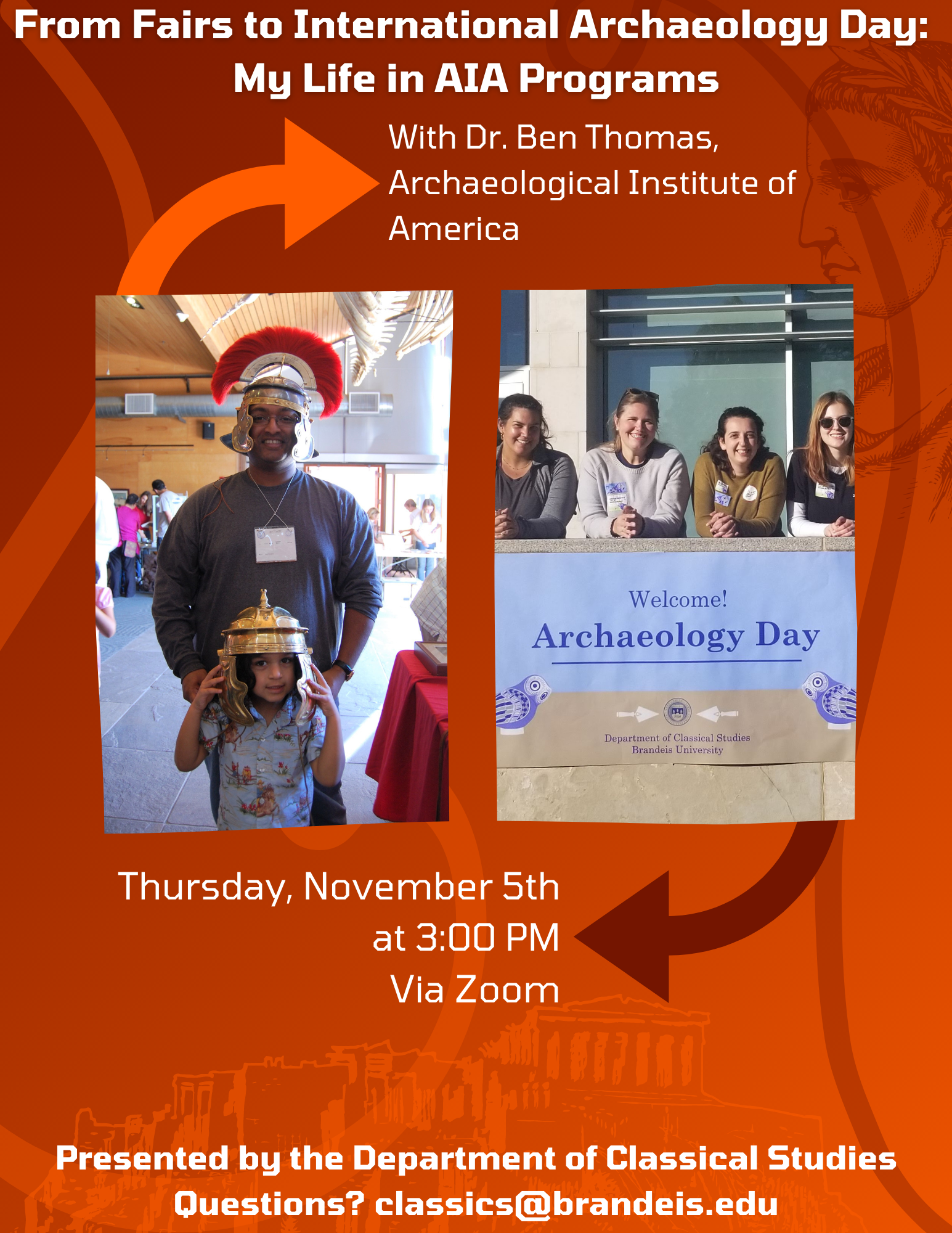 "From Fairs to International Archaeology Day: My Life in AIA Programs" with Dr. Ben Thomas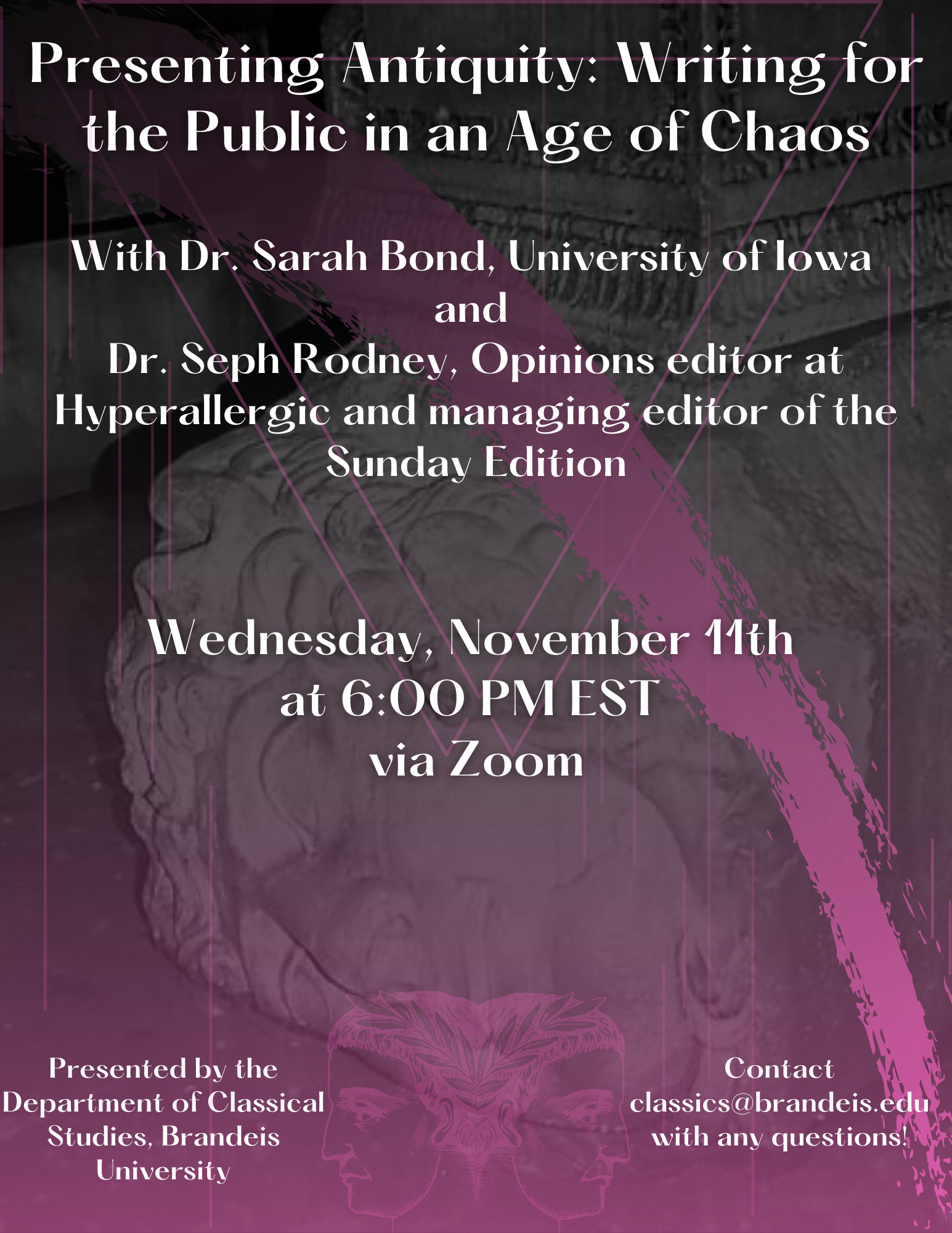 "Presenting Antiquity: Writing for the Public in an Age of Chaos" with Dr. Sarah Bond and Dr. Seph Rodney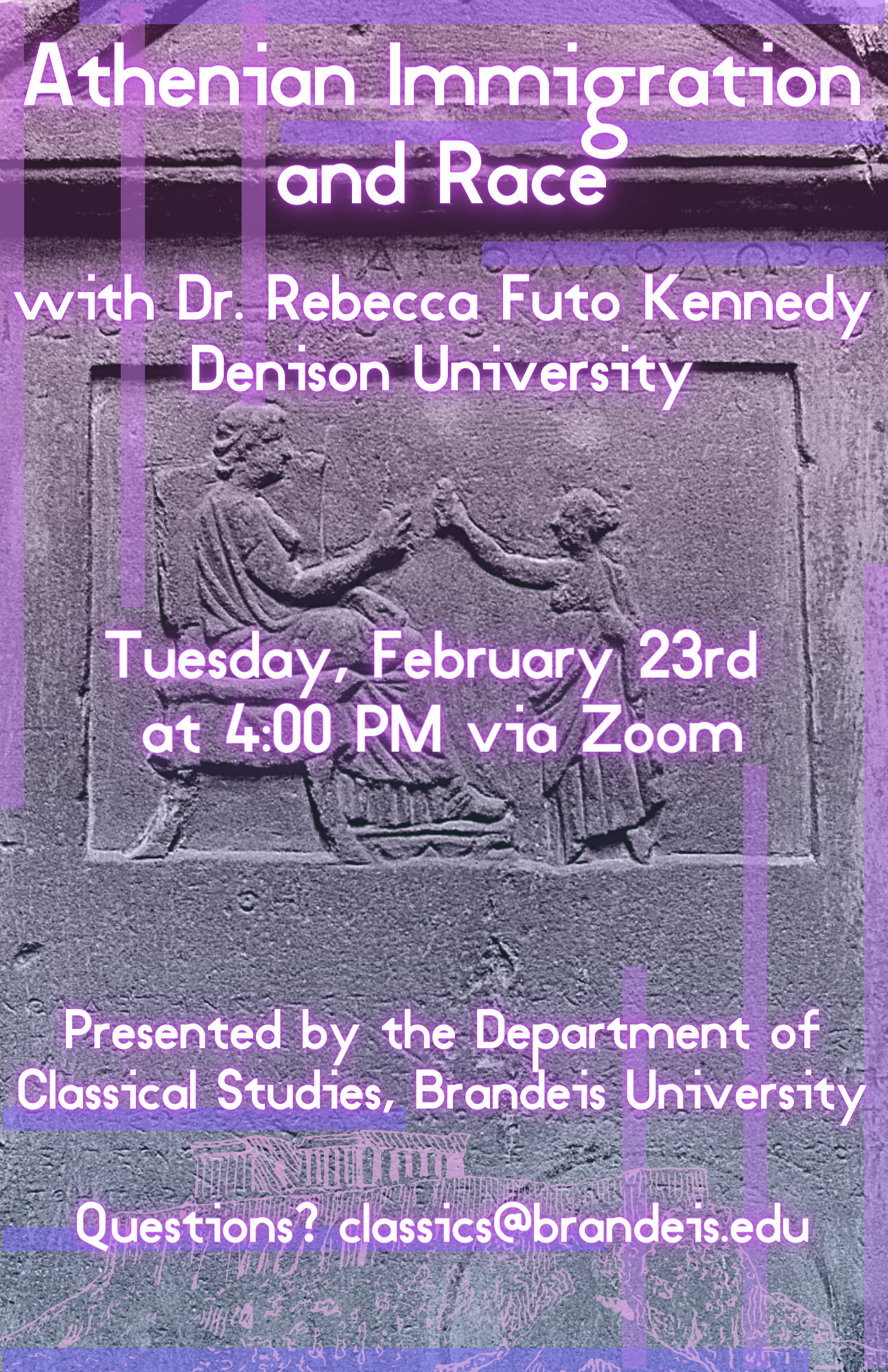 "Athenian Immigration and Race" with Dr. Rebecca Futo Kennedy, Denison University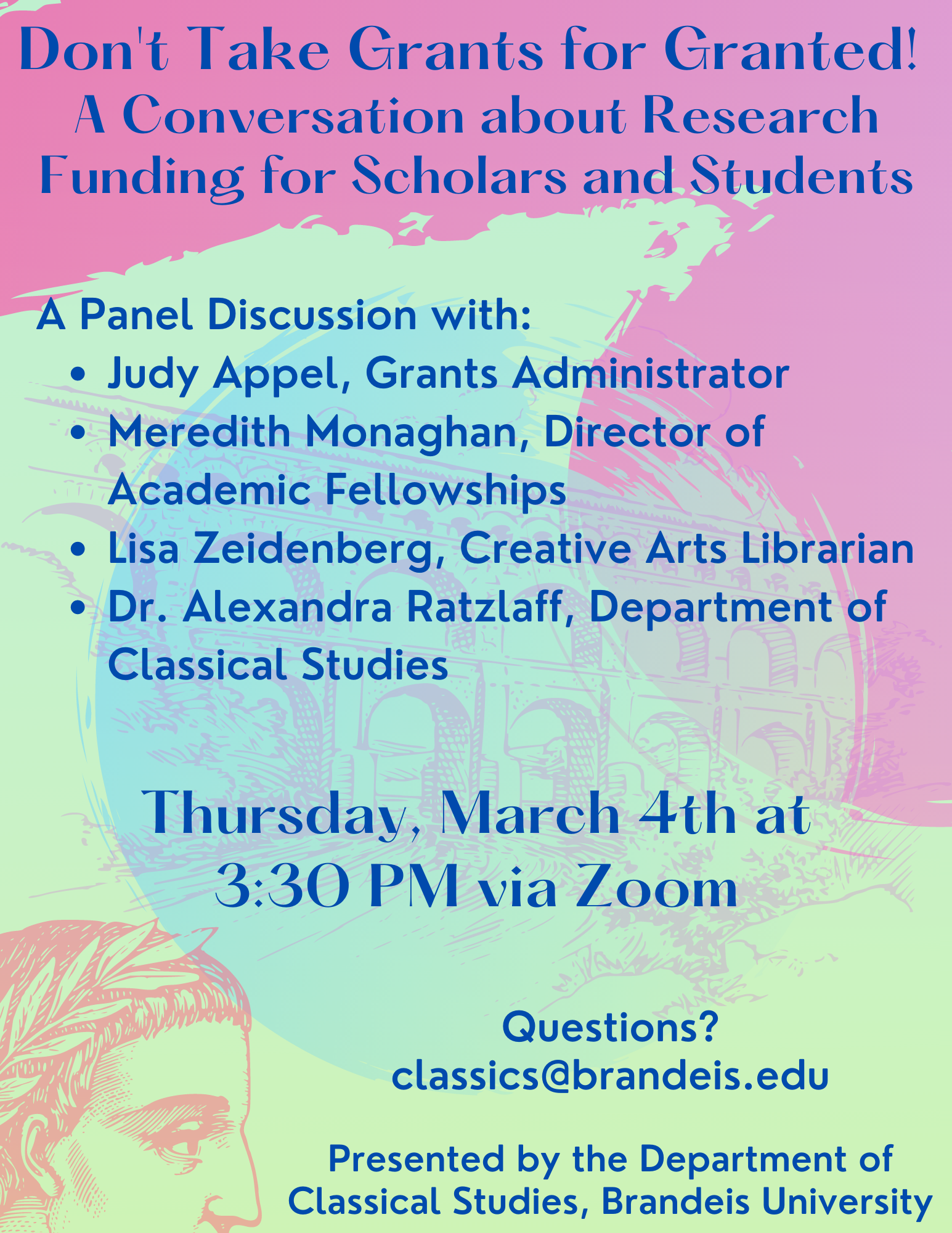 "Don't Take Grants for Granted! A Conversation about Research Funding for Scholars and Students"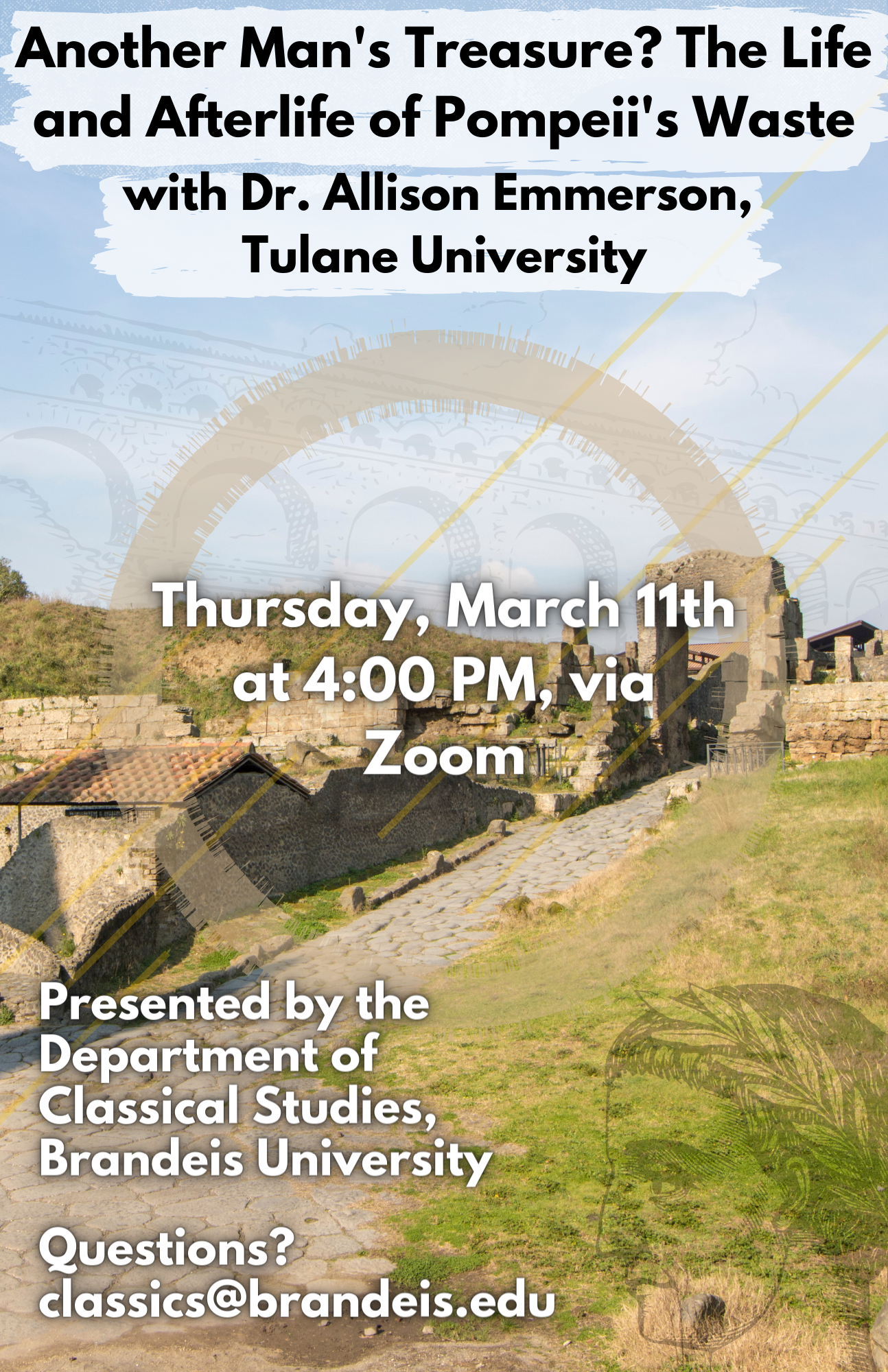 "Another Man's Treasure? The Life and Afterlife of Pompeii's Waste" with Dr. Allison Emmerson, Tulane University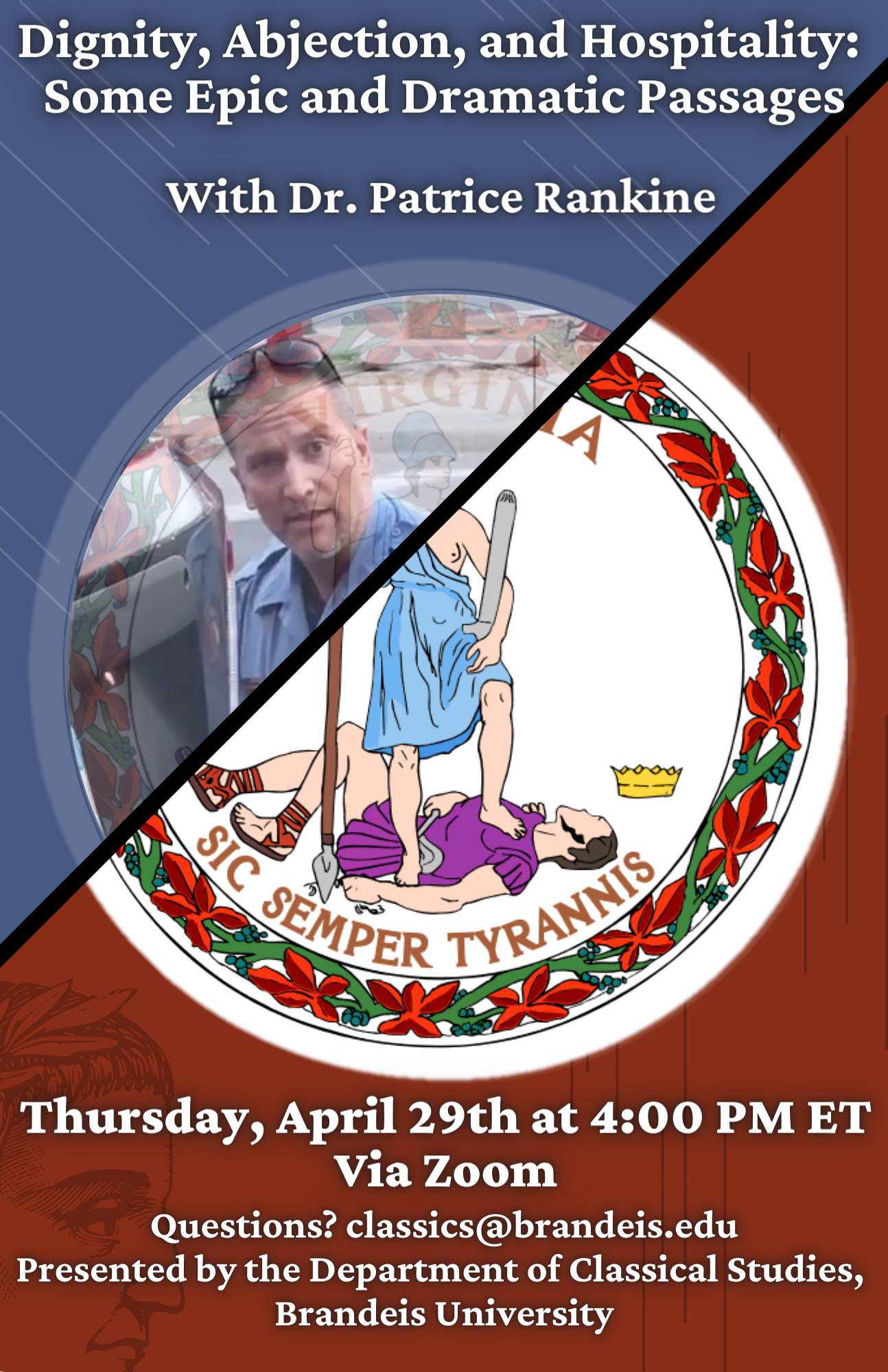 "Dignity, Abjection, and Hospitality: Some Epic and Dramatic Passages" with Dr. Patrice Rankine