Classical and Early Mediterranean Studies as an Interdisciplinary Field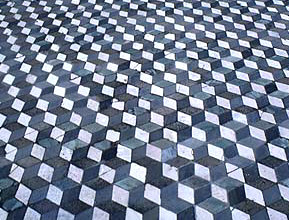 Geometric Floor, Mosaic, House of the Faun, PompeiiPhoto Credit: Paula Chabot, 1979), by courtesy of the VRoma Project.
Classical and Early Mediterranean Studies is itself an interdisciplinary field, and as such, it intersects with other programs and departments on campus to bring intellectual diversity and a range of experiential learning opportunities to students.

The department offers courses accepted for credit in several interdisciplinary programs both in the Division of Humanities and other divisions. Moreover, our courses include a wide variety of skill sets, ranging from drawing, to collaborative translating, to performing an ancient play in its original language, to building a catapult!
Many of our courses are cross-listed with other departments and programs (which means they can count towards majors and minors elsewhere) and they also meet the general university requirements of quantitative reasoning (QR), writing intensive (WR), or foreign language (FL). A quick overview follows.
Please contact the department's Undergraduate Advising Head, Professor Darlene Brooks Hedstrom, for any questions regarding our curriculum. To view the current offering of Classical and Early Mediterranean Studies courses, view the University Bulletin.
Affiliated Departments and Programs and Cross-Listed Courses
Fulfillment of General University Requirements through Classics
To learn more about General University Requirements, visit the Office of the University Registrar.
Foreign Language (FL)
Completion of any Greek or Latin language course numbered 30 or higher meets the foreign language requirement.
Quantitative Reasoning (QR)
CLAS 145b, Topics in Greek and Roman Art and Archaeology [Topic: "Roman Technology and Art" (or "How to Think Like the Romans"] (A. O. Koloski-Ostrow and R. Meyer [PHYS])
Writing Intensive (WI)
The following courses meet the University's Writing Intensive requirement.
CLAS 115b, Topics in Greek and Roman History (C. Walker)
CLAS 120a, Age of Caesar (C. Walker)
CLAS 166a, Medieval Literature: A Millennium of God, Sex, and Death (C. Walker)
CLAS 167b, Classical Myths Told and Retold (A. O. Koloski-Ostrow)
LAT 110a, Advanced Latin Composition (P. Johnston)
School Distribution (CA HUM SN SS)
All CLAS, GRK, and LAT courses satisfy the school distribution requirement in Humanities (HUM). The CLAS courses below meet distribution requirements in the School of Humanities (HUM), Creative Arts (CA), and Social Science (SS):
CLAS 100a, Survey of Greek History: Bronze Age to 323 BCE  (HUM SS)
CLAS 115b, Topics in Greek and Roman History  (HUM SS)
CLAS 120a, Age of Caesar  (HUM SS)
CLAS 121b, Money, Markets, and Society in the
Ancient Mediterranean (HUM SS)
CLAS 133a, The Art and Archaeology of Ancient Greece (CA HUM SS)
CLAS 134b, The Art and Archaeology of Ancient Rome (CA HUM SS)
CLAS 145a, Topics in Greek and Roman Art and Archaeology (CA HUM)
CLAS 150b, Pompeii: Life in the Shadow of Vesuvius (CA HUM)
CLAS 151a, Greece, Rome, Myth, and the Movies (CA HUM SS)
CLAS 185a, Athenian Tragedy on Stage: Ritual and Performance (CA HUM)