Schusterman Scholar: Mostafa Hussein
Institute Fellow, Jean & Samuel Frankel Center for Judaic Studies, University of Michigan, 2016-17

Mellon Dissertation Year Fellow, 2016, Brandeis University
Doctoral candidate, Department of Near Eastern and Judaic Studies, Brandeis University, May 2017 (expected)
Schusterman Scholar (doctoral fellow), Schusterman Center for Israel Studies, 2011-2016
September 19, 2016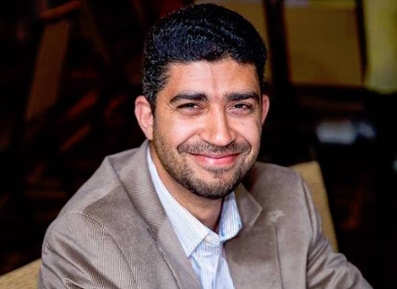 Mostafa Hussein, originally from Cairo, plans to defend his doctoral dissertation, "Hebrew Scholarship on Islam, 1894-1950," in May of 2017. His research interests center on Judeo-Islamic relations in modern times as manifested in the Jewish and Islamic intellectual and cultural literary corpuses, in Arabic and Hebrew. From one side, he explores Jewish intellectuals' interaction with Arabo-Islamic civilization, and from the other side, Arab-Muslim thinkers' interest in Jewish-related subjects, from the late Ottoman period through Mandatory Palestine and during the statehood era of Israel.
Hussein describes his approach as "looking into the complexities and nuances of the relationships between both peoples, and learning in depth about the richness of their experience as embedded in their cultures and traditions, rather than simply judging them as good or bad." He emphasizes that there are fascinating points in history where Jewish and Arab accounts "both meet and depart from one another."
Jewish Studies in Egypt
At Al-Azhar University in Cairo, Hussein completed a BA in Hebrew language and literature and an MA in Jewish and Israeli culture. These fields were less popular than others such as medicine, law, or commerce, he observes, but, at a university of roughly 60,000 students, a large number of fields and viewpoints were offered and he took advantage of this variety.
Hussein was inspired to go into Jewish studies by the evidence of Cairo's Jewish history that he encountered on a daily basis growing up, including synagogues, ruins, and Jewish cultural influences. It made him curious to learn more about the Jewish people. 
When asked whether his relationships with scholars from Al-Azhar are beneficial for his work in the field of Israel studies, Hussein explains that since Israel studies does not exist as a field in Egypt, scholars there do not tend to explore the diverse and pluralistic nature of Israel, its people, its cultures, or its politics. Many people in Egypt obtain their knowledge about Israel and its practices in the region from the Arab media, he says, which shapes their awareness and tends to elicit anti-Israel sentiments. But he emphasizes that one can also find people in Cairo who do accept Israel and simply want Palestine to be established as an independent state. He would not describe attitudes he encounters as anti-Semitism per se, but rather judgments about Israel. He cautions that approaching the question of anti-Semitism superficially can distract from a more useful examination of the nuanced history and development of Egyptians' understanding of Judaism and Israel.
Arriving at Brandeis
Following his time serving as a reserve officer in the Egyptian army, Hussein returned to Al-Azhar as a teaching assistant before coming to Brandeis on a Fulbright Scholarship for a second MA in the Department of Near Eastern and Judaic Studies. He was then awarded funding from the Schusterman Center for his doctoral studies as a Schusterman Scholar. 
"At Brandeis I was fortunate to meet, on an intellectual level, a diverse group of people from different backgrounds. Our conversations enriched my intellect and widened my understanding of Jewish history and culture and its relationships to other cultures. And learning about the Jewish people from Jewish people, in a Western setting, has been invaluable. It has allowed me to identify a variety of misconceptions that I had previously encountered."
Hussein's dissertation on pre-state Hebrew scholarship on Arabo-Islamic civilization published in Palestine/Israel during the 1880s-1950s focuses on how the scholarship's presentation of fundamental issues shaped the consciousness of the Hebrew Yishuv.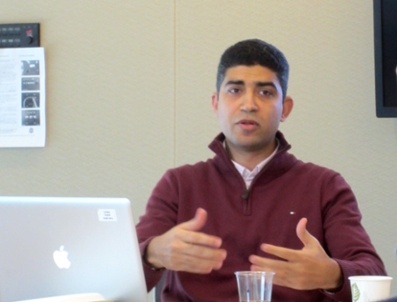 On to Michigan
The recipient of both the Mellon Dissertation Year Fellowship and the Frankel Institute Fellowship for 2016-17, Hussein looks forward to "coming together with Jewish studies scholars who are devoted to delving into Israeli, Jewish, and Hebrew culture from different angles," as it will "greatly enrich [his] understanding of the Jewish-Israeli experience, particularly when it comes to its relationship with Islamic civilization."
Accompanying Hussein on his move to Michigan are his wife, Basma, and their two sons, Nur al-Din (age 7) and Malek (age 3). Hussein reflects on their cross-cultural experience, which follows the theme of learning to understand others: "Raising our children in the US, we've been able to teach them about tolerance and appreciation of other cultures. Because of this, they will be less judgmental and distance themselves less from the Other. They will be more open to the world because they know two cultures so well."
Teaching throughout the Northeast
In Boston, Hussein taught the course "Modern Middle-Eastern and Arabic Literature" in Spring 2016 at Boston College; guest lectured at Dartmouth College both on the sociology of the Israel-Palestine conflict and on Jewish views of Islam; and taught Arabic language and literature at Brandeis University. His most recent presentations have included "David Yellin's Encounter with Arabo-Islamic Culture and the Study of the Land of Palestine," a presentation at the Schusterman Center for Israel Studies in February of 2016, and "Abraham Shalom Yahuda and the Integration of Arabic Islamic Culture into the Hebrew Yishuv in Late Ottoman Palestine," for a panel at the Association for Jewish Studies conference in December of 2015. In 2013 he was the recipient of the Frieda Libby (Levinsky) Prize for Outstanding Paper on Medieval Jewish and Islamic Philosophy.
With all of these projects, Hussein has not yet found time to learn the oud, an instrument that he would love to play. 
A scholar with an in-depth knowledge of Arab, Jewish, Israeli, and American cultures, Hussein is an enthusiastic advocate of avoiding quick judgments and striving instead for deeper understanding. 
Abby Huber