Young Leaders Conference on Israel Studies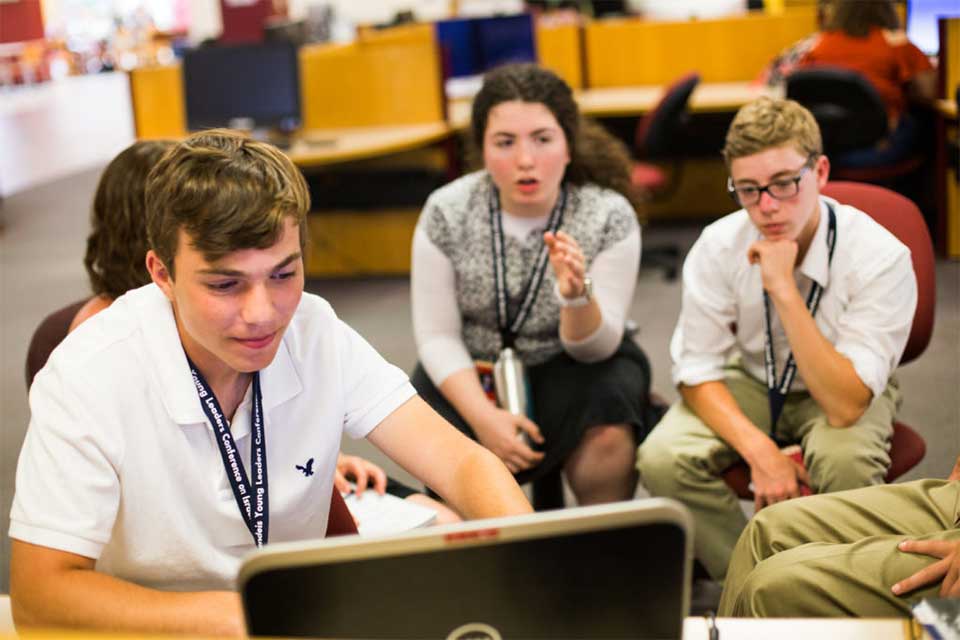 September 19, 2016

This June (June 26-30, 2016), fifty-one elite high school students from twenty-two US states and Panama gathered at Brandeis University to explore the field of Israel studies at the inaugural Young Leaders Conference on Israel Studies, a collaboration between Brandeis University's Office of High School Programs and the Schusterman Center for Israel Studies. This year's topic was "Israel as a Jewish and Democratic State: Tensions and Challenges."
The only opportunity of its kind for outstanding high school students, the program was developed to provide students with the skills and knowledge to engage in nuanced discussions about Israel by introducing them to the field of Israel studies at the college level. This introduction to Israel studies should prove particularly useful given that campus climates and discussions surrounding Israel can be complicated for young students to navigate.
Raising the level of discourse 
"As an Israeli who has spent five years on an American college campus, I have often been dismayed by the level of discourse among students regarding Israel," reflects Brandeis alumnus Chen Arad '15, one of three faculty mentors who facilitated the program. Arad is a dual MA/MBA candidate in the Hornstein Jewish Professional Leadership Program, North America's subscriptions marketing manager for the Israeli daily newspaper Haaretz, a U.S. correspondent for Israel's Channel 20, and an instructor in the Media and Politics Learning Scholar Community for Brandeis undergraduates.
"Back home, debating Israeli politics and criticizing our country is one of our national sports – we are proud of how much we do it."
What students do hear about Israel on college campuses does not always inspire them to academic study. Arad observes that "many college students who might otherwise consider learning more about Israel hear the polarized rhetoric and shy away from the subject." … "Back home, debating Israeli politics and criticizing our country is one of our national sports – we are proud of how much we do it," he explains. "But here, there seems to be a lot of tension, even animosity, and conversations about Israel often involve preaching to the choir instead of constructive exchanges."
The conference sought to raise the level of discourse about Israel. Showing high school students what higher education can offer in the field of Israel studies has the dual purpose of teaching them how to engage in open and well-informed conversations based on sound research – setting a high bar for future conversations – and giving them a glimpse into a highly relevant academic field that they could pursue in college. High school students are often introduced to college-level math or science but they are less likely to be aware of smaller fields such as Israel studies. And, as Dr. Rachel Fish, associate director of the Schusterman Center, explains, "students are eager and thirsty for sophisticated Israel content rather than simplifications that tend to encourage advocacy."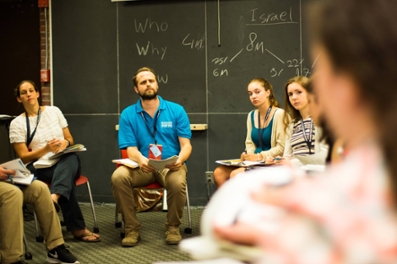 Emily K., from Wilton, CT, writes in the Young Leaders Conference blog: "What Brandeis did was show me that there is a major in what I am passionate about… [It] has given me a purpose for the next two years of high school, as well as hope that I get to spend 4 years taking part in things like this, rather than just barely 5 days."
Empowerment through knowledge, broadening horizons
Dr. Fish emphasizes the long-term impact of empowerment through knowledge. "The more meaningful content that you can give to young people," says Fish, "the more it helps inform their passions, their identity, and propels them to want to engage in serious critical thought."
Topics examined in the program included Israel as a Jewish and democratic state, the Arab-Israeli conflict, Israel/US relations, Israel as a global actor, and Israeli and Hebrew culture, in addition to reflection on the students' own roles in these conversations. 
After five days of delving into readings, case studies, and group discussions, the high school delegates prepared group presentations for a culminating symposium. This allowed them to develop their own ideas based on rigorous academic exploration and to practice articulating those ideas with confidence.
Among the speakers were US Ambassador to Israel Daniel B. Shapiro and Bari Weiss, associate editorial features editor at the Wall Street Journal. Cultural highlights included a screening of Time of Favor, a film that examines the tense relationship between orthodox ultra-nationalists and the military and has won Israel's best picture award, and Israel Story, a captivating stage performance by Israel's version of This American Life.
In addition to learning about Israel and Israel studies, the delegates met other young people from all over the country. High school programs like this one broaden students' horizons beyond their own communities and give them a preview of how exciting and enriching a diverse campus can be. "The most outstanding element of the program was without question its diversity from within the Jewish community," Arad reflects. "I was amazed by the variety of places, denominations, communities, socio-economic backgrounds, political views and even ages. The sixteen students in my group came from every corner of America (literally – Washington, California, New England and Florida), and they were reform, conservative, orthodox, non-observant..."
Based on participant evaluations, Brandeis University's Young Leaders Conference on Israel Studies was one of the most highly-rated high school programs ever given at Brandeis. Based on a 94% participant response rate, 86% rated the program an 8 (or higher) out of 10, 92% of participants felt they were likely to recommend the program to others, and 82% said they had learned more about how to find out information about Israel. 
Participant Quotes
"After five intense, jam-packed days of discussing and thinking about Israel my view has changed. I have now formed my own opinions about Israel. Not only that, but I now know how to have discussions about this place with people who do not have the same views as me." – Zoe S., age 17, Winchester, VA
Abby Huber