Approaching Israel from an American Christian Perspective
Amber Taylor: Schusterman Scholar, Doctoral Candidate, Near Eastern and Judaic Studies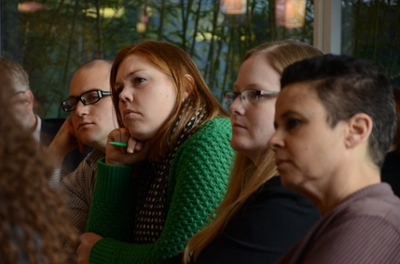 January 6, 2017
"People around the world care about Israel and have opinions," Taylor reminds us, "even many who aren't religious." Taylor herself is a prime example of an American who cares, having grown up in the LDS (Mormon) community in Utah. She explains that Mormons care about Israel because, according to their theology, they are related to the Jews (descended from Joseph). Mormons have a variety of competing ideas regarding the modern State of Israel's role in God's framework for the end of times, Taylor notes: "the dilemma is whether to consider modern Israel as ordained by God, or something different that's secular."
In this and many other aspects, Taylor is shedding light on American relations with Israel, concerning not only the Mormon community but American Christians more broadly. Her dissertation explores the controversy surrounding the creation of the Brigham Young University Jerusalem Center, which erupted in 1985. Commonly referred to in Israel as the "Mormon University," the center is an element of recent Israeli history that is remembered but little understood—by either Israelis or Mormons. Partly due to Jewish awareness of the LDS commitment to missionary efforts, and particularly as a result of Mormons' development in the 1960's and 70's of pamphlets for proselytizing to Jewish communities in California and New York, the BYU study center's creation was met by organized and bitter opposition from Jews who feared the Center might be a mask for proselytizing efforts.
From Brigham Young University to Brandeis University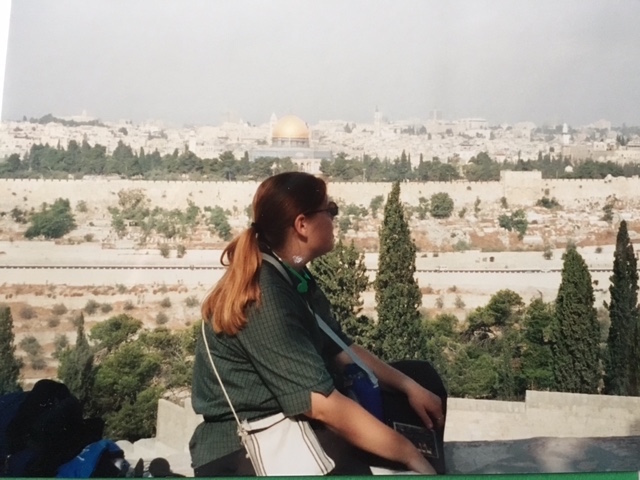 Taylor's first trip to Israel was in fact to study at BYU Jerusalem, in the summer of 2000, just before the second Intifada broke out. When she returned to Utah at the end of the summer, she had developed a deep sense of connection to modern Israel and knew that it would somehow be part of her future. In the years before she entered academia, her work included such diverse elements as a church mission to Chile, a bachelor's degree in Spanish translation, and even a brief stint at a plumbing company before settling down to teach at a private school in South Jordan, Utah, for four years. There, she taught Spanish, English, US history, theater and journalism.
While Taylor loved teaching – a passion that is clear to her students at Brandeis – she still felt a strong pull to work on Israel, so she applied to programs in Jewish studies and the humanities (out of an interest in Israeli art) until she found her place at Brandeis and began her graduate studies. While she started out taking Bible and Ancient Near East classes, it wasn't long before she moved on from ancient languages to the study of modern Israel.
"I was more interested in looking at modern Israel—as it relates to ancient Israel," she explains, "which is connected to my own background and Mormon views of Israel. … It's interesting to view the land of the Bible in a modern version, one that's seen by so many as the fulfillment of ancient prophecy." Her research interests encompass feelings toward Israel not only among Mormons, but among Christians more generally. What gives her dissertation particular significance is that Mormon relations with Israel can serve as a useful test case for America's relations with Israel, more generally.
Navigating a Complex Personal Relationship to Israel
Students may be heartened to learn that Taylor, now an accomplished fifth-year doctoral candidate (she recently presented a well-received paper at the Mormon History Association Conference in Salt Lake City), remembers beginning her master's degree in Near Eastern & Judaic Studies at Brandeis in 2010 as anything but an expert. "I didn't even know what I didn't know. No one else in my family had gone to grad school, and it wasn't my plan initially. I didn't know how to navigate the grad school experience, or even how to establish what particular field to go into or what particular aspect of Israel to study."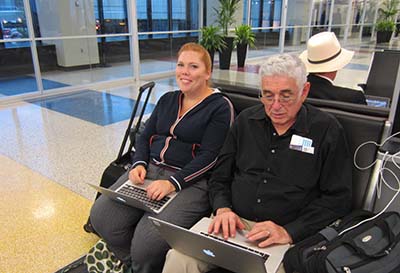 To Taylor, working in the field of Israel studies – i.e. studying the modern state of Israel – involves navigating a complex personal relationship to a country that she feels is related to her heritage, and which has often felt like home to her, while also coming to terms with Israel's problems. Having conducted research in Israel every summer since 2013, Taylor remembers 2014 and the Gaza war as a particularly difficult time. "It was a rough summer to be there," she recalls. "I could feel growing distrust between Jews and Arabs that summer, and 'Which group do you belong to, which team are you on?' hung over everything in Jerusalem."
As events unfold and history continues to develop, rigorous academic study is crucial to understanding. This is why Taylor dreams of bringing Israel studies to more students – especially to American Christians who place religious importance on Israel. "I really want to teach students the complexities of modern Israel, and to offer college-certified academic courses on Israel to students who might otherwise get their only knowledge from a pastor—and might then end up feeling it's their job to support Israel no matter what, or, on the other extreme, that it's their job to demonize Israel."
Teaching and Presenting
This semester, Taylor is teaching a first-year seminar for undergraduates called "Divided Society, Divided Identity: Exploring the Experience of Minorities in Israel," while continuing her study of Arabic and working on her dissertation. As a Schusterman Scholar, Taylor also takes part in the Schusterman Scholars Seminar on Israel Studies and will be a featured speaker this coming Spring.
Abby Huber