Essential Israel: Essays for the 21st Century, edited by S. Ilan Troen and Rachel Fish
In the relatively young field of Israel studies, it can be difficult to find an introductory text providing a certain kind of academic overview. This was behind the creation of Essential Israel: Essays for the 21st Century, developed and edited by Ilan Troen and Rachel Fish and released by Indiana University Press (March 2017).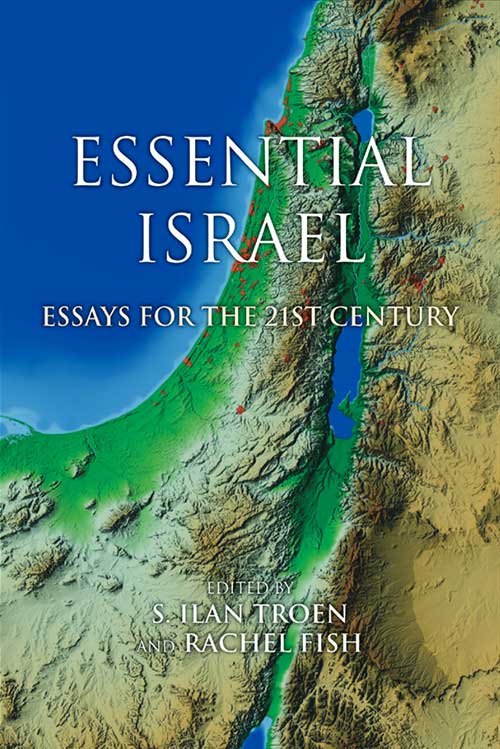 This compilation of essays examines foundational content areas particularly geared to North American readers, both Jewish and non-Jewish, who wish to better understand Israeli society, culture, and history. It also explores key concepts and their significance in the Israeli context. Intended to be eminently usable for students and learners of all backgrounds, whether academics or lay people, the essays can be read together, but they also stand on their own to provide accessible introductions to key lines of inquiry within the field of Israel studies.
Troen and Fish point out that "many Americans find themselves asked to form opinions and take sides on issues they actually know very little about." Hence the project of providing a broadened and deepened array of accessible academic sources on Israel—sources free of any sort of advocacy.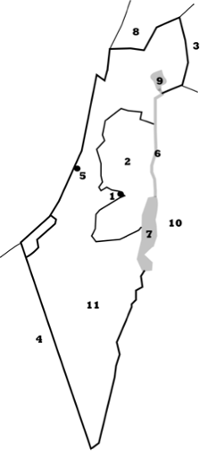 A report by Brandeis University's Cohen Center for Modern Jewish Studies, "The Israel Literacy Measurement Project: 2015 Report," suggests that students' basic knowledge of the modern state of Israel tends to be poor. For example, in response to a questionnaire developed by the Cohen Center, many students mistakenly identified the coastal city of Tel Aviv as the West Bank, not understanding that 'West Bank' refers to the west bank of the Jordan river. Only 36 percent correctly identified Jerusalem. This speaks to the need for accessible academic texts that will help educators engage students who have little background in Israel studies.
"One of the motivations for writing the book was the recurring request to provide reading materials that were accessible and digestible to a wide audience," Fish explains. This book provides broader, more multivalent background reading than a typical chronological explanation of the history of Israel.
As Fish and Troen write in their introduction, "American academics, educators, community and religious leaders, students, laypeople, Jews, Christians and Muslims are regularly confronted with conflicting reports on Israel in radio, newspaper, radio, TV, or online news. Often complex situations are reduced to oversimplified sound bites."
The essays cover everything from Zionism to geography to Hebrew literature, by way of the Arab-Israeli conflict, the peace process, and world opinion. Israel's relationship to American Jews and Jewish identity is also examined, in Steven Bayme's essay, "Israel, American Jews, and Jewish Peoplehood." The full table of contents is available on the Indiana University Press website.
Q&A with editors S. Ilan Troen and Rachel Fish
Who is the intended audience? Should I read it if I'm a newcomer to Israel studies?
We imagine this book will be useful for a variety of audiences, including the newcomer interested in learning about Israel with little prior knowledge, or the person who has some background but wants to deepen their framework and understanding of Israeli society.
We anticipate higher-education faculty using this text in their courses, as it provides a foundational framework. We expect that educators who are tasked with the responsibility of teaching about Israel, regardless of the setting, will find this book particularly valuable as it allows them to select chapters that interest them and does not require them to read the entire book.
When did the idea for the book first materialize?
The background is that the Schusterman Center for Israel Studies was regularly receiving requests for resources on how to teach particular topics, and for reading materials that would give a broad understanding of Israeli society—reading materials appropriate for all kinds of students and audiences, not just graduate students in the field.
So, in 2012, we decided to work with experts in the field to flesh out key content areas. We asked them to write essays that were manageable in size, free of footnotes, and in a narrative tone. We then had a two-day symposium with the essayists and other educators to help us think through the balance and scope of the book, and to clarify for ourselves what constituted "literacy" regarding the modern State of Israel.
What is the next book that the field of Israel studies needs, in the ongoing effort to make academically sound and complex resources available to all?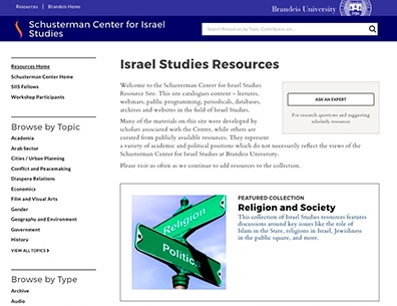 Rachel Fish: One exciting achievement is the new Online Resource Site for Israel Studies, launched in April 2017, which catalogues content on the modern State of Israel – lectures, webinars, public programming, publications, databases, archives, and websites. 
This new site, free and open to all, makes a wealth of academic sources on Israel available at the touch of a button. Several times a year, we will curate a Featured Content section on a given topic in Israel Studies with a set of materials for further reading – course syllabi, publications, videos, etc.
But there are many elements of Israeli history that still haven't been written about for the general public. Also, many primary sources have not yet been translated into English. What I hope to contribute to the literature is my own scholarly work on bi-nationalism and how the idea of a one-state solution has transformed. This is particularly relevant today as we hear increased discussion of the supposed end to the two-state solution.
Ilan Troen: Publications forthcoming in November 2017, published with the support of the Schusterman Center, are also notable achievements in the field. Capturing tensions in the British Mandate period, we have Lilach Rosenberg-Friedman's Birthrate Politics in Zion: Judaism, Nationalism and Modernity under the British Mandate (1920-1948). Providing much-needed insight into the Arab-Israeli conflict, we have Avshalom Rubin's The Limits of the Land: How the Struggle for the West Bank Shaped the Arab-Israeli Conflict.
Essential Israel, ed. Troen and Fish (2017, Indiana University Press, in the series Perspectives on Israel Studies), can be ordered online. The Schusterman Center's Online Resource Site for Israel Studies is now live and accessible to all at https://israelresources.brandeis.edu.
Ilan Troen is the founding director of the Schusterman Center for Israel Studies and Karl, Harry, and Helen Stoll Chair in Israel Studies at Brandeis University.
Rachel Fish is associate director of the Schusterman Center for Israel Studies and teaches Israeli history at Brandeis University.
Abby Huber