Rabbi Dr. Sharon Shalom: Reformulating the Dream as an Ethiopian Jew in Israel
May 5, 2017
Rabbi Dr. Sharon Zaude Shalom, currently a visiting scholar in the Schusterman Center for Israel Studies at Brandeis University, is a distinguished rabbi, an accomplished scholar, and lecturer in both academic institutions and popular settings. He is also a leader in the Ethiopian Jewish community in Israel.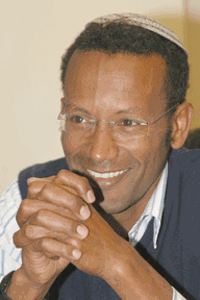 Dr. Shalom earned his PhD in Jewish philosophy from Bar-Ilan University. Enlightened and inspired by the Jewish authenticity of the legal heritage of Ethiopian Jewry, he decided to focus his doctorate on such work, later expanding his findings into his book, From Sinai To Ethiopia: The Halakhic and Conceptual World of Ethiopian Jewry (Gefen Publishing House, 2016). In it, he explores the relationship between identity and society and how Israeli discourse regarding "who is a Jew" has influenced Ethiopian Jewry within Israel. Additionally, he documents the thousand-year-old Ethiopian traditions that have been orally passed down from generation to generation. These traditions have successfully survived among Ethiopian Jewry in the diaspora—a group that has often struggled for survival. His book helps to bridge the gap between Ethiopian Jewry and Israeli society, synthesizing Ethiopian traditions with other Jewish Israeli traditions.
Shalom specifically hopes to dissolve the pronounced negative self-perception that he sees among second-generation Ethiopian Israelis. He seeks to empower the Ethiopian community to understand that their traditions and practices are not less valuable or less legitimate than the standard Israeli Jewish customs. Shalom's book has been met with some criticism from within the Israeli Rabbinate, and it has also received a mixed reception by Israelis who doubt the legitimacy of Ethiopian traditions.
Dr. Shalom remains positive, however, remembering what his grandfather, whom he revered as a tzadik (righteous man), taught him: that light will appear at the end of the tunnel. Born in a small Ethiopian village, Shalom – then named Zaude Tesfay – grew up helping his family with sheep herding while dreaming of "the land of milk and honey" and yearning to go to Jerusalem. Shalom tells the story of his childhood in this unpublished yet compelling autobiographical piece. He and his family left their village on foot and walked for two months to begin their journey toward Israel, first reaching the Twawa refugee camp in Sudan. After one year in the refugee camp, Shalom, then eight years old, was forced to leave his parents behind and continue into Israel with his aunt and uncle. After enduring inconceivable conditions, including crowded trucks, rubber boats, and large naval bases, he finally arrived in Jerusalem in January of 1982. He spent two years living in a children's home, under the impression that his parents had died, before learning that they were in fact alive and that they could be reunited.
Upon his integration into Israeli society, Shalom began to feel conflicted about how to find his identity within this new Jewish community. He agonized over whether to change his Ethiopian name to an Israeli one and whether to abandon or preserve his Ethiopian tradition Nowadays, Dr. Shalom has learned to reconcile the differences between his dream of Jerusalem, on the one hand, and the reality he encountered there, on the other. After serving as a commander in the IDF, he attended Har Etzion, a flagship educational yeshiva of the religious Zionism movement. Initially, Shalom found himself adopting all that he was taught there, excelling in his studies. Although he gained much from the Yeshiva, he was also taught there that because his community had been isolated from the rest of the Jewish people for centuries, his Ethiopian Jewish heritage, based as it was on the Bible alone and not rabbinic tradition, was incomplete and inauthentic. It was not until his grandfather passed away, whom he describes as "a great tzadik and mensch who walked barefoot in Israel, believing it to be a holy land," that Shalom's ideas about Ethiopian Jewry and halakha began to shift. He realized that his grandfather, an Ethiopian Jew, was now sitting among the great tzadikim of all time. Dr. Shalom thus began to realize that there is "no one way to walk with G-d. There is no one truth, there are lots of different truths."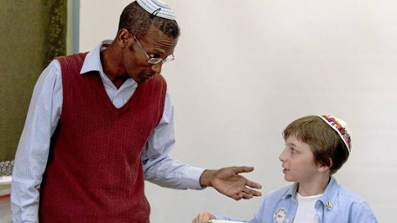 Dr. Shalom has taught both at Bar-Ilan and at Tel Aviv University, and his courses have included topics such as "Culture, Halakha, and Tradition in the Ethiopian Community." He is on the faculty at Uno Academic College, as well, and serves as a rabbi of the Kedoshei Yisrael community in Kiryat Gat. His published articles include "The Time of Circumcision in the Beta Israel Community," in Beta Israel: The Jews of Ethiopia and Beyond, ed. Emanuela Trevisan Semi and Shalva Weil (Università Ca' Foscari Venezia, 2011); "Ethiopian Kashrut - Between Ritual and Ethics," Deot 56, 2012 [Hebrew]; and "The Beta Israel Community: Origins and Religious Characteristics," in Ethiopia: The Land of Wonders, ed. Haggai Erlich & Sara Turel (Israel, 2012).
Due to his scholarship and all that he has contributed to Ethiopian Jewry within Israel, Dr. Shalom has been invited to participate in notable conferences around the world, including the World Mizrahi Movement Conference, in Uruguay and South Africa, the International Conference for the Society for the Study of Ethiopian Jewry, in Italy, the International Conference at Gondor University in Ethiopia, and the International Conference for the European Institute for Jewish Studies, in Sweden. He has also guest lectured at American University Law School, New York University, Maryland University, Georgetown, Oxford, Montreal University, and Nottingham University, among others.
Dr. Shalom came to Brandeis for the spring of 2017 supported by a special gift from a Brandeis donor, upon the recommendation of Dr. Chaim Peri, legendary Israeli educator and former director of Yemin Orde Youth Village and founder of Village Way Educational Initiatives. On hearing of this possibility, Prof. Yehudah Mirsky – who helped organize Dr. Shalom's appointment here – jumped at the opportunity. "I'd long heard of Rabbi Dr. Sharon Shalom, and the thought of his coming to Brandeis was too good to pass up."
Mirsky describes Dr. Shalom "as a unique bridging figure between Israel's Ethiopian community, in particular its religious leadership and mainstream religious institutions, and the world of scholarship, academia and activism." During his time at Brandeis University, he has worked to create a curriculum on Ethiopian Jewry, halakha, heritage and history, in collaboration with Professor Sharon Feiman-Nemser (former director of the Mandel Center for Studies in Jewish Education). Because of the openness and pluralism that mark American Judaism, he would like to introduce an Ethiopian curriculum into Jewish day schools in the United States before he does so in Israel, though he does hope for it to be introduced into Israel's public school system in the future. This would greatly help reformulate Israelis' understanding of Ethiopian Jewry in Israel.
As a communal rabbi in Kiryat Gat, Shalom is already bringing people of different ethnicities together and encouraging them to question their preconceived notions—"hoping," he jokes, "to confuse people." He wants people to understand, citing rabbinic teaching, "that 'all people are descended from a single man (Adam)' (Sanhedrin 37a) and thus are inherently equal to one another."