Shimon Attie Artist Residency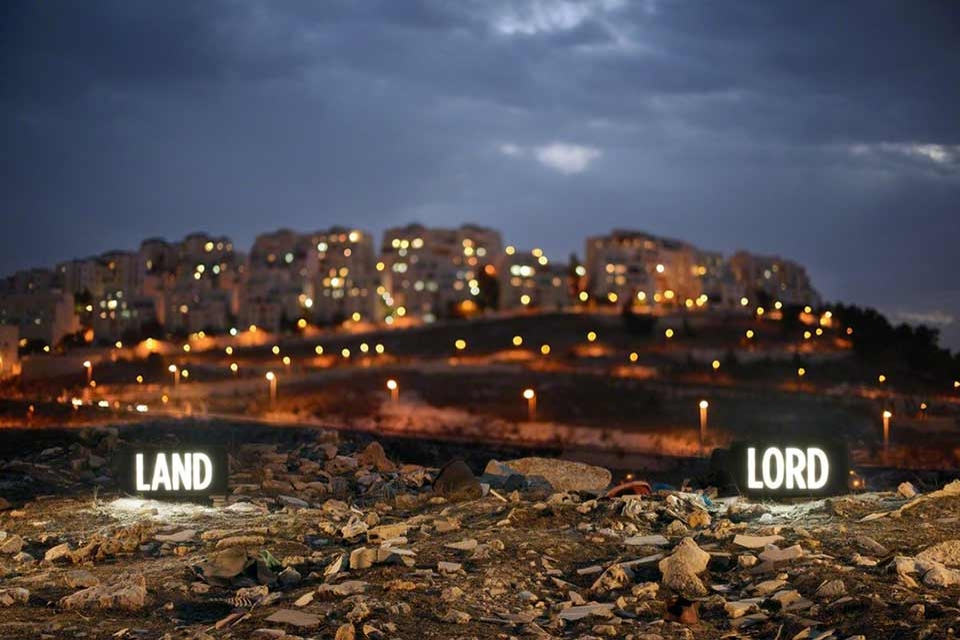 Artist Talks with Brandeis Students and the Public
Artist Shimon Attie was on campus to engage with Brandeis students in art history and studio art classes and in informal conversations called "rendezvous with the arts" (offered by the Exceptional Achievement Program). He also gave the following artist talks.
"Israel/Palestine: Facts on the Ground"
"Gendered and Other Memory Spaces"
"Language and Landscape," a panel discussion with Shimon Attie and Joseph Wardwell, moderated by Professor Peter R. Kalb.
This artist residency was generously funded by the Poses Fund, Brandeis Arts Council, presented by the Department of Fine Arts and cosponsored by the Schusterman Center for Israel Studies and the Women, Gender, and Sexuality Studies Program.
For "Facts on the Ground," I created and staged approximately 30 site-specific installations across Israel and Palestine.
The works existed as on-site installations, but were also created largely in-order-to-be-photographed. Each intervention was composed of illuminated text, mostly created by custom-made light boxes; one from mirrored letters. They were sited and installed primarily in and around Tel Aviv, Jerusalem, the Negev desert, and in the occupied West Bank.
Each installation created a brief, enigmatic phrase inserted into the city/landscape. I intended for the phrases to resist easy interpretation, while pointing to some of the psychological, cultural, and political imperatives that underlie the uneasy mood in present day Israel/Palestine or that reflect the Conflict in the region. Some phrases were culled from the history of Zionism, while others were literary and artistic distillations.
A typical installation and phrase was comprised of between 1 and 3 light box pieces. While the interventions had an in-situ installation component with members of the public interacting with and responding to the works, the conceptual framing, visual composition and overall choreography were considered with the final art photographs in mind. Each work was set up in mid to late afternoon and lasted until darkness. I photographed the light box installations interacting with their sites during these hours.
The installations and photographs were site-specific in every sense. The phrases and visual composition of the boxes were both carefully considered in light of the cultural, historical, socio-political and physical dimension of each site.
As with my earlier works, I sought to create content-driven pieces that are visually arresting and conceptually layered. My aim was to create works of art that offer opportunities for reflection, and that might raise as many questions as they answer.
About the artist

Shimon Attie's artistic practice includes creating site-specific installations in public places, accompanying art photographs, immersive multiple channel hd video installations for museums and galleries, and new media works.
For two decades, Attie has made art that allows us to reflect on the relationship between place, memory and identity. In many of his projects, he engages local communities in finding new ways of representing their history, memory, and potential futures, and explores how contemporary media may be used to re-imagine new relationships between space, time, place and identity. He is particularly concerned with issues of loss, communal trauma and the potential for regeneration.
In earlier works, Attie has used contemporary media to re-animate architectural and public sites with images of their lost histories, and how histories of marginalized and forgotten communities may be visually introduced into the physical landscape of the present. These works ranged from on-location slide projections in Berlin's former Jewish quarter, to underwater light boxes in Copenhagen's Borsgraven Canal, to sophisticated laser projections illuminating the immigrant experience on tenement buildings on New York's Lower East Side, Attie has described these works, in part, as "a kind of peeling back of the wallpaper of today to reveal the histories buried underneath."