New HoverCam in Archives and Special Collections Helps Connect Researchers to Materials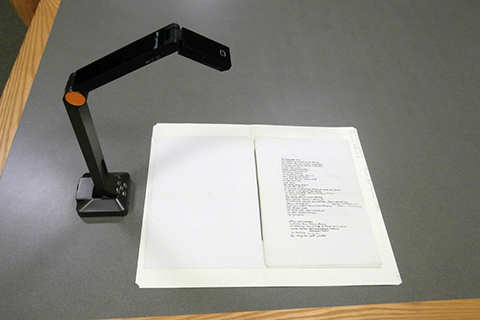 A new HoverCam in University Archives and Special Collections is helping make more materials accessible as researchers work remotely.
When the reading room on Goldfarb 2 closed to visitors in March in response to the pandemic, staff began working to find new ways to bring the archives and special collections to students, staff, and faculty who could not physically be there.
One solution has been to introduce a HoverCam that allows staff to take photos and videos of materials that can be shared in remote classes or research consultations. The camera enables the speaker in a Zoom video to show their face in one window while the camera can display materials in another window.
Reference and Instruction Archivist Chloe Gerson says one benefit to the HoverCam is that everyone on the Zoom video gets the same high-quality view of the material. Where students in an in-person class may need to wait to take turns or strain to see around another classmate, the camera makes it so that everyone gets equal viewing time.
"It's great to connect our students to materials in a way that we can't really do otherwise right now," she said.
Associate University Librarian for Archives and Special Collections Sarah Shoemaker used the camera for a teaching session of the "Provocative Art" course to show students examples of banned books and controversial printed material from the Spanish Inquisition through the Mapplethorpe era. The camera will be used again in November to show original letters, petitions, and other documents for The Leo Frank Case: On the Screen and in the Brandeis Archives webinar.
The HoverCam has also been used for reference to connect with researchers who are unable to visit the reading room. Gerson said because Archives and Special Collections is emphasizing virtual access when possible, the camera makes it easier for the archives to showcase mass quantities of a collection and help researchers make the most of their time with the materials.
"I think this camera has the potential to do really cool things for us and to connect with new and old users by giving them a chance to see materials without having to go someplace they may not feel comfortable going to right now," she said.
Learn more about the
collections in Archives and Special Collections
.