Restored Louis Brandeis Portrait Displayed in Faculty Study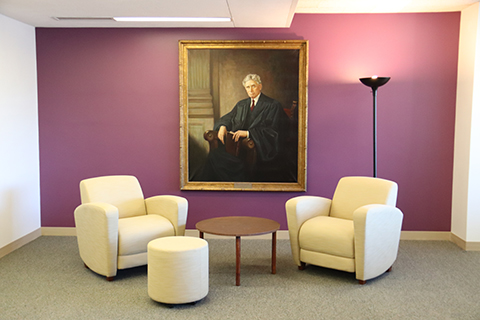 A large, realistic portrait of Louis Brandeis is now on display in the Faculty Study on the Goldfarb Mezzanine.
The portrait, attributed as a gift of the artist Charles J. Fox, depicts the associate justice of the Supreme Court of the United States in his judicial robes while sitting with a book. Records indicate that the portrait may have been painted by another artist, however, as History, Art & Archives of the United States House of Representatives states that several paintings credited to Fox were actually painted by an artist named Irving Resnikoff.
The portrait of Louis Brandeis used to hang next to a portrait of his wife, Alice, over a built planter on Goldfarb 1 near the wooden stairs and then later on a wall in Goldfarb 2, but the paintings were moved into storage after the Louis Brandeis portrait was damaged twice—first by vandalism and again when a ladder accidentally caught and tore the canvas.
Conservation services for the oil painting cost more than $1,000. Once restored, the portrait returned to the Brandeis Library, where it is now on display in the Faculty Study.
The Faculty Study is accessible only to faculty with a Brandeis ID. The room features soft seating, workspaces, lockers, a computer terminal, and a fantastic view of campus.