New Painting in Goldfarb by Brandeis Post-Bac Alumna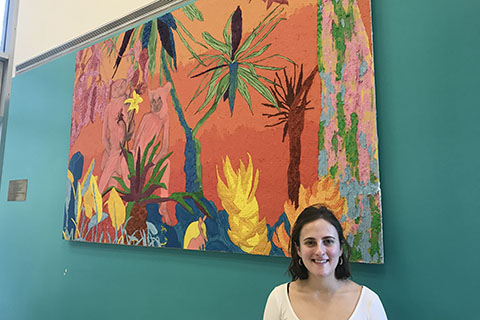 Have you noticed the new art in Goldfarb Level 1?
Orli Swergold '18, a post-baccalaureate alumna, painted "The Dream 2018," which is now on display across from the staircase in Goldfarb. The New Rochelle, N.Y., native who double-majored in art history and studio art said the piece is a snapshot of how she has grown as an artist and as a person in her time at Brandeis.
"The Dream 2018" is inspired by Henri Rousseau's "The Dream," which he painted in 1910. Swergold had taken a feminist art history class as an undergrad and became interested in updating the painting to depict women in strong, powerful poses.
Using alternative materials and contemporary colors, Swergold used an array of photos she took of flora and her friends to build an immersive environment.
"I flipped the role of the female figure in the original painting, where she is alone, nude and reclining," she said. "I combined the roles of the woman and the predators, creating 'benevolent predators' who rule over their realm. They have power in their positions, but they're not menacing in the same way the characters in the original painting are."
Swergold said she is happy the Library chose to house something she made while as a student at Brandeis. She said she has spent many late nights at the Library in the creative arts collections on Farber Level 3 learning about art and artists.
"For me, the Library was always an intellectual place, but also a safe space," she said. "I did a lot of growing here, intellectually, and wrote a lot of art history papers here."