Doctorate in Physics (PhD)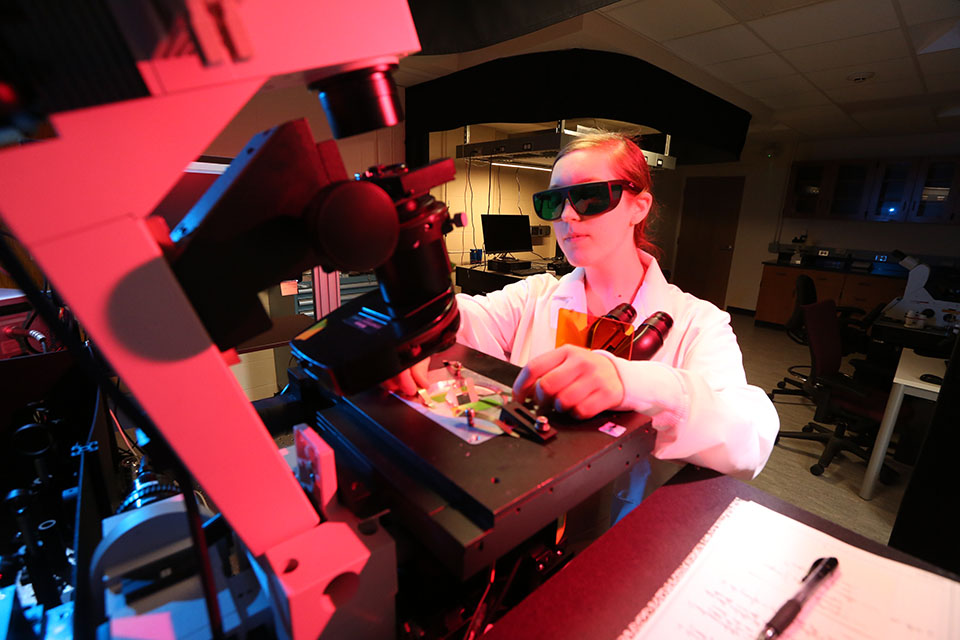 As a doctoral candidate in physics, you will enjoy both flexibility and support as you narrow your field of inquiry and decide on a dissertation topic. The Brandeis doctoral program in physics begins with a year of core courses followed by specialization in the area of your choice.
Our low student-to-faculty ratio means you will work in true partnership with a researcher at the top of his or her field. You will take part in advanced research in a number of cutting-edge fields, from biophysics to particle physics, from microfluidics to radio astronomy, from cosmology to string theory.
Why Brandeis?
The highly ranked Martin A. Fisher School of Physics at Brandeis University has an international reputation for excellence in research. It is located just outside Boston, a major center of physics research and home to some of the world's best universities. You'll be exposed to a steady stream of distinguished speakers and important colloquia.
Many of our doctoral students go on to become post-doctoral fellows or professors at top institutions, such as MIT and Harvard. Others begin careers in industry or government, or pursue research in the nation's most prestigious labs.
Academic Opportunities
As a doctoral candidate at Brandeis, you'll be encouraged to do interdisciplinary research, including at one of our three internationally known centers that span the physical and life sciences: the Rosenstiel Basic Medical Sciences Research Center, the Volen National Center for Complex Systems and the NSF-funded Bioinspired Soft Materials Research Science and Engineering Center, whose mission is to to create new materials that are constructed from only a few simplified components, yet capture the remarkable functionalities found in living organisms.
You will be offered two specializations: the Quantitative Biology Program, for scientists working at the intersection of the physical and biomedical sciences, and the Soft Materials Program. These are supported by the NIH and NSF, respectively.
Curriculum
As a physics PhD candidate, you will complete two semesters of quantum mechanics and electromagnetism and one semester of statistical mechanics for the first part of the program. You can fulfill other requirements in areas such as solid state physics, experimental physics and particle physics, as well as a seminar on conducting responsible science.
For the second part of the program, you will be asked to incorporate concepts in general physics with a specialized topic selected by you. Many Brandeis PhD candidates find collaboration between the engineering and biological sciences departments fitting for their research interests and are actively encouraged to do this interdisciplinary work. The University Bulletin describes the requirements for the PhD in detail. You will be required to teach undergraduates during the course of your studies.
Careers and Alumni
Brandeis PhDs in physics land impressive academic appointments at physics research institutes, medical schools and universities across the country, including at Harvard Medical School, MIT, Argonne National Lab, Cambridge University, Max Planck Institute in Berlin and University of California, Berkeley.

Other graduates have gone on to contribute to companies like Google, Microsoft, Apple and Tradelink in data science and engineering positions, and to governmental agencies such as the American Association for the Advancement of Science and the U.S. Senate Office.