Daniel Perlman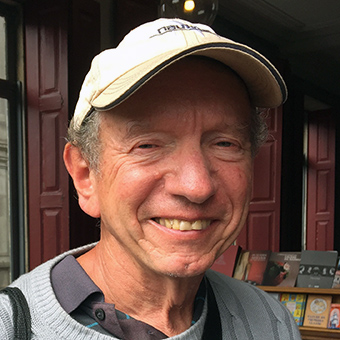 Senior Research Scientist and Inventor
PhD, University of Wisconsin-Madison 1974
Dan Perlman has authored or co-authored over 100 published patents and pending patents since arriving at Brandeis. Most of this work can be read online and downloaded with their full texts (see bibliography). Dan helps other University inventors including both students and faculty (e.g. Robert Meyer, Zvonimir Dogic and his students, K.C. Hayes (Biology) and the Fraden lab) evaluate and decide whether an invention may be worthwhile patenting.
Some well known (and less well known) facts about Daniel Perlman:
Of the two Dan Perlmans at Brandeis, Dan(iel) Perlman (class of '68) arrived from MIT in 1978 as a postdoctoral researcher to work with Dr. Harlyn Halvorson, chair of the Rosenstiel Research Center, studying gene regulation and protein secretion in yeast cells.
Evolving from the role of NIH-sponsored basic research scientist, Dan as a University Senior Scientist, moved into applied research. Financial support came from both biotech companies and from innovative processed food companies. Dan brought the founders of the Smart Balance food company to Brandeis, and in collaboration with KC Hayes (biology) developed and patented the "healthy fats" in Smart Balance margarine. Dan has also helped develop a number of other famous Smart Balance food products. Further collaboration with Hayes has led to developing and patenting healthier cholesterol-reducing snack foods (see Corazonas-brand foods) enriched with natural plant sterols delivered with improved "bioavailability," and a natural dietary fiber prepared from the pomace byproduct of juiced carrots.
More than half of the clinical and laboratory specialty research products marketed by Diversified Biotech, Inc. and sold worldwide have been developed by Perlman. Many are protected by U.S. patent.
The first miniaturized home radon detector for accurately measuring this environmental hazardous pollutant gas was developed and patented by Perlman in 1989. It is based upon the liquid scintillation measurement of radon gas trapped in a small quantity of activated charcoal that is maintained dry (desiccated) during a 2 day exposure period. The detector is still used worldwide over 20 years later.
With an eye toward developing new industrial, lab research, and consumer products as well, Dan has invented and patented a wide variety of products. A few examples include a drip-free glass wine bottle, an antioxidant enriching bakery flour milled from parbaked coffee beans, an improved anti-graffiti wax coating for outdoor building surfaces, a novel chemical treatment system for producing safe potable water, a variety of adhesive identification labels that withstand the rigors of submersion in liquid nitrogen, electric heating elements free of electromagnetic fields, a number of environmentally friendly campfire, firewood and charcoal lighters, antioxidant-protected fragrances for candles, laboratory microcentrifuge tubes with thumb-tab lid extensions for easy aseptic opening, an acetone-free odor-free non-toxic nail polish remover, and even a biodegradable water-soluble glue for extending the life of sandcastles.
List of Published U.S. Patents
List of Pending U.S. Patents
CV and list of publications (pdf)