Class of 1973
My wife, Diana, and I celebrated our 25th wedding anniversary with a 25-day vacation in Italy. The summer also included visiting our granddaughter Adalae in Beaverton, Oregon, and a week at the Aspen Music Festival to see son Evan play cello in one of the orchestras there. Evan is pursuing a master's in chamber-music performance at the San Francisco Conservatory of Music. Along with my job as a mortgage banker, I still squeeze in a few jazz gigs and held my 11th annual Jazz & Blues Revue Fundraiser for People Assisting the Homeless (PATH) in Los Angeles.
Clayton Austin is retiring from George Mason University, where he has been a member of the theater faculty since 1993. He served as department chair, technical director, production manager and scenic designer. John Edison writes, "Over the past several months, I have gone on a trip to Scotland, donated blood, volunteered for the Washington State Bar Association, participated in several hikes, and helped clean up and monitor a local county park." Rick Lemay, P'11, still practices internal medicine and plays blues guitar in his spare time. His daughter Marie '11 will graduate next year from the University of Vermont's College of Medicine. Jan Lewis is theater chair at Wesleyan College in Georgia. She recently directed "Genius," a play she co-authored with her husband, Robert Fieldsteel. It's a dramatic/ ironic examination of Gertrude Stein, Alice Toklas, and their varied friends and enemies in Paris, set during the first half of the 20th century. Caren Saphirstein Osborne welcomed a new grandson, Charles (Charlie) Marshall Moseley, on Feb. 23, 2016. The proud parents are daughter Alison and son-in-law Edward. Caren launched a new business, Memory Lane Photo Solutions, out of her home in Andover, Connecticut, to help people preserve, protect and share their photos and stories. Evan Rashkoff lives in rural Connecticut and spends his free time making pottery, traveling with his wife and doing medical-mission work in Haiti. He and his wife have four grown children. The orthopedic surgery practice he started 25 years ago morphed into a mega group, with 31 surgeons covering most of the western half of Connecticut. His own practice is limited to knee surgery. He writes, "I still owe Jeff Hunter, P'09, a Yankee game. I keep in touch with Peter Rainer. I remember Roger Sohn, Danny Pfau and Shelly Stein with great fondness." Jeremy Spector was named executive director of the New Jersey Educational Facilities Authority. He will have overall responsibility for its operations, including oversight and management of all statewide debt issuance, and capital-facilities grants administered in behalf of the state's colleges and universities. He has nearly 30 years of experience as a tax attorney in the public finance and tax-exempt bond arena. Peter Wortsman had an emotionally stirring summer-resident fellowship at the Österreichische Gesellschaft für Literatur, in Vienna, the city from which his parents fled in 1938. He looks forward to the publication of his new translation, "Konundrum: Selected Prose of Franz Kafka," and a new collection of his own original short prose, "Footprints in Wet Cement."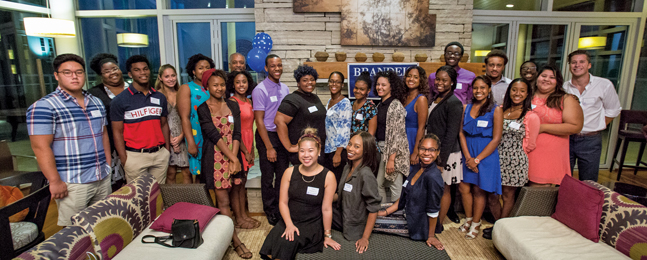 THE BIG PEACH: Trustee Curtis Tearte '73 and his wife, Jylla, hosted a New Student Send-Off at their Atlanta home for members of the Atlanta Posse and other incoming students, as well as parents and alumni. In all, nearly 70 members of the Brandeis community attended, including Kim Godsoe, associate provost for academic affairs.
Submit a Class Note