Class of 2009
Benjamin Bechtolsheim recently moved from San Francisco to New Haven, Connecticut, following his partner, Caroline, who started her studies at the Yale School of Forestry. Samantha Druss married Alex Cemaj '10 on Jan. 17, 2016, in Fort Lauderdale, Florida. Aaron Mitchell Finegold is a senior associate at McKinsey & Co. in Los Angeles. He earned an MBA from INSEAD, where he delivered one of two commencement addresses and traveled to the World Economic Forum's annual meeting in Davos, Switzerland, to present thought leadership he co-wrote with Accenture Strategy on the future of the internet and platform governance. Gail Goldspiel earned a master's in museum education from the Bank Street College of Education in 2012. She works as an educator at the Intrepid Sea, Air and Space Museum in NYC, where she leads tours and programs for young people in pre-kindergarten through the 12th grade. She also serves as a fellow for the Manhattan Jewish Experience and as a career coach for America Needs You-New York, and is active with Bank Street, Brandeis Bold and young-professionals events around the city. Eli Harrington, one of Vermont's top cannabis-legalization activists, has founded a digital-media company and grass-roots network called Heady Vermont, which disseminates news, hosts networking events and supports entrepreneurs. He is also the host of the Vermontijuana podcast, and recently interviewed singer Melissa Etheridge and candidates running to become the Vermont governor and lieutenant governor. With many Brandeis alumni in attendance, Caroline (Shlager) married Andrew Husick '11 in October 2015 in North Carolina. Caroline, who earned an MPH at Johns Hopkins, has spent the past few years doing public-health research and program evaluation at RTI International. Andrew is finishing his degree at Duke Law. Matthew Jennings traded education startups for higher education, accepting a position at Boston University's School of Law. He is also enrolled in the part-time MBA program at BU. Benjamin Luxenberg is in his third and final year of the joint MBA/MPP program at Harvard Business School and Harvard Kennedy School of Government. He is pursuing a position in the energy industry. Ben Mernick completed the process of becoming a rabbi and is currently finishing a PhD in clinical neuropsychology at the University of Haifa. Sarah and Dan Rueven welcomed a baby boy, Ezra Nathaniel, on Feb. 10, 2016. Julia Sokolyansky, who lives in New York City, is the founder of SassClass NYC, a company offering dance classes for women. She is passionate about her involvement in Landmark, a leading organization in the training and development industry, and is currently featured in its leadership-training curriculum. Nichole Speciale married Curt Miller on April 2, 2016, at Pioneer Park in San Diego.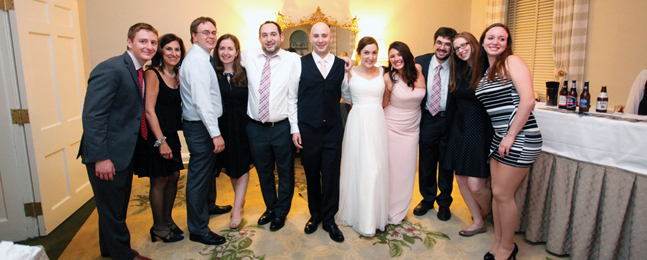 TARHEEL TIME: The October 2015 wedding of Caroline Shlager '09 and Andrew Husick '11 in North Carolina drew Brandeisians from hither and yon.
GARDEN PARTY: Alumni reunited on the West Coast as Nichole Speciale '09 married Curt Miller on April 2, 2016, in San Diego.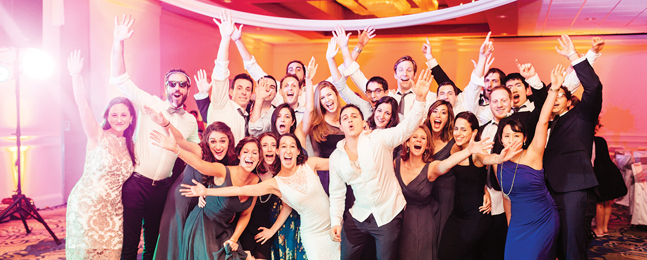 HOT, HOT, HOT: Alumni helped Samantha Druss '09 and Alex Cemaj '10 celebrate their wedding on Jan. 17, 2016, in Fort Lauderdale, Florida.
Submit a Class Note