Class of 2012
5th Reunion
June 9-11, 2017
Joshua Allgaier and Holly Spicer '13 were married on Sept. 24, 2016, in Orleans, Massachusetts. Tova Ferstenberg, who is in law school, was engaged on Nov. 7, 2015. Ethan Goldberg married Shoshi Rosenbaum on Aug. 18, 2016, in a ceremony in Atlantic City, New Jersey. Ethan serves as cantor of the Westchester Jewish Center, in Mamaroneck, New York. Traci Gordon and Michael Baum were married on May 29, 2016, at Reunion Resort in Kissimmee, Florida. They went to Thailand on their honeymoon. They live in Michigan, where Traci, a health-care consultant, is pursuing a master's in finance, and Michael is a licensed CPA. Kelsey Grab is working with Harvard students and pursuing a master's at Harvard's Graduate School of Education. She writes, "Ever so Brandeisian, I will be making my own degree. I'll be studying international education policy, with courses at the Kennedy School of Government and the Divinity School." Dafna Gutfreund and her husband, Liron, had a daughter, Nurit, and celebrated their third wedding anniversary. Dafna enjoys her work at Risk Strategies, where she helps clients get the insurance they need. The company is a national broker with nearly 30 offices around the U.S. SuJin Han has been an investigator at the Massachusetts Commission Against Discrimination for four years. In fall 2016, she began attending New England Law Boston as a part-time student on a full-tuition merit scholarship. She competed in weightlifting at the 2016 Bay State Summer Games. Ari Pipe-Mazo married Samantha Grosser on Jan. 17, 2016, in River Vale, New Jersey. About 30 alumni attended, including education professor Marya Levenson '64. Ari and Sami met at Cable their freshman year and have been together ever since. Louis Polisson and Gabriella Feingold '14 moved to White Plains, New York, where Louis is serving as the rabbinic intern and Gladstein Fellow at Temple Israel Center for his last two years of rabbinical school. Gabriella works in Manhattan as special assistant to the vice president of community engagement at HIAS, focusing on issues related to the Jewish response to the global refugee crisis. Ilana Sidorsky married Joseph Robbins on July 4, 2016, in Closter, New Jersey. They live in Manhattan. Andrew Weissenberg joined the Albany, New York, office of Iseman, Cunningham, Riester & Hyde. He graduated from the University of Maryland's Francis King Carey School of Law. Andrew, who has a certificate in health law, will focus his practice on health-care and litigation matters.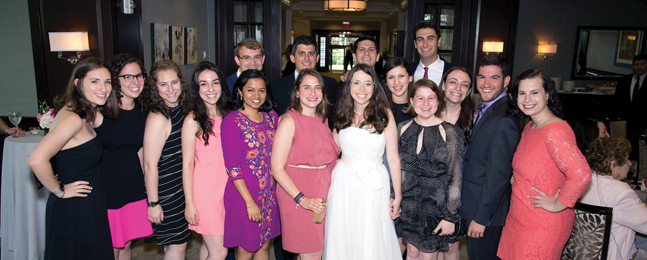 IN THE CLUB: Abby Kulawitz '12 married Daniel Brill on June 26, 2016, at Rolling Hills Country Club, in Wilton, Connecticut.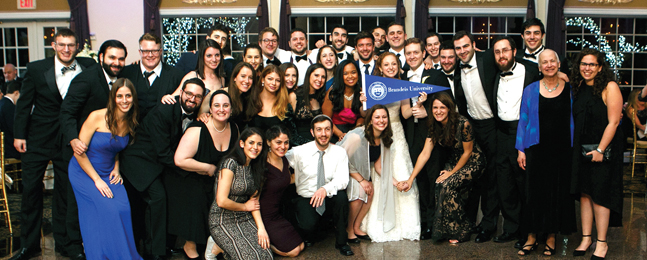 CABLE VISION: Ari Pipe-Mazo and Samantha Grosser, both '12, who met in Cable as freshmen, were married on Jan. 17, 2016, in River Vale, New Jersey, surrounded by more than 30 alumni, including education professor Marya Levenson '64.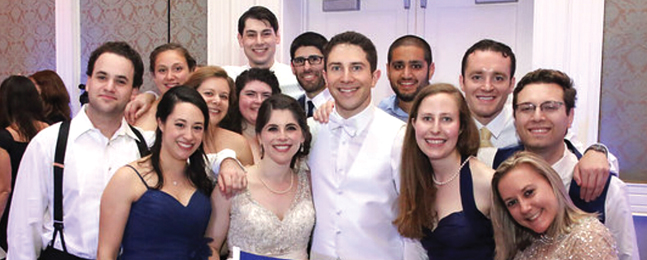 SUNSHINE STATE: Traci Gordon '12 married Michael Baum '12 on May 29, 2016, at Reunion Resort, in Kissimmee, Florida.
Submit a Class Note