Class of 2010
Nadir Daudi moved to Geneva after spending almost a decade in the Boston area (including his time at Brandeis and working as a consultant at the Analysis Group). Pursuing his aviation passion, he has become a pricing and revenue manager at Wizz Air, one of Europe's most successful airlines. Nadir, who has been very active with the Wien Alumni Network since graduating from Brandeis, hopes to establish a more active Wien alumni community in Europe. Alex Epps is engaged to Emily Muller. They plan to get married in mid-2017. Ezra Fishman and Nicki Brodie '09 had a son, Nadav, in April 2016. Mia Goldwasser and Alex Mansfield were married on Oct. 9, 2016, at the Charles River Museum of Industry and Innovation, in Waltham. Emily Griffin and Benjamin Sandler '07 got married on Nov. 13, 2015, in Topsfield, Massachusetts. They have been together for seven years. They both work in tech and share a condo in Cambridge with their calico cat, Freyja. Sarah Halpern graduated from veterinary school at Kansas State University in May 2016 and married Zachary Herb on July 17. Jacqueline Rothschild Lindenfeld had another baby, Liat Tiferet, in June 2016. Liat joins older sister Yakira. Rachel Markman married Yuki Hasegawa '09, IBS MA'10, on Aug. 15, 2015, in Kingston, Massachusetts, and had a second wedding in Yuki's native Japan on April 23, 2016. Gabe Marwell will marry Shea Carney, his girlfriend of three years, in spring 2017 in Alexandria, Virginia. Gabe started a job at Aspire, a Washington, D.C., startup that provides team perks to businesses. Ryan McRae is an assistant district attorney in Hampden County, Massachusetts. His jurisdiction is both the poorest municipality in the commonwealth and the crossroads of the New England drug trade. Ryan typically has more than 300 open cases and prosecutes all manner of crime, including theft, narcotics, fraud and more. He was elected chair of the criminal lawyers in his county and is on the executive board of directors for the Hampden County Bar Association. Tamar (Rock) and Eli Miller '11 welcomed Eitan Yerucham on May 17, 2016. Desiree Murphy joined Morgan, Brown & Joy as an associate. Previously, she was labor counsel at the Massachusetts Bay Transportation Authority. Arun Narayanan is starting to get some traction in Hollywood. His feature-length screenplay "The Time Capsule" is being produced by Larry Levinson Productions and is scheduled for a 2017 release on the PixL network, an offshoot of the Hallmark Channel. He is seeking distribution for "Taking Stock," a feature-length documentary he produced in South Africa, which had its world premiere at the 2016 Encounters South African International Documentary Film Festival. And his short murder-mystery film "False Witness," filmed in part at Brandeis in 2011, was recently acquired by the ShortsHD television network and is now available for streaming on Amazon. Miriam, IBS MA'11, and Shai Posner had a baby boy, Gilad Shimon, on May 1, 2016. They are calling him Gil. Linnea Sage's web series "Wildcats" aired on OnDemand on DirecTV this fall. Watch it at catsgoingwild.com. Kayla Sirkin and Jesse Hershman were married on May 29, 2016, in Harwich Port, Massachusetts.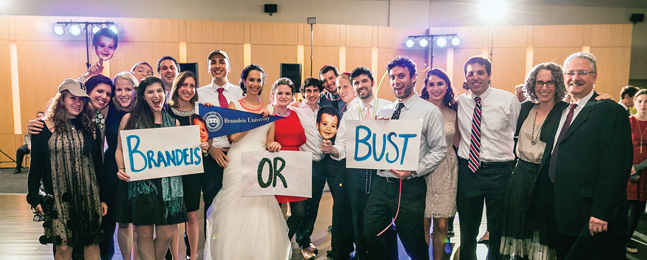 SIGNS POINT TO YES: Brandeisians of all ages smiled as Miriam Ganem-Rosen '10 married Cory Julie '07 on Oct. 31, 2015, in Washington, D.C.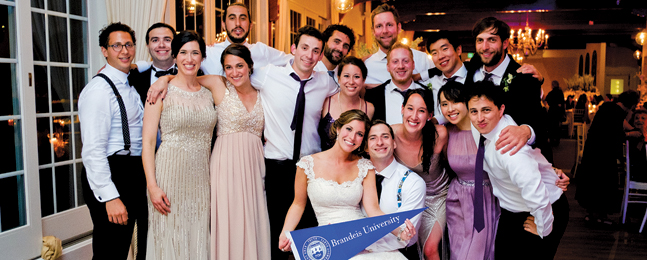 STRIKE A POSE: Jesse Hershman and Kayla Sirkin, both '10, were married on May 29, 2016, in Harwich Port, Massachusetts, amid a happy contingent of alumni.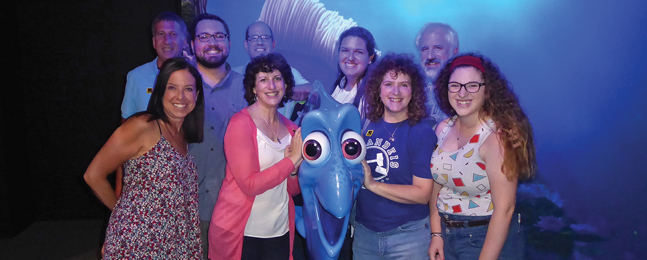 FROM MUMMIES TO DORY: Alumni and their families visited Philadelphia's Franklin Institute, exploring two special exhibitions, "Lost Egypt" and "The Science Behind Pixar," as well as the museum's 12 permanent exhibitions. The event was chaired by Jessica Willingham '10.
Submit a Class Note