Class of 1998
Alina (Etkina) Bas has a private practice as an executive coach and life strategist in the New York City area. Over the past year, she taught a program on science-based intuition development at the New York Open Center; presented on how to manage energy in stressful situations at a Limmud Conference; and delivered workshops for Google, Facebook and other companies. She and her husband are raising three boys; two of them are competitive fencers, thanks to the interest in fencing Brandeis sparked in her. Perry Bridger lives in Southern California with his family. Warner Macklin III was elected to the board of directors of Meter Feeder, where he serves as director of corporate strategy and business development. He is also on DVI Technologies' board of directors. Eric Pressman and several of his Brandeis classmates and friends — Brian MacFarland, Adam Kaufman, George Megaloudis, Ira Selig and Rafi Blumenthal '97 — celebrated turning 40 together. Mark and Jennifer Shinners '97 toasted 15 years of marriage in August 2016. Jennifer is an OB-GYN at Coastal Women's Health Care in Scarborough, Maine, and an instructor through Tufts Medical School. Mark started Maine Seafood and Trading Co., which ships Maine lobster throughout the United States and Latin America. Mark was recently a special guest at the Mexico Consulate in Monterrey, where he's working with the U.S. Small Business Association to open Mexico's market to Maine lobster. He writes, "Like lobster? Brandeis alums receive a 15 percent discount. It's almost kosher." Joy Sisisky was named chief philanthropy officer at the Jewish Community Federation of San Francisco, the Peninsula, Marin and Sonoma Counties. Previously, she was executive director of the Jewish Women's Foundation of New York. Miriam Heller Stern was named national director of the Hebrew Union College-Jewish Institute of Religion's School of Education. She had been dean of the Graduate Center for Jewish Education at the American Jewish University.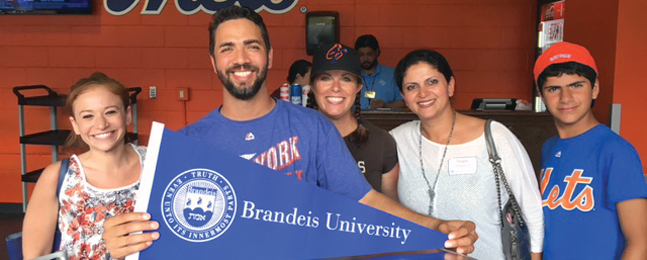 MR. MET: More than 75 alumni and their families watched the New York Mets best the visiting Colorado Rockies 6-4 at Citi Field. Former Brandeis and Mets pitcher Nelson Figueroa '98, now a Mets broadcaster, visited with attendees in the Honda Clubhouse. Brett Friedman '04 chaired the event.
THE BIG 4-0: Brian MacFarland, Eric Pressman, Adam Kaufman, George Megaloudis and Ira Selig, all '98, and Rafi Blumenthal '97 celebrated their milestone birthdays together.
Submit a Class Note