Class of 2013
Class Correspondent
Ellyn Getz, Robyn Spector and Amanda Winn
Amanda is working at a health-care technology company and continuing her research at NewYork-Presbyterian Hospital. In her spare time, she enjoys camping with fellow NYC Brandeisians.
Clare Churchill-Seder is studying and conducting research at the Memorial University of Newfoundland through a Fulbright Canada grant. Her project is titled "Nitassinan: An Intimate Relationship With the Land as Expressed Through Innu Creative Arts." A few months after completing her Fulbright Fellowship in Italy, Iyvon Edebiri landed a job at the Sundance Institute, where she produces and manages the theater program's labs, retreats and workshops. She has traveled to the Hamptons, Utah, the Berkshires and Morocco for work. She is pursuing a master's in arts administration at Baruch. Elizabeth Fields married Josh Asen on April 9, 2016, in Las Colinas, Texas. They live in New York City. David Fisch moved back from Israel and works at UberMedia. Ariel Glickman graduated from George Washington University Law School in May 2016. In September, she began a one-year fellowship as the Ethics in Excellence and Journalism Fellow at the Reporters Committee for Freedom of the Press. Rozi Levi lives in Jerusalem and works at the American Jewish Joint Distribution Committee (JDC). She connects North American Jewish communities to the JDC's work around the world, including in the former Soviet Union, Africa, Europe and Israel. Taylor Lombard completed a three-year master's program in clinical mental-health counseling and dance/movement therapy at Lesley University. A registered dance/movement therapist, she is working toward becoming a licensed mental-health counselor. She is currently a community clinician for Eliot Community Human Services, working as a therapist at a group home for adolescent girls. Joshua Lutch, MA'13, married Aden Michaud on Oct. 18, 2015, in Maynard, Massachusetts. Josh works as an activities associate at Avery Crossing, an assisted-living facility in Needham. Aden is an information-technology administrator at Hellenic College, in Brookline. Emily Bunker Peterson was promoted to donor-relations manager at the Gathering Place, a daytime shelter for women, children and transgender individuals experiencing poverty and homelessness in Denver. She ran her first marathon in spring 2016 and kicked off the summer by joining a relay team for the Ragnar Trail Snowmass run. Leah (Smith) Pollacksmith married Donni (Pollack) Pollacksmith on June 19, 2016, in Brooklyn. Brandeis Chabad Rabbi Peretz Chein performed the ceremony. It was a joyous celebration with many Brandeis alumni in attendance. Ilana Pomerantz is pursuing a PsyD at Yeshiva University's Ferkauf Graduate School of Psychology. Shiv Punj was appointed additional director of engineering and construction company Punj Lloyd. Muki Schlomka and his wife moved to Denver and are expecting a baby boy. After three years as a philanthropy associate at the Jewish Alliance of Greater Rhode Island, Hillary Schulman has decided to pursue a career in teaching. She is teaching pre-K at the Jewish Community Day School in Providence, and music, tefillah and trope to the older children. On Nov. 13, 2016, she married Aaron Guttin. Ingrid Schulte is pursuing a master's in public policy at Berlin's Hertie School of Governance. She spent the summer enjoying the German city's parks and working for an international climate-advising company. In fall 2016, she studied at Tsinghua University and interned with the World Wildlife Fund in Beijing. In 2015, Chi Zhang, along with three partners, all of whom grew up in Shanghai, opened the Yaso Tangbao restaurant in Brooklyn, on a cluttered strip not known for authentic Chinese cooking.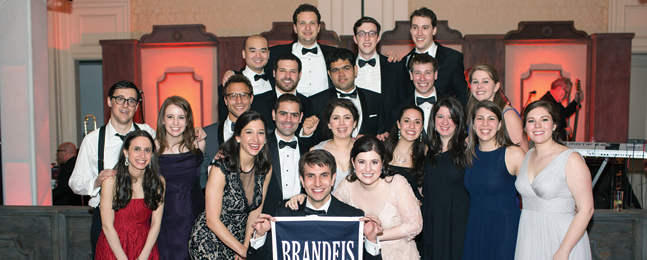 BANNER DAY: Alumni were on hand as Elizabeth Fields '13 married Josh Asen '13 on April 9, 2016, in Las Colinas, Texas.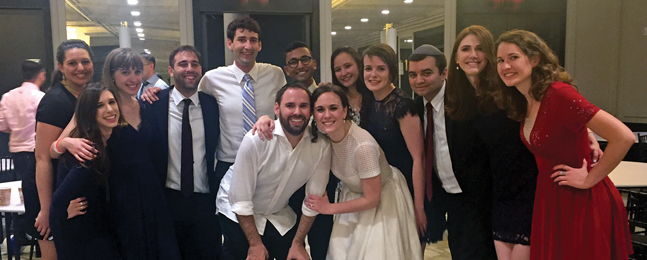 LOVE GROWS IN BROOKLYN: Leah (Smith) Pollacksmith '13 was married to Donni (Pollack) Pollacksmith by Brandeis Chabad Rabbi Peretz Chein on June 19, 2016, in Brooklyn, New York.
Submit a Class Note