OpenBook: An English Dept. Podcast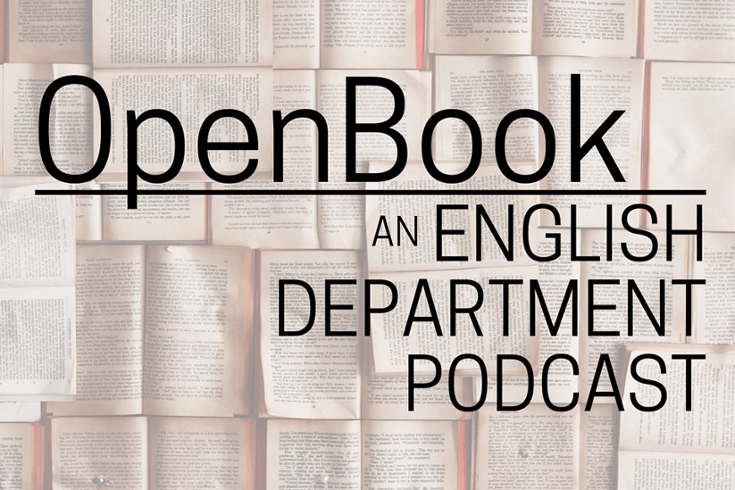 In this series of podcasts, Undergraduate Department Representatives from English and Creative Writing are interviewing professors, to help students get to know the faculty better both as scholars and as people. Listen to these podcasts to hear a little bit more about your professors than you may learn in the classroom!
Many students know that Ulka Anjaria teaches classes on topics ranging from realism to coming of age stories to Bollywood film. But did you know that she's been to over 40 countries? Or that she imagines that she'd be a high school math teacher if she weren't an English professor? Or that she's a self-proclaimed "Red Sox fanatic"? Hear about all that and more in this podcast, in which UDRs Peter and Rachel interview her!
Long-time English professor John Burt doesn't just teach courses about Southern literature and war novels. Hear about how he studied biochemistry and was almost a doctor, his faith in the humanities, and why he has a tie with his Abraham Lincoln book cover on it. Learn about all that and more as UDR's Rebecca and Sarah interview John Burt!  
Undergraduate Advising Head and English Professor William Flesch discusses books worthy of re-reading, his long-time passion for teaching, and his "misspent youth" (he was almost an English and Mathematics double-major). Have you ever wondered what Prof. Flesch really thinks about anchovies? Listen and learn as UDRs Rebecca and Rachel interview him! 
UDR's Rebecca and Hannah interview Ramie  Targoff, Professor of English, co-chair of Italian Studies, and Director of the Mandel Center for the Humanities. Professor Targoff discusses what it's like to be a woman in academia, her path to teaching English, playing the cello, and more!
Professor David Sherman teaches courses on topics ranging from modernism to storytelling performance to romantic comedy. But did you know that he's seen every episode of Rick and Morty? Or that he is a fan of street art? Or that he—gasp—hates the Patriots? In this episode of OpenBook: An English Department Podcast, UDR Peter sits down with Professor Sherman to discuss all this and more!
Steve McCauley: Professor, author, ice skater, and former travel agent. UDRs Sarah and Rachel ask Steve his thoughts on the literary scene, books he'd like to write, and more. Listen for pros and cons on traveling and living in an isolated cottage, as well as a surprise appearance by Liz Bradfield!
Episode 7: Elizabeth Bradfield
On April 9, 2019, UDR Peter sat down with Liz Bradfield, Associate Professor of the Practice of English and Co-Director of the Creative Writing Program. Peter and Liz discuss poetry, Liz's work as a naturalist in Cape Cod and the Arctic World, and more. Liz Bradfield's most recent book, Toward Antarctica, came out in May 2019 from Boreal Books/Red Hen Press.
UDRs Peter and Caroline spoke with Professor John Plotz. In this interview, learn more about Professor Plotz's dynamic literary interests, his own passion for podcasts, and his idiosyncratic love of Boston weather.
Episode 9: Jerome Tharaud, part 1
You might know that Jerome Tharaud teaches classes on American literature and culture at Brandeis, but did you know that he worked as a reporter after college and spent time living abroad during high school? UDRs Joy and Caroline talk to Professor Tharaud about his path to academia, his world travels, and his brand new book in Part 1 of this podcast!
Episode 9: Jerome Tharaud, part 2
Caroline and Joy enjoyed their interview with Professor Tharaud so much that there's more! Learn about his aversion to smartphones, his book recommendations, his fondness for the Gosman track, and more in Part Two of this podcast.
Isaac, a Creative Writing UDR, spoke with Screenwriting Professor Marc Weinberg over Zoom. They discussed Marc's history in the film industry, starting out as a short story writer, and how he got into teaching. Plus, hear about his upcoming film project shooting this summer, and learn how Marc collaborates on his scripts with his writing partner who also happens to be his wife.
Episode 11: Brandon Callender, part 1
UDRs Joy and Ethan sat down to chat with Professor Brandon Callender over Zoom! Come and learn about his research in Black and Queer studies, growing up in high school, and his passion for board games and horror!
Episode 11: Brandon Callender, Part 2
Want to know more about Professor Brandon Callender? In Part 2, learn more about his passion for cooking, book recommendations and his favorite place to relax in the Brandeis area!