The Russian Studies major welcomes intellectually curious students who seek to understand the language, culture and history of Russia and the former Soviet Union.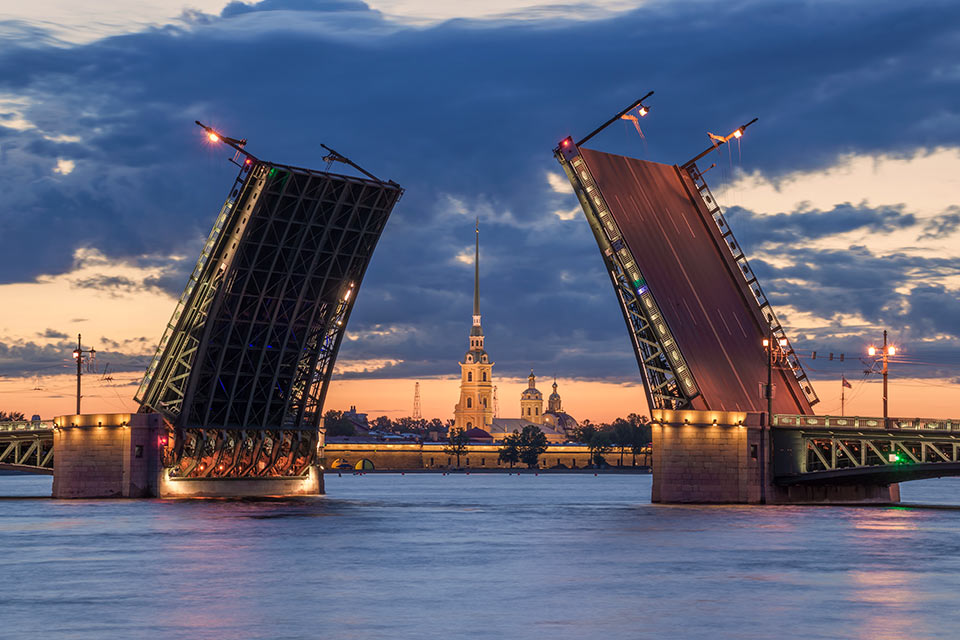 The Russian language serves as the gateway to the study of Russian literature and history. Beyond the language knowledge it offers, the Russian Studies Program curriculum takes students on an intellectual journey into Russian literature, culture and history through courses taught in English.
A diverse selection of courses offered both within and beyond the department allows students to focus their studies on a variety of cultural, literary, social and political aspects of Russia and other post-Soviet states. The department regularly sponsors special events for Russian students, including film series, lectures, and Russian tea hours featuring Russian language conversation for students at all levels of proficiency.
Russian Language Placement Test
If you studied Russian before Brandeis or if you grew up bilingual in Russian and English and can read and write, you need to take the placement exam in order to register for a language course or to test out of the university's World Languages and Cultures requirement.
In the fall 2019, the placement test will be on Friday, Aug 30 from 2-4p in Shiffman 120. Please contact prof. Dubinina if you have questions.
Spotlight on Students
Toggle

Russian Language Contests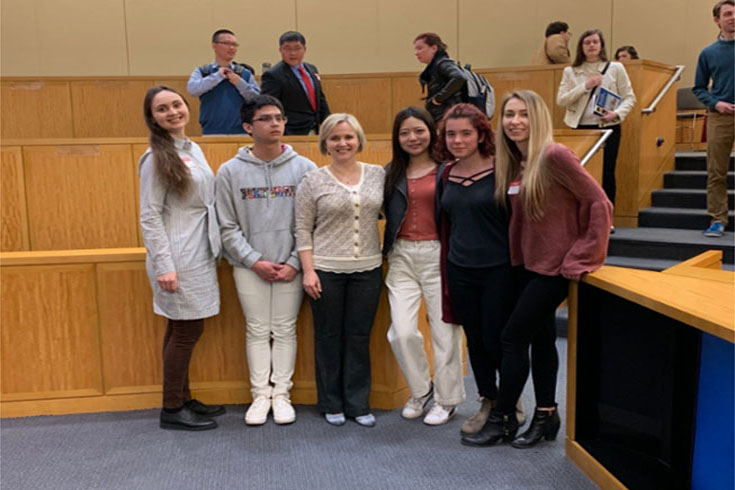 At the 3rd annual Olympiada of Spoken Russian at Harvard University, Brandeis first-year student, Alyssa Rider (2nd on the right), received 2nd place in the speech competition among first-year students!
Visit the Olympiada of Spoken Russian homepage
Toggle

"Hello from Washington" - Internship at the American Enterprise Institute
Micah Pickus '20 describes how his study of the Russian language has led to a unique professional opportunity.
Здравствуйте из Вашингтона, меня зовут Миша, и этим летом я работаю в Американском институте предпринимательства, одном из известных мозговых центров в Вашингтоне, особенно в круге Дюпона. Я из Северной Каролины. Осенью я буду на четвертом курсе в университете имени Брендайза. У меня специальность по русскому языку, и у меня есть вторая специальность по политике и ближневосточным исследованиям. В следующем семестре я буду писать дипломную работу по теме «отношениям между Россией и Америкой», и особенно «история ядерного оружия и контроля над вооружениями».
Этим летом я работаю на факультете российских исследований в Американском институте предпринимательства, который известен тем, что приглашает ведущих специалистов из разных профессиональных сфер на выступления и лекции. Например, недавно с лекцией приезжала директор Международного валютного фонда Кристин Лагранд.
В частности, каждый день я готовлю для своего шефа пакет новостей и мнений о России . Его зовут Леон Арон, и он известный ученый российской политики и русистики. Его интересуют российские политики, особенно российский президент, В.В. Путин.
Мой основной проект - это не просто подготовка ежедневного пакета новостей. Я также помогаю моему шефу подготовиться к трехнедельной поездке в Прибалтику.
Чтение является моей отправной точкой каждый день, и я постоянно работаю с русскоязычными материалами в течение недели. Благодаря русскоязычным новостям, я надеюсь, что мои способности читать, писать и говорить по-русски будут лучше, когда моя летняя программа закончится в конце июля.
Toggle

2019 National Post-Secondary Russian Essay Contest (NPSREC)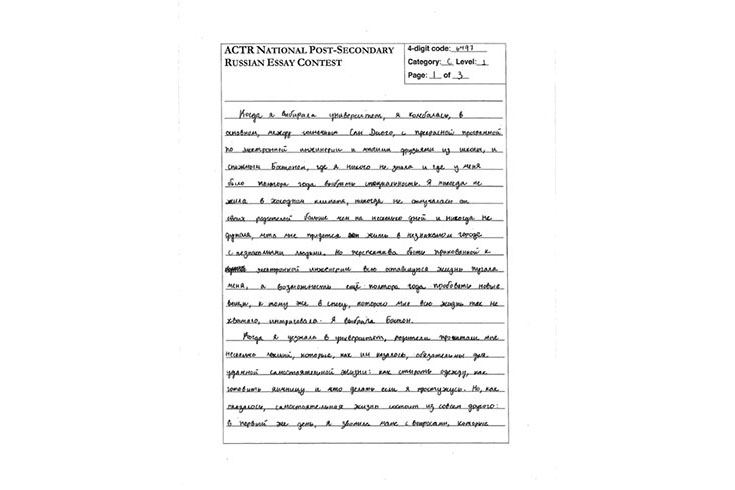 At the 20th Annual ACTR National Post-Secondary Russian Essay Contest (1,434 essays from 67 universities and colleges):
Bronze Medal (among 1st-year students): Eric Chang
Honorable Mention (among 1st-year students): Sam Wachman and Alyssa Rider             
Gold Medal (heritage speakers, 1st year of college language study): Ruth Rosenblum
Silver Medal (heritage speakers, more than 1 year of college language study): Sophie Lis
Honorable Mention (heritage speakers, more than 1 year of college language study): Elise Shuba
The Russian language program is grateful to all our students who participated in the contest and made it the tremendous success that it was. Not everybody can win, but without many people participating, there will not be any winners.
First-Year Video Projects (Brandeis Oscars)