Past Artists
HBI Artist-in-Residence Program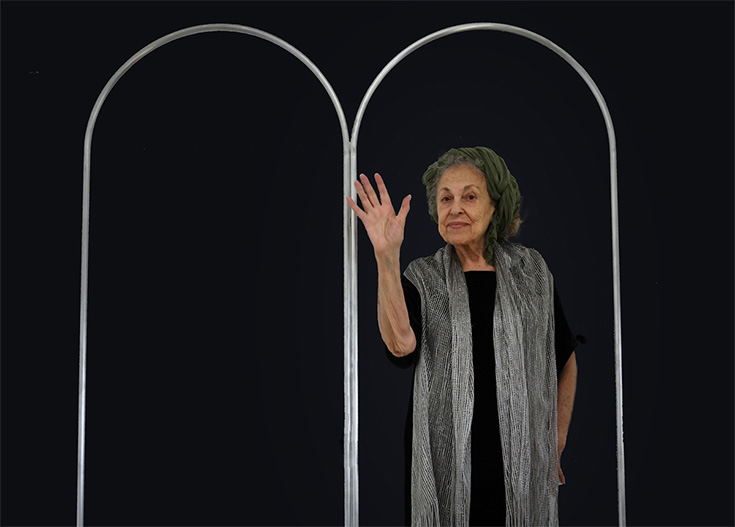 Spring 2017: Helène Aylon
Internationally-acclaimed Jewish feminist artist Helène Aylon presented her conclusion to "The G-d Project: Nine Houses Without Women," her 20-year series highlighting the dismissal of women in Jewish traditions and text. In "Afterword: For the Children," Aylon dedicated her finale in the series to the future generations, challenging all who regard The Ten Commandments not to shrug off a dark foreboding which emanates in her view, from the patriarchy — not from God.
The text of the Second Commandment holds future generations responsible for the sins of their fathers. The artist's examination of this text reveals a universal dilemma through its connection to contemporary policies and practices that shape the world our children will inherit. The concept of tikkun olam (correction of the world) holds significance in Aylon's immersive digital installation, as her continuous attempt at "repairing" the revered text becomes​ a​ quiet yet assertive protest.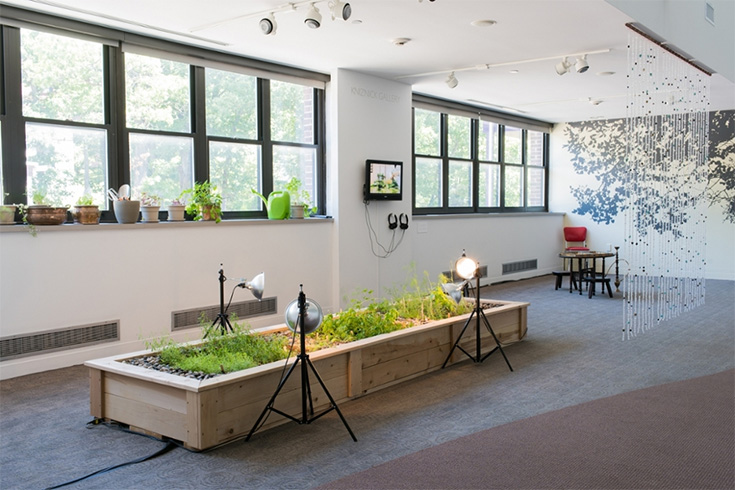 The 2016 Artist-in-Residence at the Hadassah-Brandeis Institute was Wendy Wolfe Fine. Fine's "The Pearl that Slipped Its Shell" relayed the experiences of Jewish women in Iran as a result of the Islamic Revolution of 1979, specifically those of the Mizrahi family who immigrated to the United States and carry on Iranian Jewish traditions. Fine's immersive installation incorporated video, photography and cultural objects to re-envision transformation and loss in the personal freedoms and cultural lives of Iranian Jewish women after the Revolution, when their country shifted from a secular state to a theocracy of Islamic fundamentalism.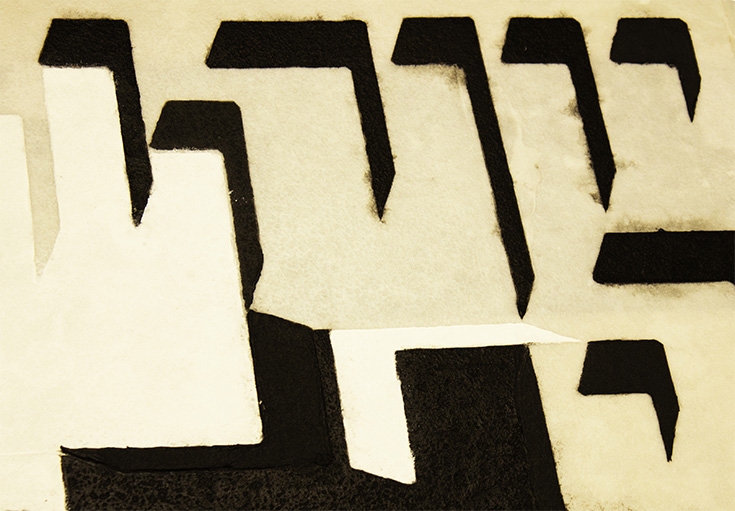 The 2015 Artist-in-Residence at the Hadassah-Brandeis Institute was Milcah Bassel, Brandeis Post-Baccalaureate in Studio Art '11. Working onsite at the Kniznick Gallery, Bassel focused on large-scale drawings based on five letters of the Hebrew alphabet. Multiplying and playing with the space between these letters provided the basis for a multidisciplinary installation that explored space both as movement and time through an altered language.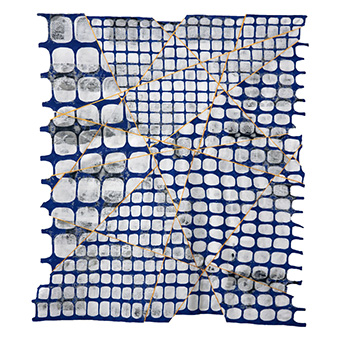 The 2014 Artist-in-Residence at the Hadassah-Brandeis Institute was Jeanne Williamson. Working onsite at the Kniznick Gallery, Williamson created a series of Jewish wedding canopies, or chuppot, that were displayed on campus and in the gallery during the exhibition. Using simple printmaking techniques, Williamson brought pattern and color to the traditional chuppah.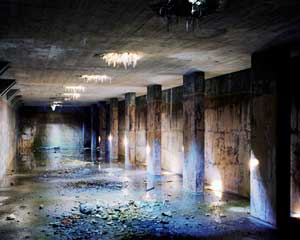 HBI was thrilled to announce the selection of Berlin-based Israeli artist Yishay Garbasz as the fifth annual Hadassah-Brandeis Institute Artist-in-Residence. Her month-long residency at the Women's Studies Research Center culminated in a multimedia exhibition of photographs, video and text celebrating Jewish women who identify as transgender. Through interviews and portraits, Garbasz gave voice to a segment of the Jewish population that has been little discussed until recently, showing her subjects with their loved ones and families, at their jobs or in their homes. The artist said, "By showing that these individuals are part of relationships that are familiar to us, it is the first step toward [creating] a larger, more diverse Jewish community."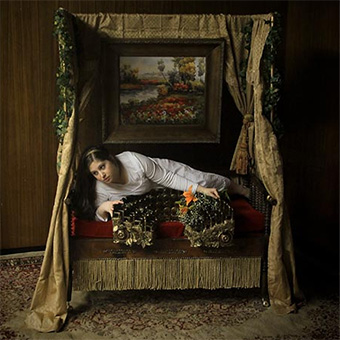 2012: Sarah Zell Young | Occupy Sanhedrin
Sarah Zell Young's exhibition for the WSRC/HBI, "Occupy Sanhedrin," examined roles — both religious and secular — for Jewish women from the Second Temple to the present and explored how bodies can become hazarded in the pursuit of justice. In addition to photographs, the exhibition featured a large, site-specific installation — an interactive and participatory rendition of a Sanhedrin (rabbinic supreme court). By granting access to an historical space of justice — making it physical — Young invited viewers to engage with traditional ideas and received wisdom of judicatory in a new way and to achieve personal agency over their own relationship to history. Sarah Young received her BFA in Sculpture from the Rhode Island School of Design and is studying toward her MFA in combined media from Hunter College, New York.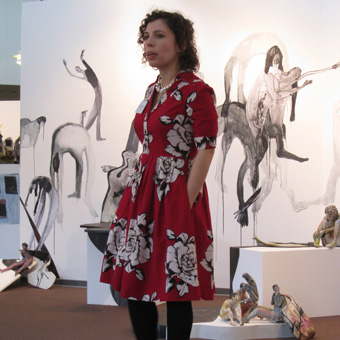 2011: Jess Riva Cooper | Golem and Dybbuk
Jessica Riva Cooper's original, site-specific drawing and ceramics installation reinterpreted the folkloric stories of the Golem, a creature created to do a person's bidding without question, and the Dybbuk, a mischievous spirit, through a feminist lens.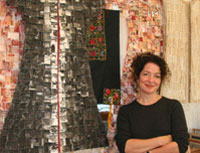 Acclaimed Israeli artist Andi Arnovitz created an exhibition of her recent work titled "Tear/Repair (kriah/ichooi)." As the second annual Hadassah-Brandeis Institute artist-in-residence, Arnovitz created sketches for a new body of work — a series of paper coats for Jewish women who have impacted history and changed the world. These coats are an extension of Arnovitz's "Garments of Faith" series, which were also on view. Each of these garments, fabricated from torn or intact papers, scrolls and book pages, represented injustices for Jewish women. The works addressed challenges throughout history — from halachic and spiritual issues, to those of co-existence and, above all, issues related to gender.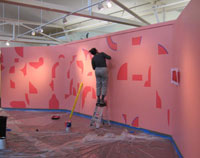 Words and images meld, the conceptual becomes tangible and history met modernity in Lynne Avadenka's site-specific installation. In spring 2008 at the Kniznick Gallery, HBI hosted its first artist-in-residence in an exhibition celebrating eloquence, bravery and wit. Avadenka's "A Thousand and One Inventions" boldly transformed the gallery's unique architecture into a work of art. Painting, drawing and assemblage created an environment that opens up and reveals layers visually, as a book does conceptually. Unprecedented in the artist's oeuvre in scope and scale, "A Thousand and One Inventions" expanded on the themes in Avadenka's limited edition artist's book, "By A Thread." Created in 2004 with a grant from HBI, the book imagines a conversation between Queen Esther, the heroine of Purim, and Scheherazade, the teller of a thousand and one tales. Both women spoke up when they could have remained silent and saved many lives through their fortitude.