Marisa J. Futernick
Dirty Dancing: Revisiting the Catskills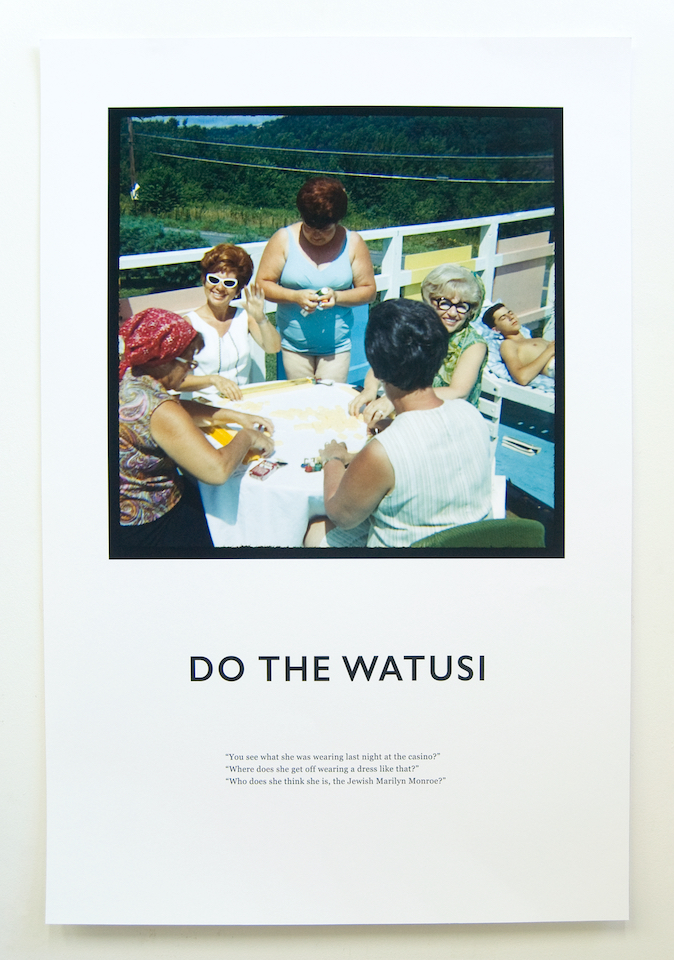 Marisa J. Futernick's lush, poster-size prints combine historical photographs with invented text to look at the Jewish Catskill resorts of the 1960s. Drawing from personal history while recalling a broader Jewish experience, the works evoke the atmosphere of the "Borscht Belt," famously mythologized in mainstream culture as the setting for the film "Dirty Dancing." 
Futernick pairs photographs from her mother's family's 1960s summer vacations in the Catskills with period dance crazes and fictional dialogues. Set around swimming pools, patios, verdant lawns and shuffleboard courts, the photographs carry the qualities and color of 1960s film, with fashion to match. Futernick heightens these scenes of recreation with graphics that call on viewers to do the Watusi, the Hully Gully, and the Twist. Jaunty conversations, mostly between women, extend these environments, combining Yiddish phrases, humor, and subtle sociopolitical observation. Dirty Dancing investigates the roles of identity and class in postwar American travel and leisure, and invites us to consider what we carry from this world that has disappeared.
Exhibition Events
Dirty Dancing: Revisiting the Catskills | Virtual Opening and Artist Talk with Marisa J. Futernick 
In celebration of the exhibition's opening day, Los Angeles-based artist Marisa J. Futernick will discuss her practice, process and the making of Dirty Dancing: Revisiting the Catskills.
Exhibition Tour with Marisa J. Futernick
Thursday, March 30  | Tour at 6:30 p.m. l  Extended gallery hours through 7:30 p.m. (3/30 only). 
Monday through Thursday, 10 a.m. through 3 p.m.
Dirty Dancing: Revisiting the Catskills is on exhibit until April 14.