Sharks, Jets, Brandeis!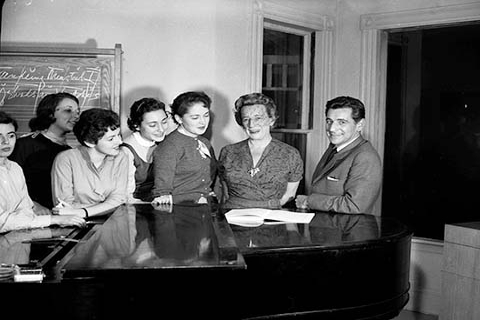 The new West Side Story film adaptation came out December 10th so it's a fun time to explore its connections to Brandeis's University Archives & Special Collections.
Let's start at the very beginning (wait, that's a different musical!):
West Side Story is, of course, based on the story of Romeo and Juliet. You can explore that heartbreaker of a play in UA&SC's huge collection of Shakespeare rare volumes (including a First Folio, Second Folio and Fourth Folio)!.
The book for the original West Side Story

 was written by playwright, novelist, and director Arthur Laurents,

a collection of whose correspondence

lives in UA&SC.

Lastly, Brandeis' very own Leonard Bernstein composed the music for the original musical. Bernstein was an early professor at Brandeis, and helped to establish both the Music Department and the Festival of the Creative Arts (now named in his honor). UA&SC holds several interesting pieces related to Bernstein

, including his original syllabi and the stage manager's working score to Trouble in Tahiti (Bernstein's opera which had its debut at the very first Festival). Fun fact, Brandeis recently honored Bernstein's 100th birthday with a campus-wide celebration!